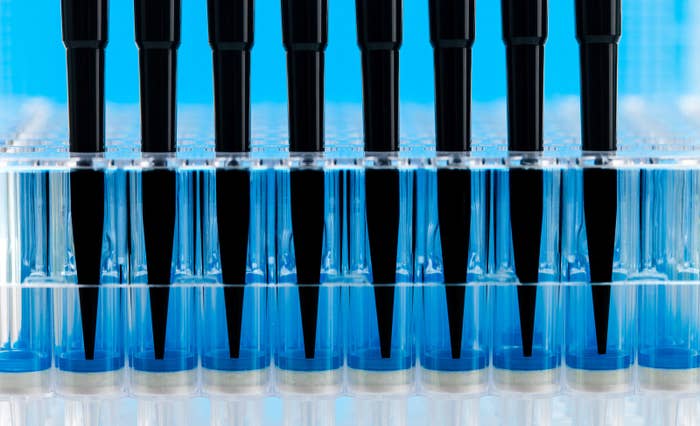 The remarkable sleuthing method that tracked down the Golden State Killer was not a one-off. A company in Virginia is now working with several law enforcement agencies to solve cases using the same "genetic genealogy" approach that led investigators in California to arrest Joseph James DeAngelo.
The company, Parabon NanoLabs, has already loaded DNA data from about 100 crime scenes into a public genealogy database called GEDmatch. And in about 20 of these cases, the company says, it has found matches with people estimated to be the suspect's third cousins or even closer relatives.
"We were actually pretty surprised," Ellen Greytak, Parabon's director of bioinformatics, told BuzzFeed News. With those known genetic connections, she said, investigators have a good chance of using genealogical research to draw family trees and identify possible suspects. Some arrests could come quickly, she suggested. "I think there is going to be press around this very soon."
The method made headlines last month when it snared DeAngelo some four decades after his first suspected crime. Investigators discovered partial matches between DNA left at a crime scene by the Golden State Killer and distant relatives in GEDmatch. Using public information such as Census records and local newspaper obituaries, they then constructed family trees that ultimately led to DeAngelo.
In the wake of DeAngelo's arrest, investigators in Vallejo, California, announced that they had ordered new tests on DNA from an envelope licked by the Zodiac Killer, who was responsible for at least five unsolved murders in the San Francisco Bay Area in the 1960s and 1970s.
These DNA tests are run on a "microarray" that identifies hundreds of thousands of genetic markers — rather than the 20 or fewer markers used in conventional forensic DNA analysis.
Even before the Golden State Killer news, Parabon had run microarray tests on DNA from more than 150 cold cases, mostly as part of its efforts to reconstruct the likely facial features of suspects. On May 8 it announced that it was teaming up with CeCe Moore, a genetic genealogist known for her work on the PBS TV show Finding Your Roots, to help law enforcement investigate those DNA profiles with GEDmatch. About 100 have been uploaded so far.
Moore told BuzzFeed News that she had long wanted to get involved with cold cases, but had worried that people would react badly to the idea of cops sifting through public databases that genealogy enthusiasts use to research their family trees.
The mostly positive reaction to the Golden State Killer case convinced her that it was time to get involved. Anyone putting their genetic information into the database now knows that law enforcement can use it, she said. "You would have had to be a complete hermit not to have heard about it."
Other DNA experts are surprised that Parabon has moved ahead so quickly.
"If Parabon has put 100 cases up there and has found 20 third and second cousins, that's going to close a whole lot of cases very fast," said Greg Hampikian, a specialist in forensic DNA at Boise State University in Idaho. "We'll see. The proof will be in the pudding."
Hampikian believes that the relatives whose DNA proves crucial to cracking cold cases deserve some sort of monetary benefit — just as if they had volunteered information that led to an arrest. "If there is a reward for solving a crime, people should be eligible for it," he said.