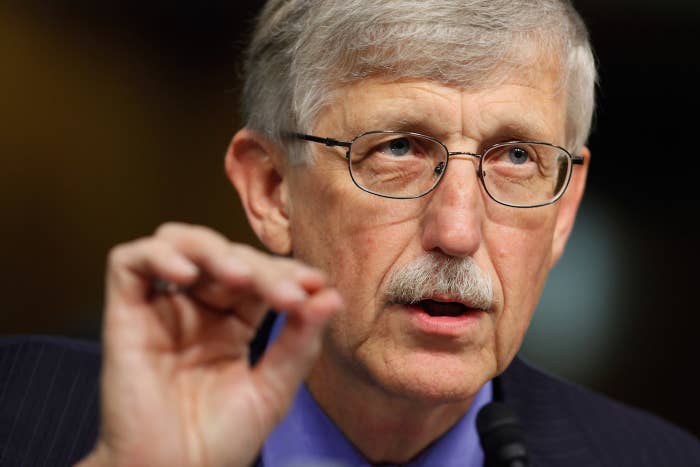 As other leading scientific organizations take steps to strip honors or funding from scientists found guilty of sexual misconduct, the world's largest research funding agency is under fire for its inaction.
It's a busy time for the #MeToo movement in science. On Saturday, the American Association for the Advancement of Science announced a procedure for removing elected fellows found guilty of sexual harassment. Today, the National Science Foundation fleshed out new rules that would allow it to strip harassers of their research funding.
And on Monday, the National Institutes of Health, which spends more than $30 billion on medical research each year, launched an anti–sexual harassment website with fanfare from its director, Francis Collins. Sexual harassment, he wrote, is "morally indefensible, it's unacceptable, and it presents a major obstacle that is keeping women from achieving their rightful place in science."
But critics complain that beyond this site — which spells out how schools must notify the agency if a scientist leading a project is placed on leave during an investigation, and which urges victims of harassment to report it to the authorities at their own institution — the NIH has come up with little new action to tackle the problem.
"Our primary concern is that Collins' statement does not define how the NIH will respond to violations of sexual harassment policies at institutions where NIH-funded research is performed," wrote Benjamin Corb, public affairs director for the American Society for Biochemistry and Molecular Biology, in a statement posted on its website.

NIH provides grants to thousands of researchers, and past recipients have included several prominent scientists found guilty of sexual misconduct. They include molecular biologist Jason Lieb, who resigned from the University in Chicago in 2016 after a university investigation reportedly found he made unwanted advances toward several students and engaged in sexual activity with another when she was too drunk to consent. Over the years, Lieb received more than $15 million in NIH funding. And virus researcher Michael Katze received tens of millions of dollars in NIH funding before getting fired from the University of Washington for sexual harassment.
The NIH's critics are concerned that its current policies are putting more young scientists at risk. "I think there are many dangerous gaps in what the NIH director is doing," BethAnn McLaughlin, a neuroscientist at Vanderbilt University in Nashville, told BuzzFeed News.
She has launched a series of online petitions demanding that scientific organizations do more to sanction sexual harassers, the most recent calling for NIH to withdraw funding — including grants to train students — from scientists with a history of sexual misconduct.
"It scares me that these guys are taking on new trainees," McLaughlin said.
The lack of progress at NIH is in stark contrast to changes happening at other leading scientific bodies.
The lack of progress at NIH is in stark contrast to changes happening at other leading scientific bodies. The American Association for the Advancement of Science, the world's largest scientific membership organization, and the target of an earlier petition from McLaughlin, on Saturday approved a policy that will allow scientists elected as fellows to lose that honor if found guilty of sexual harassment.
The policy has been in the works since 2016. And there could be a flurry of activity when it comes into effect on Oct. 15. AAAS fellows include cancer geneticist Inder Verma, who resigned from the Salk Institute in La Jolla, California, in June after an investigation into allegations that he harassed eight women over four decades, and theoretical physicist Lawrence Krauss of Arizona State University, who in July was found guilty of violating the school's harassment policies after a BuzzFeed News article described a long history of alleged sexual misconduct by Krauss.
Former AAAS president and evolutionary geneticist Francisco Ayala is another AAAS fellow. He resigned from the University of California, Irvine, on Jul. 1 after a university investigation found that he sexually harassed three faculty members and a graduate student, continuing to make inappropriate comments to women even after he was warned about his behavior.
Any AAAS member can ask the organization to review a case, AAAS president Margaret Hamburg, a former head of the FDA, told BuzzFeed News. "We anticipate that, especially with some of these high-visibility cases, the issue will be brought forward."
Like the NIH, the NSF requires that it must be informed if a researcher leading a project is placed on administrative leave. But this week it finalized a new policy that also requires institutions to report if any scientist working on a grant is found guilty of sexual harassment. The agency will then consider removing offending scientists from grants and, if another leader can't be found, may stop funding.
In a conference call with reporters, NSF staff revealed that the agency had already received 10 complaints about harassment from individual scientists and five or six notifications from research institutions since the new policy was proposed in February.
If necessary, NSF director France Córdova said, the agency would take further steps to ensure the safety of scientists working on its grants. "NSF does not consider its work in trying to address harassment finished," she said.
As criticism of the NIH mounted this week, the agency posted a further statement explaining that legal restrictions mean it can't simply follow the NSF's lead in requiring that institutions report if anyone working on a grant is found guilty of sexual misconduct.
Because the NIH is part of the Department of Health and Human Services, rather than an independent agency like the NSF, Collins told BuzzFeed News, changing its policy would require lengthy government rulemaking. "That process takes about two years," he said.
"People are justifiably, I think, frustrated," Collins added. "I'm frustrated about that, too."
The NIH has also come under pressure from two Democratic members of Congress, Sen. Patty Murray of Washington and Rep. Rosa DeLauro of Connecticut, who last month wrote a sharply worded letter to Collins demanding more action, noting the steps taken by the NSF.
"Federal funding should not support laboratories and institutions where workplace harassment is allowed to continue unaddressed," the pair wrote. "It is critical that NIH take proactive steps to hold its grantees accountable."
"I wholeheartedly agree that NIH grantee institutions must be held responsible for complying with antidiscrimination laws prohibiting sexual harassment in federally funded programs," Collins wrote in his Aug. 31 reply.
"I appreciate NIH's recognition that the agency needs to do more," DeLauro said in a statement. "The only way we will be able to eradicate sexual harassment is for individuals and institutions to face real consequences, which may mean a genuine threat of losing NIH grants."
Collins' response to Murray and DeLauro also revealed that the NIH has in the last five years paid out almost $2 million, including attorney fees, to settle sexual harassment cases brought by scientists working in its own labs, mostly at its campus in Bethesda, Maryland.
For its own employees, Collins told BuzzFeed News, the agency has been able to take action, proposing a new policies on harassment and on romantic or sexual relationships between employees where one party has authority over the other. They must now be disclosed, and NIH officials will have to take steps to reduce any risks from the relationship.
CORRECTION
The NIH has long required that institutions report if a researcher leading a project is placed on administrative leave. An earlier version of this article did not make this clear.