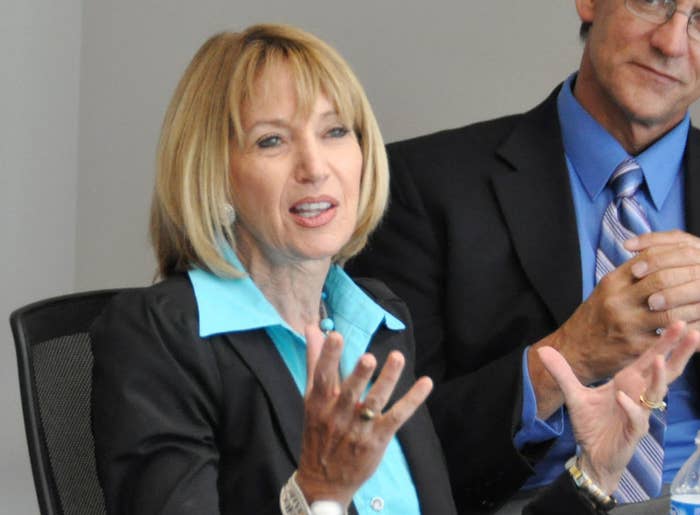 Academia needs to overhaul a culture of sexual harassment to stop driving talented women out, according to a new report from the National Academies of Sciences, Engineering, and Medicine.
The report, written by a group of independent experts, faults universities for avoiding liability rather than preventing harassment. It says that schools tend to focus on procedures for investigating sexual coercion, assault, and unwanted sexual advances while failing to address a wider culture of hostility toward women.
"Our very legalistic approach has not really addressed the issue of culture and climate," Paula Johnson, president of Wellesley College in Massachusetts and co-chair of the panel that wrote the report, told BuzzFeed News.
But even as it adds its influential voice to the debate, the National Academy of Sciences is itself under fire for failing to purge its ranks of men who have been found guilty of harassment.
An online petition calling for their removal now has more than 3,500 signatures. And the academy's first woman president, geophysicist Marcia McNutt, has become a lightning rod for dissent for those who believe the 155-year-old institution is moving too slowly.
Established by President Abraham Lincoln in 1863, the National Academy of Sciences is an exclusive club: Election to its membership is one of the highest honors in science. The academy also advises the federal government, producing regular expert reports on important issues in science and technology.
That this prestigious body has now turned its attention to the damage caused by sexual harassment is a landmark. Its recommendations to reform the male-dominated, hierarchical culture of science are based on surveys of the effects of sexual harassment, and studies of what works in changing that culture.
"What we have done so far is essentially added women to science, engineering, and medicine without changing the institutional climate to make them welcome and successful," Beth Hillman, president of Mills College in Oakland, California, and a member of the panel that produced the report, told BuzzFeed News.
The report urges campus leaders to do more to tackle pervasive gender harassment — such as unwanted sexual discussions, vulgar name-calling, and sabotaging women's research equipment. It also recommends that institutions measure and publish their progress on how they are changing the culture, and notes that sexual harassment training works best when it lasts more than four hours and is conducted face-to-face by a supervisor or external expert.
Another problem is that many women who have experienced harassment fear retaliation if they speak up. "We should not assume women are going to come forward and speak about their experiences if they don't have some way of protecting their confidentiality," Johnson said.
The report says that institutions should do more to ensure that women who are having problems with harassment get legal, mental health, and career support, whether or not they are ready to make a formal complaint.
In the build-up to the release of the report, the National Academy of Sciences and its president have come under increasing pressure for failing to expel members who have been found guilty of harassment.
These offenders include astronomer Geoff Marcy, who resigned from the University of California, Berkeley, after a 2015 BuzzFeed News investigation revealed that he had breached its harassment policies, and neuroscientist Thomas Jessell, who was fired in March of this year from Columbia University, reportedly for violating its policies in his relationship with a junior colleague.
Last week, those men were joined by cancer geneticist Inder Verma, who resigned from the Salk Institute for Biological Studies in La Jolla, California, after an investigation into multiple allegations of sexual harassment. (Verma has denied all allegations of harassment.) Last month, he also resigned as editor of Proceedings of the National Academy of Sciences, the academy's flagship journal, after Science magazine reported that eight women had accused him of harassment over four decades.
Academy president McNutt has said that the body's governing council will consider a proposal to expel members found guilty of harassment at its next meeting in August. If backed by the council — which has 11 women members out of 17 — that proposal could then be put to a vote of the academy's 2,400 members, who are mostly men.
But BethAnn McLaughlin, a neuroscientist at Vanderbilt University in Nashville who organized the petition calling for the expulsion of sexual harassers from the academy, is angry that McNutt has not taken a firmer stand.
"If Marcia were to say, 'We're gonna have a vote on this and if it doesn't pass, I'm done, I'm out,' she would be a science legend," McLaughlin told BuzzFeed News. "Right now, she is awful."
Last month, tensions built on Twitter as McLaughlin and her supporters berated McNutt for the academy's slow progress in cleaning its own house, and McNutt responded with increasing frustration, suggesting that her critics didn't understand the difficulties she faced.
Kate Clancy, an anthropologist at the University of Illinois and a member of the panel behind the new report, urged McNutt to think about the signals she was sending.

"As an institution, we act deliberatively, which may not be at the time scale of Twitter," McNutt told BuzzFeed News by email. "I feel confident that the NAS will appropriately address the very real problems of sexual harassment, guided by this report. This was our intent all along."

McLaughlin, meanwhile, has launched a new blog called #MeTooSTEM, on which victims of sexual harassment in science can talk about their experiences. "I didn't want women's stories to get lost," she said.

CORRECTION
The report is from the National Academies of Sciences, Engineering, and Medicine. An earlier version of this article stated that it was from the National Academy of Sciences alone.