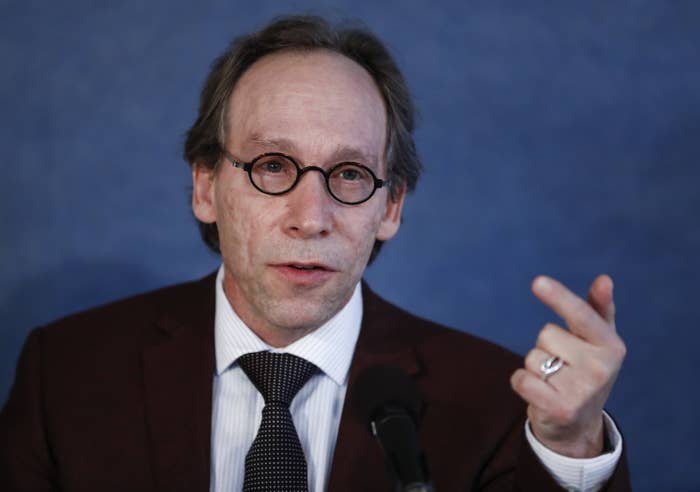 He propositioned a prospective employee, suggesting a threesome. He told one employee that she should "take one for the team" and date a donor who was attracted to her. He discussed strip clubs with his staff. And when challenged on his actions, he tried to pass it all off as a joke.
These are some of the conclusions of a searing report from Arizona State University on the behavior of its star physics professor Lawrence Krauss, who on Oct. 19 agreed to retire in the face of multiple findings that he breached the school's policies on sexual harassment.
Arizona State provided its conclusions about Krauss's behavior in response to a public records request from BuzzFeed News, submitted after the school reopened an investigation into his conduct. The probe was restarted after we approached the university for comment on our reporting, published in February, detailing more than a decade of allegations of sexual misconduct against Krauss.
Mark Searle, Arizona State's provost, agreed that the evidence supported several specific allegations made in the BuzzFeed News article, including the charges that Krauss grabbed a woman's breast at a meeting in Australia in 2016, that he made negative comments about pregnancy and parental leave in the workplace, and that he upset a student worker at a university event by looking her up and down and commenting suggestively on her attire.
The report also substantiates multiple allegations against Krauss made after the BuzzFeed News article appeared. The most significant, according to Searle, are the charges that Krauss suggested a threesome to a woman discussing employment at the Origins Project, and that he touched the thigh of a woman at a meeting in Switzerland in 2011. The woman, an atheist activist named Cristina Rad, described the incident in a YouTube video posted in March.
Searle's report indicates that Krauss characterized the comments about a threesome as a joke, a defense he used repeatedly. The report also says that Krauss wrote to Rad claiming that he was pointing at an image of a galaxy on her dress, saying, "if I touched you at all, I apologize."
Commenting on these incidents, Searle wrote, "It is inconceivable how a faculty member in the course of carrying out his work responsibilities could believe that the conduct would ever be appropriate."

Searle described how Krauss discussed strip clubs with employees, encouraged staff to view fan mail including nude photos, and showed them a cartoon of a person bent over with their pants down, revealing their bare buttocks.
The report also described how Krauss and an employee, whose name is redacted, "engaged in conduct towards one another — hugging, touching, kissing — in the presence of staff, giving the perception to current and former staff members that they were involved in an intimate relationship." Krauss and the employee denied there was an intimate relationship, and stated that the interactions were "a form of greeting."
University investigators concluded that Krauss's comments "created an offensive environment" for some staff members. Searle agreed that Krauss "was unprofessional and failed as a leader by contributing to and permitting his employees to engage in this behavior and create this type of environment."
Krauss, a theoretical physicist, rose to fame in the 1990s for his popular books and lectures about science and atheism. The Origins Project, which he founded in 2008, brought together leading intellectuals at public events to discuss the origins of the universe, life, and social systems. The program relied heavily on donations from foundations and wealthy individuals.
According to Searle's report, Krauss admitted that in 2012 he told one female employee that she should "take one for the team" and date a donor. The woman concerned did not remember the remark, but another staff member told investigators that she was offended by the comment.
Searle's letter to Krauss also charges that he and another staffer failed in their duty to report sexual harassment of an employee of the Origins Project by a donor who had taken a romantic interest in her, and who sent more than 50 messages after she asked him to cease communication. Krauss denied he knew about the extensive communication, but the university concluded that he "failed to recognize the need to control the environment in which his employees were working and report the unwanted contact."
Asked to comment on the university report, Krauss told BuzzFeed News by email that he provided the university with "documentary evidence, including witness statements and photographs, that falsified claims and undermined the credibility of claimants."
In his public statement about his retirement on Sunday, he wrote, "To be clear, I have never harassed or assaulted anyone and have most certainly not exhibited gender discrimination in my professional dealings at the University or elsewhere."
In the letter he wrote to ASU announcing his retirement, dated Oct. 20, Krauss called BuzzFeed News an "online tabloid" and criticized the university's investigation. "I perceived violations of due process, disregard for evidence, discrimination, [and] bias," he wrote.