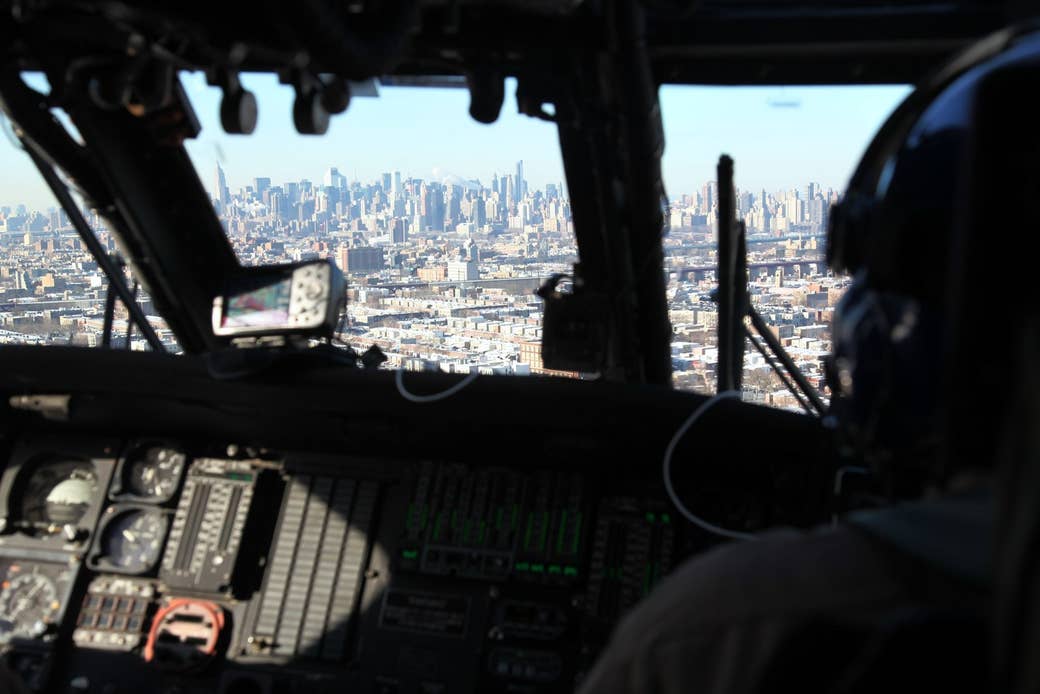 Even for politicians who knew that government law enforcement agencies were regularly watching American cities from above, the dense pattern of circles on the maps BuzzFeed News published last week, showing more than four months of flights by the FBI and the Department of Homeland Security (DHS), were an eye-opener.
"This investigation makes clear aerial surveillance by the federal government is no longer a rare occurrence — these flights are happening thousands of time a year, all over the country," Senator Ron Wyden, a Democrat from Oregon, told BuzzFeed News by email.
"There was a time when cost and resource barriers prevented the government from conducting twenty-four-seven aerial surveillance," he added. "Now, high-quality digital cameras, unmanned aircraft and other technology advances are quickly tearing those barriers down."
Together with Dean Heller, Republican Senator from Nevada, Wyden is introducing an amendment to the Federal Aviation Administration Reauthorization Act that would require federal law enforcement agencies to obtain a warrant before conducting video surveillance from the air. Currently, warrants are only required if planes use equipment to track the cell phones of suspects on the ground. What's more, warrants can be waived in emergency situations.

Peter Aldhous for BuzzFeed News
Surveillance over Washington, D.C. last year. Faint lines show flight tracks, which become dense circles when planes repeatedly monitor the same location. FBI planes are in red; DHS in blue.
Wyden's amendment echoes the text of a bill he first introduced in June last year, after the Associated Press reported on surveillance flights by the FBI. It would require a warrant for federal aerial surveillance in most situations — with exceptions for emergencies, border patrol, and flights for research and public safety.
"The one thing we want to make sure is that innocent Americans and their information isn't caught up in these surveillance operations," Representative Suzan DelBene, a Democrat from Washington state, told BuzzFeed News. Last November, she introduced the same bill into the House of Representatives.
The BuzzFeed News analysis found that surveillance flights dropped away dramatically on the weekends — challenging the FBI's statement that they are urgently required to protect Americans from "people who want to hurt our country and its citizens." BuzzFeed News also observed circling of the mosque attended by San Bernardino shooter Syed Rizwan Farook in the aftermath of the Dec. 2, 2015 massacre.
Democratic Congressman André Carson of Indiana, a former police officer and one of only two Muslims in Congress, told BuzzFeed News by email that he understood that aircraft can play an important role in law enforcement. However, he wants close scrutiny to ensure that people's rights are not being violated.
"This is not simply an issue of religious or ethnic profiling," Carson said. "We need to be sure that the agencies tasked with protecting us are not doing so at the expense of our civil rights."
FBI surveillance flights have previously come under scrutiny of the Senate judiciary committee, which was particularly concerned about the use of cell-phone tracking equipment — which the FBI says is very rare.
"As terrorists and criminals become more sophisticated, law enforcement tactics must continually evolve in order to keep us safe," Senator Chuck Grassley of Iowa, the Republican chair of the committee, told BuzzFeed News by email. "In doing so, we must take care to ensure that appropriate safeguards and oversight are in place to guard the privacy and civil liberties of innocent Americans."

BuzzFeed News's analysis of federal surveillance flights concentrated on the use of piloted light aircraft and helicopters carrying high-resolution video cameras. But similar equipment can be carried by drones.
A narrower amendment to the FAA Reauthorization Act, introduced last week by Republican Senator Rand Paul of Kentucky and Democrat Ed Markey of Massachusetts, would require warrants before federal surveillance drones take to the skies. Again, there would be exemptions for routine border patrol and in emergency situations.
Federal law enforcement agencies use drones far less often than piloted aircraft, according to a March 2015 audit from the Department of Justice Office of the Inspector General (OIG). Between September 2006 and August 2014, the FBI reported that it had used drones to support just 13 investigations, for search and rescue, to hunt kidnappers and fugitives, national security missions, and anti-drug trafficking operations.
The federal law enforcement agency with the most sophisticated drone capability is U.S. Customs and Border Protection, part of the DHS. Since 2005, it has flown unarmed versions of the U.S. military's Predator drones for border patrols. These aircraft are fitted with high-resolution video cameras and radar that can track targets on the ground.
While border patrol operations would not be covered by Paul and Markey's amendment, DHS drones have also been used to support other federal law enforcement agencies. According to the OIG report, the DHS had flown its drones to help other federal agencies on 95 occasions, 73 of those assisting agents of the Drug Enforcement Administration.
Charles Seife and John Stanton contributed reporting for this story.