Lawmakers: Painful Monkey Experiments Should Be Reviewed
Animal advocates want fresh ethical scrutiny of biodefense experiments on primates. Scientists, meanwhile, say that this controversial work makes up just a tiny fraction of U.S. animal research.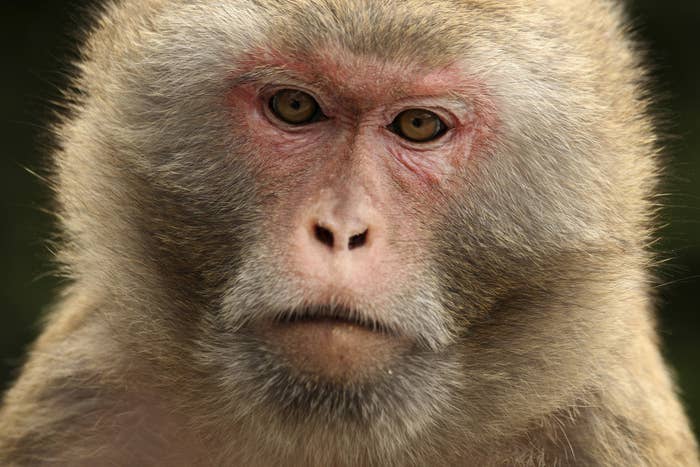 Nearly 15 years after the U.S. government began ramping up experiments in which monkeys have been exposed to deadly microbes, chemical weapons, and lethal doses of radiation, advocacy groups are calling for independent expert scrutiny of the work.
The calls follow a BuzzFeed News report revealing a doubling, since the anthrax attacks of 2001, of the primates used in experiments involving unalleviated pain and distress. Since 2009, this research has involved an average of more than 1,400 monkeys per year.
The increase has been driven by research to develop drugs and vaccines to protect Americans from weapons of mass destruction. However, BuzzFeed News found that even some scientists involved in the work are divided on whether so many monkey experiments were necessary to achieve this goal.
Some advocacy groups now want an independent expert panel to scrutinize the work, pointing to the example of an influential report that in 2011 reviewed the National Institutes of Health's biomedical research on chimpanzees.
Others are urging changes to the "Animal Rule" — the federal regulation that allows the FDA to approve some drugs and vaccines on the basis of evidence from animal experiments.
Animal advocates, including some members of the U.S. Congress, are concerned about the degree of suffering involved in the experiments highlighted by BuzzFeed News, and the number of monkeys used.
"I think the facts are pretty alarming," said Democratic Rep. Sam Farr of California, who is known in Congress for his stance on animal protection. "I think we've got to stop, look, and listen — and have some hearings on it," he told BuzzFeed News.
"We can cut down on the use of primates and other animals while still making progress on eradicating, vaccinating against, and curing diseases like anthrax and Ebola," said Rep. Steve Israel, a Democrat from New York, in a statement issued to BuzzFeed News. "We must make every effort to protect animal welfare."
Number of Primates Used in Painful or Distressing Experiments
Peter Aldhous for BuzzFeed News / Via acissearch.aphis.usda.gov
Several sources suggested that an earlier controversy involving the NIH's colony of research chimpanzees provides a model for how biodefense research involving primates could be reviewed.
"There are a lot of parallels," John Pippin, director of academic affairs with the Physicians Committee for Responsible Medicine, told BuzzFeed News.
In the case of the research chimps, Congress debated — but ultimately did not pass — legislation that would have phased out invasive research. As pressure from lawmakers and activists mounted, the NIH commissioned the Institute of Medicine to review the necessity of continued chimp research.
The IOM convened an expert panel that in 2011 concluded that "most current biomedical research use of chimpanzees is not necessary," and recommended narrow limits on the circumstances under which future experiments would be justified. The NIH accepted these recommendations, and has since retired most of its chimps to federal sanctuaries — retaining just a small number for possible future research.
"We would like to see these kind of critiques done for other animal uses," Kathleen Conlee, vice president of animal research issues with the Humane Society of the United States, told BuzzFeed News.
Pippin also suggests that the FDA should look again at its Animal Rule, introduced in 2002. It allows drugs and vaccines to be approved based on evidence that they work in animal experiments — but only if it would be impossible to run a human clinical trial. The rule was introduced with biological, chemical, and radiological weapons in mind — where it would clearly be unethical to expose people to the actual threat.
By focusing solely on evidence from animal experiments, and not embracing alternatives involving cultures of human cells, Pippin argues that the Animal Rule is holding back investment in the development of advanced methods such as "human-on-a-chip" technologies that seek to mimic the behavior of human organs.
The FDA does not seem ready to change the Animal Rule, however. "The newer technologies are very preliminary," agency spokeswoman Tara Goodin told BuzzFeed News.
Justin Goodman, director of laboratory investigations with PETA, argues that the debate about primate biodefense experiments highlights a broader issue. He wants local animal care committees that review experiments at each research institution to include more independent members, and be given an explicit remit to consider ethical concerns about proposed experiments.
Currently, these committees are dominated by scientists and approve the vast majority of projects they are asked to review, Goodman told BuzzFeed News. "This is a rubber stamp process."
But many scientists are opposed to adding further bureaucracy that would slow down a wide range of important medical research.
"The system that is in place works," Frankie Trull, president of the National Association for Biomedical Research, which lobbies for organizations using animals in research, told BuzzFeed News.
Speaking of Research, a coalition of scientists involved in animal experiments, sent BuzzFeed News the following statement, arguing that the current system already balances public health goals against humane animal treatment:
"Speaking of Research believes that the US system for selection, ethical review, and oversight of animal research can, and does, address [this] complex balance."
Speaking of Research also pointed out that experiments involving unalleviated pain and distress are just a small fraction of the total conducted in the United States — and experiments in which primates suffer in this way are rarer still.
Last week, the USDA reported that the total numbers of animals used in these painful experiments — excluding rats, mice, and other species that are not counted in official statistics — had dropped for the fourth successive year, from 97,123 in 2010 to 72,311 in 2014.