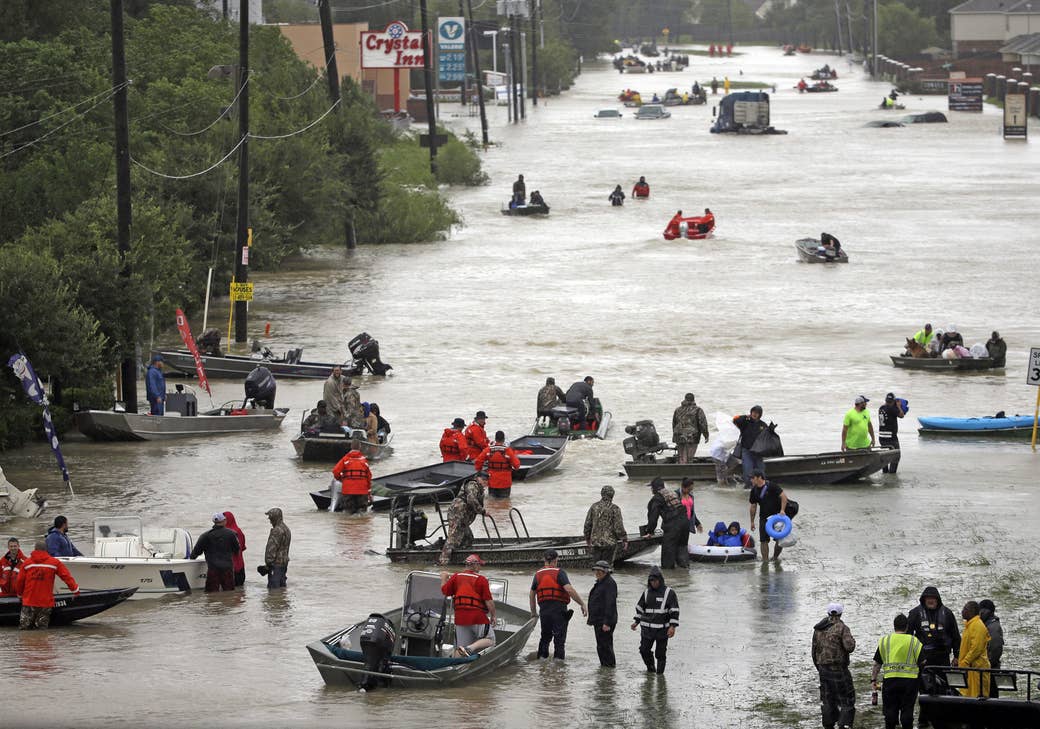 Houston's reputation as a boomtown has taken a beating from Tropical Storm Harvey. But the surprising message from experts in flood protection is that the Houston area can continue to grow and prosper — if it reinvents itself as a denser, more cautiously planned metropolis.
Those experts say that Harvey was a disaster waiting to happen — and this isn't just the wisdom of hindsight: They have been warning for years that Houston's problems with flooding stem from its unfettered urban sprawl.
Harvey is the most extreme storm to have hit Houston, having killed at least 19 people, displaced an expected 30,000, and set a new rainfall record for the continental US. But the current disaster is just the latest in a sequence of recent floods to engulf the Bayou City — nicknamed for the creeks that help drain the area, but nowadays frequently overflow.
"The reason there is damage is because very bad decisions have been made."
In April 2016, the Tax Day Flood killed at least 8 people and cost $2.8 billion. Eleven months earlier, the 2015 Memorial Day Flood hit the city, part of a wider storm system that devastated large parts of Texas and Oklahoma. Houstonians with longer memories recall the region's previous worst tropical storm, Allison, which in June 2001 dumped some 40 inches of rain on the Houston area and killed 23 people across Texas.
Overall, the Houston area has averaged four to five days of flooding each year over the past two decades. And last December, an investigative report from the Texas Tribune and ProPublica pinned the blame for these problems squarely on unchecked urban development in a "famously un-zoned city."

"The reason there is damage is because very bad decisions have been made," John Jacob, who heads the Texas Coastal Watershed Program at Texas A&M University in Houston, told BuzzFeed News. "People have been put in harm's way time and time again."
For decades, local authorities have taken a hands-off attitude to urban planning, as developers have rushed to accommodate people flocking to Houston for its booming economy. For eight years in a row until 2016, Harris County, which includes Houston and its suburbs, topped the nation for percentage population growth.

The problem is that much of the region's growth has taken place in the floodplains of its bayous, and the governments of Houston and its satellite cities have neglected to require building practices that can mitigate flood damage — such as providing several feet of crawlspace below floor level through which water can flow.
The region's urban development has also consumed a disproportionately large amount of land. According to the 2010 Census, of the nation's 10 most populous metropolitan areas only Atlanta and its suburbs had a lower population density than the 674 people per square mile in the sprawl of Houston, Sugar Land, and Baytown.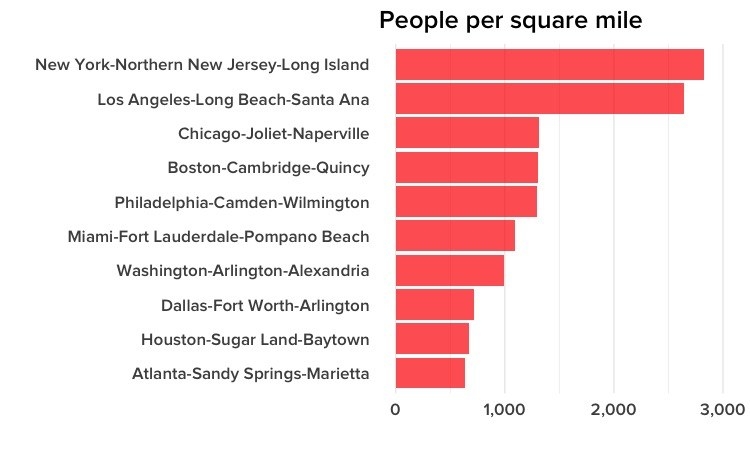 This unfettered development has led to what some scientists call "the paving of Houston": natural prairies and wetlands that help soak up rainfall have been replaced with tarmac and concrete that keep flood waters at the surface. "Houston is an area that has seen a lot of hardening of the watershed," said Mike Beck of The Nature Conservancy, who heads a research group at the University of California, Santa Cruz, studying the resilience of coastal areas to storms and floods.
In a study published last month, a team led by Sam Brody at Texas A&M University in Galveston analyzed losses reported to the National Flood Insurance Program from 2008 to 2014, developing a statistical model to assess the protective effect of natural habitats across the coast of the Gulf of Mexico from Texas to Florida. The researchers found that freshwater marshes had the largest effect. Overall, they calculated that a percentage point increase in wetland area reduced flood losses by more than 3%.
Yet marshes have been destroyed at an alarming rate. Jacob's team has studied their loss by comparing older maps with recent aerial photographs. The researchers found that between 1992 and 2010 the eight counties that make up the greater Houston area lost 5.5% of their wetlands — mostly shallow freshwater marshes known as "prairie potholes." For Harris County, the figure was 29%.
In total, the region had lost 24,600 acres of wetland, and Jacob's team calculated that it would cost some $600 million to build artificial reservoirs with the ability to retain the amount of water that these wetlands used to provide.
Beck argues that there's a need for a new balance between investing in natural infrastructure, like restoring marshes, and massive civil engineering projects to manage stormwater. "We really need to change our investment portfolio," he said.
Yet until now, civil engineering has dominated. Between 1994 and the start of 2017 the Harris County Flood Control District and the US Army Corps of Engineers spent $324 million on Project Brays, a huge effort to widen Brays Bayou in the west of Houston and install new detention basins capable of temporarily holding 3.5 billion gallons of stormwater. The project is running years behind schedule, and won't be completed before 2021.
Despite the value of marshes in helping to protect against catastrophic flooding, wetlands alone could not have protected Houston from Harvey's devastation. "We don't want to oversell what wetlands can do. In a massive storm like this, all bets are off," Jacob said.
What's needed, say experts contacted by BuzzFeed News, is a comprehensive approach that includes new restrictions on building in floodplains, and tougher building codes to raise floor levels higher above the ground. It may also mean relocating people in areas that have been worst affected by Harvey, and converting some of the most flood-prone parts of the city to green space.
"At some point, there's got be an acknowledgement that this area is subject to frequent flooding," Chad Berginnis, executive director of the Association of State Floodplain Managers, based in Madison, Wisconsin, told BuzzFeed News.
"We could live in this area without all this trauma."
Floods are also becoming more frequent and severe, according to an analysis by John Nielsen-Gammon, the Texas state climatologist. Over the past century, he found that extreme rainfall events across the state have become about 30% more common, while the amount of water they deliver has increased by about 5%.

Even in the face of worsening storms and growing population, Jacob said that the Houston area can continue to prosper, as long as it takes a new approach that swaps continued urban sprawl for more controlled development. "We could live in this area without all this trauma," he said. "We can afford to be a little denser than we are."
Changing the region's trajectory of development will need action from all of the cities in the greater Houston area, which until now have mostly been reluctant to impose restrictions on building.
The Houston Mayor's Office and the city's Department of Planning and Development did not immediately respond to queries from BuzzFeed News.
Jacob said he hoped that Harvey will be the wake-up call that finally gets the region to accept that it needs a new approach to urban development. "I don't know that it'll be a wholesale change and everybody gets religion," he said. "But I think people will be more willing to take a local regulatory approach."
If you've been impacted by the storm in Texas or have a tip about rescue, relief, government, or aid efforts, call the BuzzFeed News tipline at (646) 589-8598. Find us on Signal, email, SecureDrop, and more here.