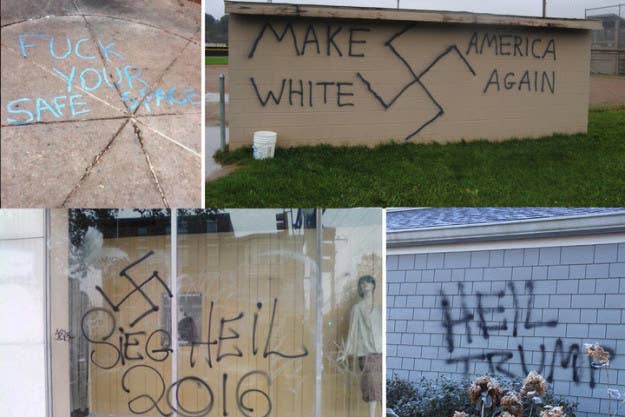 BuzzFeed News is partnering with other news organizations, civil rights groups, and universities in a project called Documenting Hate, led by the nonprofit newsroom ProPublica, in an effort to better track hate crimes across the United States.
Since the most bitterly contested presidential election in living memory — filled with harsh rhetoric about race, ethnicity, gender, and religion — we've seen disturbing reports that hate crimes are on the rise.
BuzzFeed News looked into 28 alleged incidents between Nov. 10 and Nov. 15, and found that most occurred as they were reported — although the perpetrators' motives, in some cases, were unclear. Just two were clearly hoaxes.
The Southern Poverty Law Center (SPLC) said it received 867 reports of hate incidents in the 10 days after the election, after posting a form to submit information on its website. And in early December, the NYPD's Hate Crime Task Force reported that more than twice as many incidents were recorded in New York City in the weeks following the election than in the same period in 2015.
So is a tide of hate crimes rising across the nation? The sorry truth is we don't know for sure, because the data on these incidents is woefully inadequate. That's one reason BuzzFeed News is participating in the Documenting Hate project. However, for it to work, we need your help.
If you have have been attacked for your race, ethnicity, gender, sexual orientation, trans status, disability, or religion, tell us about it by filling in the form below. If you've witnessed someone else being attacked, similarly let us know. Please include your contact details, so reporters can follow up with you.
We're collecting information about physical assaults, threats, vandalism, and other offenses that meet the FBI's hate crime definition. But we also want to know about incidents that involved harassment that might not legally count as a crime — including those that happened online.
By getting better information on hate crimes and bias incidents in the US, we aim to make it harder for the authorities to ignore the problem.
That starts with the nation's law enforcement agencies. Almost 1 in 5 local agencies don't participate in the FBI's data collection program. Of the rest, the vast majority report that zero hate crimes happen on their watch. In 2015, this included the police departments in six cities of more than 250,000 people, including Tulsa in Oklahoma, Arlington in Texas, Anaheim in California, and Newark in New Jersey.
According to these flawed statistics, just 5,850 hate crime incidents occurred in America in 2015. Yet estimates based on interviews conducted in the National Crime Victimization Survey suggest that the true figure may exceed a quarter of a million.