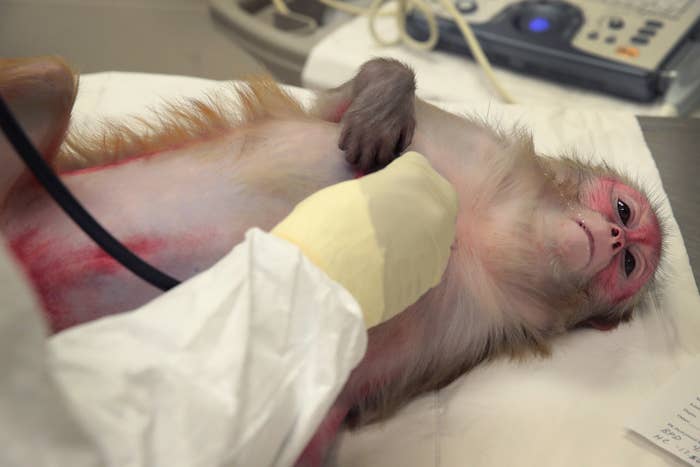 Suffering of monkeys, dogs, goats, and other animals used in medical research just became harder for the public to learn about.
With no warning and a cryptic statement about protecting "certain personal information," the US Department of Agriculture has removed a trove of data and documents on animal research from its website — including reports of animal care violations.

At 11am Eastern time today, a searchable database called the Animal Care Information System was taken down, spokesperson Tanya Espinosa confirmed to BuzzFeed News.
That database linked to documents detailing the animals held by each US animal research facility, reports of inspections by USDA's Animal and Plant Health Inspection Service (APHIS), and action taken against labs breaking animal welfare rules.
"Going forward, APHIS will remove from its website inspection reports, regulatory correspondence, research facility annual reports, and enforcement records that have not received final adjudication," the USDA statement said.
The USDA is responsible for enforcing the 1966 Animal Welfare Act. The act doesn't cover mice and rats, which make up the vast majority of animals used in scientific experiments. But for other species, including primates and dogs, USDA data and documents have given the public a window into what is going on in research labs across the country.
In 2015, BuzzFeed News used the database to tally the monkeys used in experiments involving unalleviated pain or distress. We found that the numbers had doubled since 2002, mostly because of efforts to develop drugs and vaccines against biological weapons, and treatments for radiation exposure and chemical attacks.
While the move to shutter the database comes just two weeks into the Trump administration, the USDA said that that the decision to remove the documents and data follows a "comprehensive review" conducted over the past year.
Animal rights groups have made extensive use of the data and documents, using them to build public pressure on the USDA to impose fines on labs caught breaking welfare rules. Last year, the USDA issued its largest ever fine of $3.5 million against a company called Santa Cruz Biotechnology, also revoking its license.
The company used goats and rabbits to made antibodies, immune system proteins that are widely used in biomedical research. As concerns about its animal welfare record grew, some scientists began to boycott the company's products.
Santa Cruz Biotechnology, which for years hid a barn full of 800 goats from USDA inspectors, was fined for multiple violations. Its closure followed complaints from the group Stop Animal Exploitation Now (SAEN), which relies heavily on USDA and other government documents.
Now that the database has been removed from the USDA website, individual documents will have to be requested under the Freedom of Information Act. If some are requested frequently, the USDA said that they may be posted on the web at a later date.
But Michael Budkie, who runs SAEN, told BuzzFeed news that this is no substitute for a searchable database with documents that could simply be downloaded.
"I have outstanding freedom of information requests from last October which still have not been fulfilled. I suspect that's only going to get worse," Budkie said. "All of the organizations that simply used to go online and pull the information are now going to have to file a FOIA request."
Budkie rejects the USDA's explanation. "The documents which we have used from the USDA website contain virtually no personal information," he said. "I believe this whole issue is a smokescreen."
Some organizations involved in animal research have argued that public information on animal research allows individual labs and companies to be targeted for attack by militant animal rights activists. The Foundation for Biomedical Research, which lobbies for labs involved in animal experiments, did not immediately respond to requests for comment.
"My initial thought is that they intend to make it harder for people to get the information because of the negative repercussions," Joanne Zurlo of the Center for Alternatives to Animal Testing at the Johns Hopkins Bloomberg School of Public Health told BuzzFeed News by email.
Zurlo has used the USDA data in her own research. Its removal "makes it more difficult to monitor animal use and pain and distress," she said.
UPDATE
Public health and animal safety advocacy groups filed a lawsuit against the USDA on Feb. 13, asking the U.S. District Court for the District of Columbia to compel the agency to return all records "related to puppy mills, laboratories, roadside zoos, traveling animal shows, and other enterprises that use and exploit animals," to it website.