One in five managers of federal wildlife refuges say that they, their staff, or their families have been threatened or harassed because of conflicts over government land management policies.
This finding is from a new survey released on Thursday by Public Employees for Environmental Responsibility (PEER), which represents land managers, scientists, and other government staff.
The survey comes shortly before a second federal trial of members of an armed militia that occupied the Malheur National Wildlife Refuge in Oregon last year. Seizure of the refuge headquarters lasted more than a month. The first trial ended in October with the acquittal of seven defendants.
PEER got responses from more than 100 managers of the Fish and Wildlife Service's National Wildlife Refuges, plus more than 350 land managers employed by the Bureau of Land Management, which controls vast tracts of the American West.
Of the wildlife managers who reported being threatened, only half said they were encouraged to report the incident. And more than 60% of wildlife managers disagreed with a statement that visitor safety is better protected now than it was five years ago.
The survey suggests that the Malheur occupation is part of a wider pattern of conflict over federal land management policies including restrictions on livestock grazing. Almost half of BLM managers said they faced threats to their safety because of resource management issues.
"Fear of attack is rooted in resource management," PEER's executive director, Jeff Ruch, told BuzzFeed News. "It's not drunken campers."
One respondent to PEER's survey feared that the acquittal of the Malheur defendants in the first trial "is going to empower more people to take over federal facilities." Another wrote: "I regularly am afraid to go in public due to the unpopularity of the agency. If I had a different employment option I would leave."
Through annual Freedom of Information Act requests, PEER has also tallied reported incidents of violence, threats, or harassment against federal agency employees. Not all are reported, however.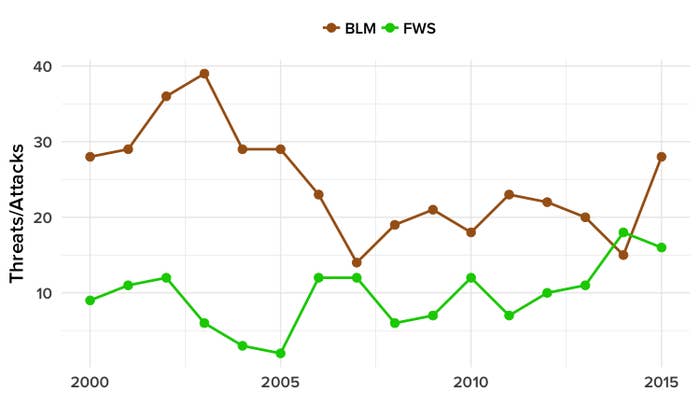 The new PEER survey coincides with moves by congressional Republicans to dispose of large areas of federal land, potentially opening these areas up for mining and drilling for oil and gas. (One bill would have sold 3.3 million acres, but its sponsor, Rep. Jason Chaffetz of Utah, yesterday said he would withdraw it, after public opposition.)

Chris Stewart, a Utah Republican congressman who supports efforts to transfer federal land to local control, told BuzzFeed News by email, "We need to make sure our land managers are safe and a big piece of achieving that is refocusing policies from Washington."
But environmental groups oppose moves to take federal land out of government hands, and want to see more money spent on conservation and protecting federal employees.
"Ongoing budget cuts from Congress are threatening the agencies' ability to properly do their jobs, protect cultural sites and wildlife, and provide services we all use and enjoy," Brad Brooks of the Wilderness Society told BuzzFeed News by email.
"Public servants need to know that the vast majority of Americans support them," Randi Spivak, public lands program director with the Center for Biological Diversity, told BuzzFeed News. She pointed to a recent poll conducted for the Colorado College, which found that by a 3-to-1 margin, voters in seven western states wanted the government to focus on conservation on federal lands, rather than mining and drilling.
The Trump administration has yet to make a clear statement about its policies on public lands. However, Interior secretary nominee Rep. Ryan Zinke of Montana resigned as a delegate to the Republican National Convention last July because of his opposition to the party's policy on transferring federal land to the states.
UPDATE
This story has been updated to note the withdrawal of a bill that would have sold 3.3 million acres of federal land.