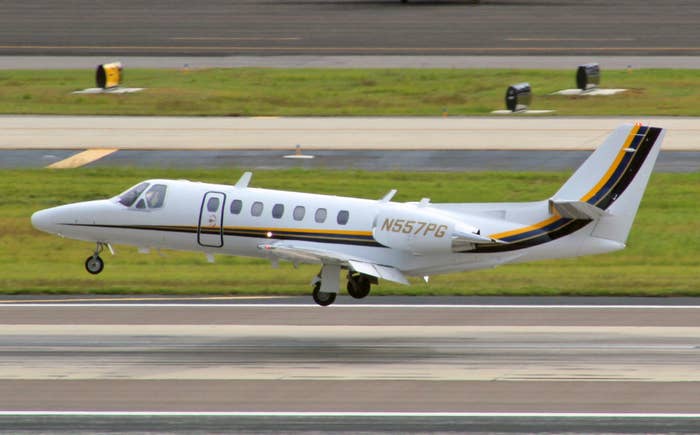 An advanced FBI spy plane that was used to watch Black Lives Matter protests in Washington, DC, last year is now up for sale.
A listing for the Cessna Citation jet has appeared on a website run by the General Services Administration to sell surplus federal government property. The aircraft carries a Wescam MX-20 camera turret, which is designed for high-altitude, persistent surveillance. With infrared sensors, it can monitor targets day and night, and in recent years has been used for some of the FBI's most important surveillance missions.
In June 2020, a BuzzFeed News review of flight tracking data provided by the website Flightradar24 linked the plane to high-profile raids including the capture of gang members on drug and weapons charges in Northern California in 2018, drug trafficking busts in Puerto Rico in 2018 and 2019, and drug, firearms, and money laundering arrests in Alabama in 2019.
And though the FBI says it does not monitor activity protected by the First Amendment, BuzzFeed News also tracked the plane circling Washington, DC, in June 2020 during Black Lives Matter protests after the murder of George Floyd by Minneapolis police officer Derek Chauvin. We also found that the plane circled Baltimore in April and May 2015 following the death of Freddie Gray from injuries sustained in police custody.
This reporting was subsequently cited by three Democratic members of Congress in a letter to the federal Privacy and Civil Liberties Oversight Board, asking it to investigate federal government surveillance of Black Lives Matter protests.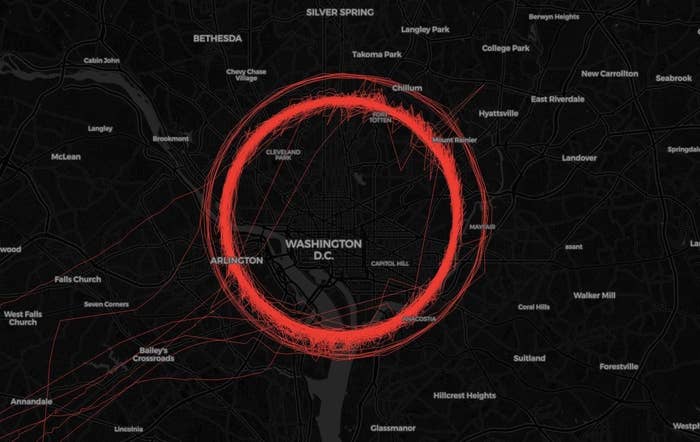 Since 2003, the Cessna Citation aircraft has been registered to the National Aircraft Leasing Corporation, identified as a front for the FBI by Matthew Aid, a former intelligence analyst, in his 2012 book Intel Wars. The address given in its registration with the Federal Aviation Administration is a UPS store in Greenville, Delaware.
Most of the FBI's fleet of more than 120 surveillance aircraft, similarly registered to fictitious companies, are smaller propeller-driven planes that usually fly at altitudes of around 5,000 feet. The Cessna Citation jet is the only aircraft of its type registered to known FBI fronts, and it typically watched its targets from 15,000 feet or more, making it harder to spot from the ground.
The contact given for questions about the sale is Earl McEwen, an FBI special agent who testified in court about using an FBI plane to surveil the 2014 Bundy standoff, an armed encounter between federal agents and supporters of a Nevada rancher who refused to pay fees for grazing his cattle on federal land.
McEwen declined to answer any questions about the aircraft sale from BuzzFeed News.
The FBI declined to answer queries raised by BuzzFeed News, including whether there would be restrictions placed on who they would sell the surveillance aircraft to and whether the jet is being replaced. It is unclear why the agency is now selling the plane.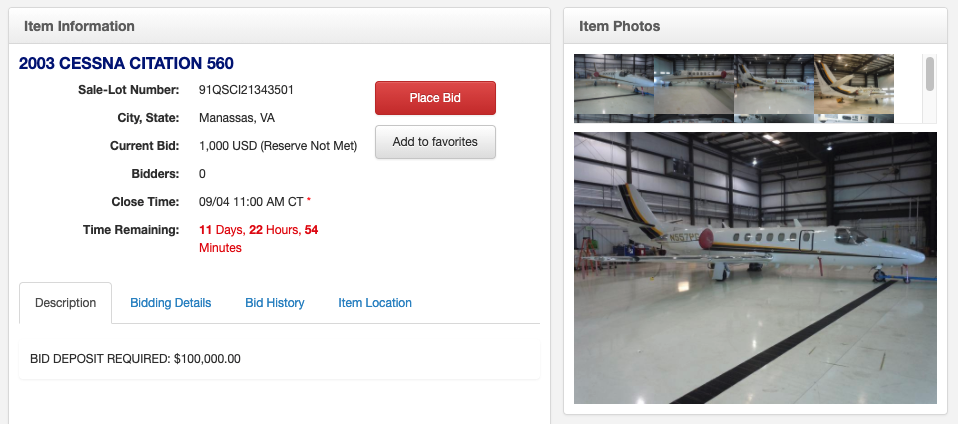 Although the existence of its fleet of aircraft is well known, the FBI has revealed little information about individual planes and their activities. In 2016, the agency denied a Freedom of Information Act request from BuzzFeed News for flight and evidence logs from 27 of its planes, refusing even to confirm or deny whether the records existed. In September 2018, a federal judge ruled against our attempts to overturn that decision.

At the time of publication, no bids for the aircraft had yet been recorded on GSA Auctions, the website where the plane is listed for sale. The listing indicates that the plane is being sold with the Wescam MX-20, which could complicate the sale because it is deemed a sensitive technology covered by the International Traffic in Arms Regulations, which requires approval from the State Department before it can be exported. It is unclear what other equipment remains on the aircraft, although a photograph of the interior suggests that controls for the camera have been removed from the cabin.
The plane could continue to be used for surveillance. But some prospective buyers may be more interested in converting it into a private jet, currently in hot demand as the COVID pandemic has driven wealthy people away from airlines. Jets of that age and model can retail for $1.2 million, according to Albert Heidinger, president of Raptor Aviation, a company in Port St. Lucie, Florida, that sells aircraft including ex-military planes. But he said it was hard to say what a buyer would offer the FBI for the plane given the high costs of refitting it for use as a private jet.
"This market is crazy, so no telling what it will actually bring," Heidinger said.
UPDATE
This story has been updated to include that the FBI declined to comment.