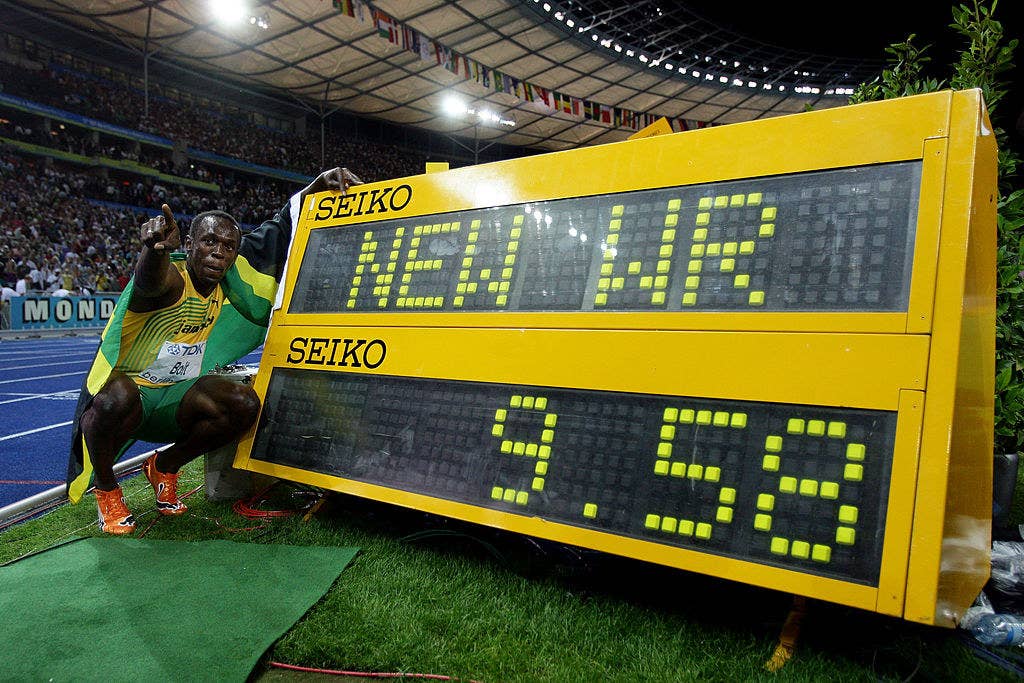 Faster, Higher, Stronger — the motto of the Olympic Games.

But don't expect these words to resonate in the track-and-field stadium in Rio de Janeiro at the coming Olympic Games. Scientific studies suggest that for most events, athletes have for years been operating at or near a plateau of performance — which seems to represent fundamental limits imposed by human biology.
And in some events — notably women's sprints and throws — the legacy of widespread doping in the 1980s casts a long shadow over today's performances, and means that some world records may never be broken.
To provide a simple guide to the likelihood of seeing track-and-field records fall in Rio, BuzzFeed News has analyzed data from the all-time outdoor top performance lists published by the International Association of Athletics Federations.
Here is a chart for the men's 100 meters, where Jamaica's Usain Bolt reigned supreme in the Beijing Olympics in 2008, and in London in 2012. In between, at a meet in Berlin in 2009, he set the current world record of 9.58 seconds.
Men's 100 meters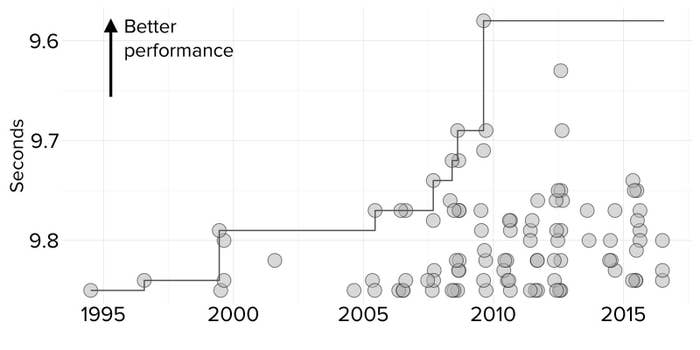 Given recent performances, even by the superhuman Bolt, a new 100-meters record in Rio seems unlikely. In other disciplines, the chances of a new world-best are slimmer still. For many events, both on the track and in the field, the world record was set long ago, and recent performances haven't even been close.
Men's javelin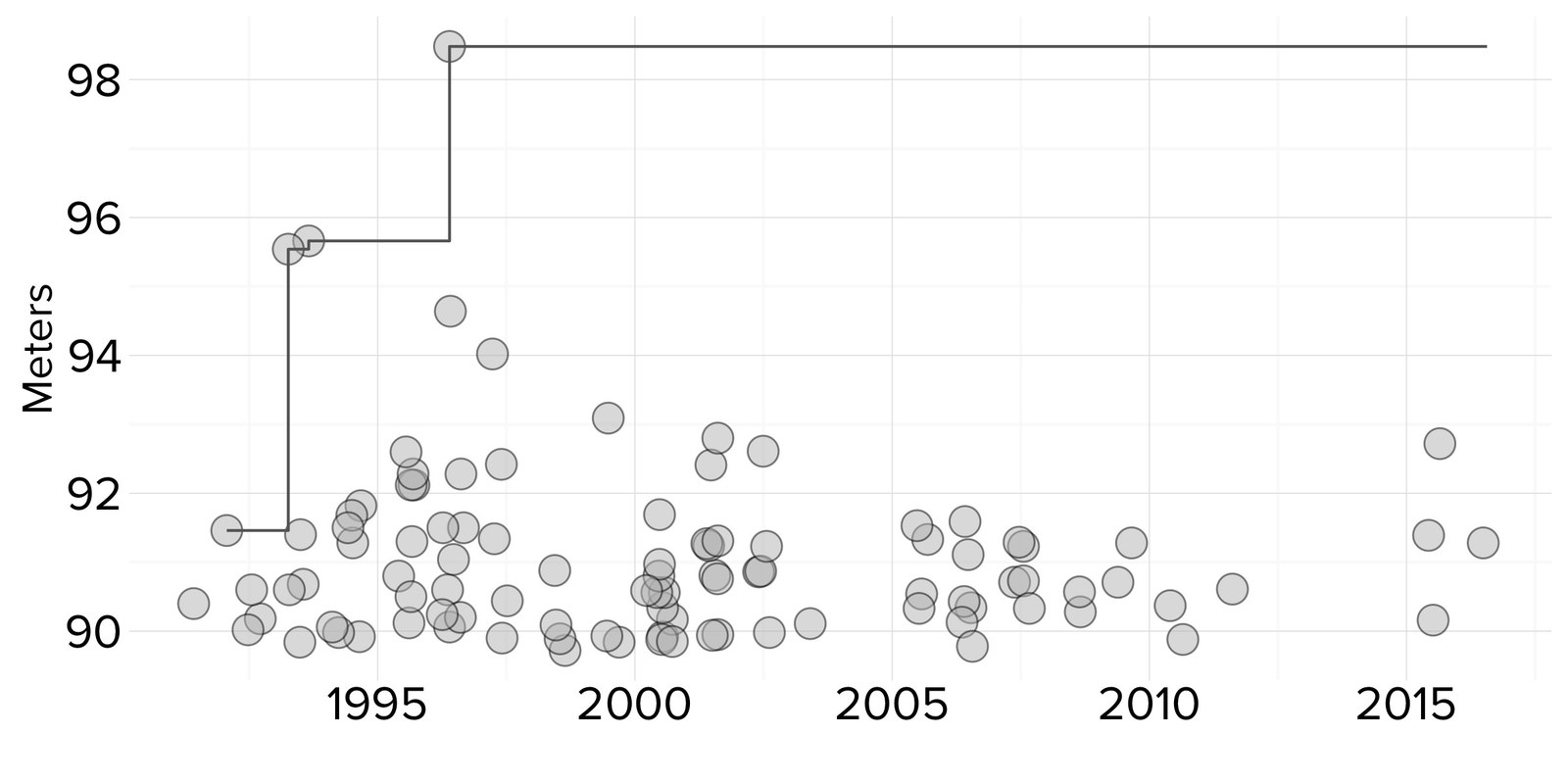 One explanation is that the human body is only capable of so much — however well athletes train and prepare.
For any race longer than a short sprint, for example, a limit is set by how efficiently the lungs can extract oxygen from the air. And peak oxygen consumption for modern elite athletes isn't much different from measurements taken of top runners in 1937, by researchers at Harvard University's Fatigue Laboratory.
Still, world records for most track-and-field events continued to be regularly broken throughout of most the 20th century. That was probably due to training regimes that concentrated on the right combination of speed, strength, and endurance for each event — plus the advent of professionalism, which allowed athletes to train harder and to have longer careers.
But statisticians who study the progression of top performances have noticed a levelling off in recent years. In 2005, Alan Nevill of the University of Wolverhampton in the UK and Gregory Whyte of the English Institute of Sport calculated from these trends that men's middle- and long-distance running times were probably within 3% of the limit imposed by human biology.
Since then, researchers led by Geoffroy Berthelot of the Institute of Biomedical Research and Sports Epidemiology in Paris have extended the analysis to the majority of Olympic track-and-field events. In 2015, they concluded that most were at or near the plateau of human performance.
One exception is the men's marathon, where performances still seem to be steadily improving, and where most of the top 100 times have been set in the last five years. "I think we can find someone who can run the marathon in less than two hours," Berthelot told BuzzFeed News.
Men's marathon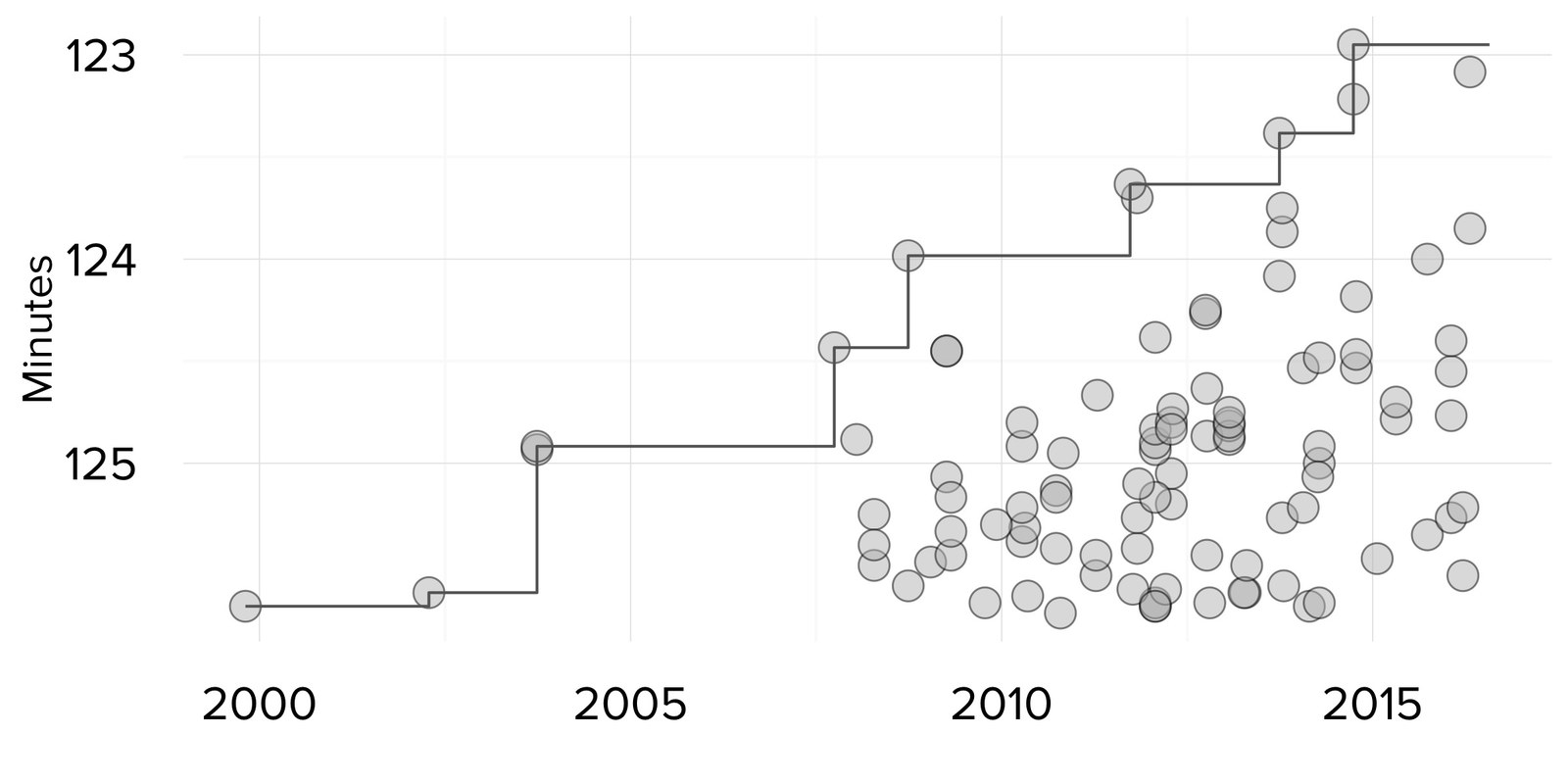 Michael Joyner, an exercise physiologist at the Mayo Clinic in Rochester, Minnesota, who has studied trends in men's distance running, suspects the explanation is economic. "One thing that has happened with the marathon is big money," he told BuzzFeed News.
In recent years, marathon events have offered large cash prizes and appearance fees to attract the best runners on the planet. (Back in the 1980s and 1990s, most leading distance runners concentrated on the 5,000 and 10,000 meters, typically switching to the marathon only in the twilight of their careers.) Pace runners have also been used in recent marathons to encourage rapid times.
But those factors won't be in play in Rio, so Joyner doesn't expect the men's marathon record to fall at the 2016 Olympics.
For events where athletes have reached a plateau of human performance, new world records will be incremental and infrequent — as happened in London on July 22, when Kendra Harrison shaved a hundredth of a second off a women's 100 meters hurdles record that had stood for 28 years. (Don't look for a repeat in Rio, however: Harrison's poor performance in the US Olympic trials means that she isn't going to the games.)
Women's 100 meters hurdles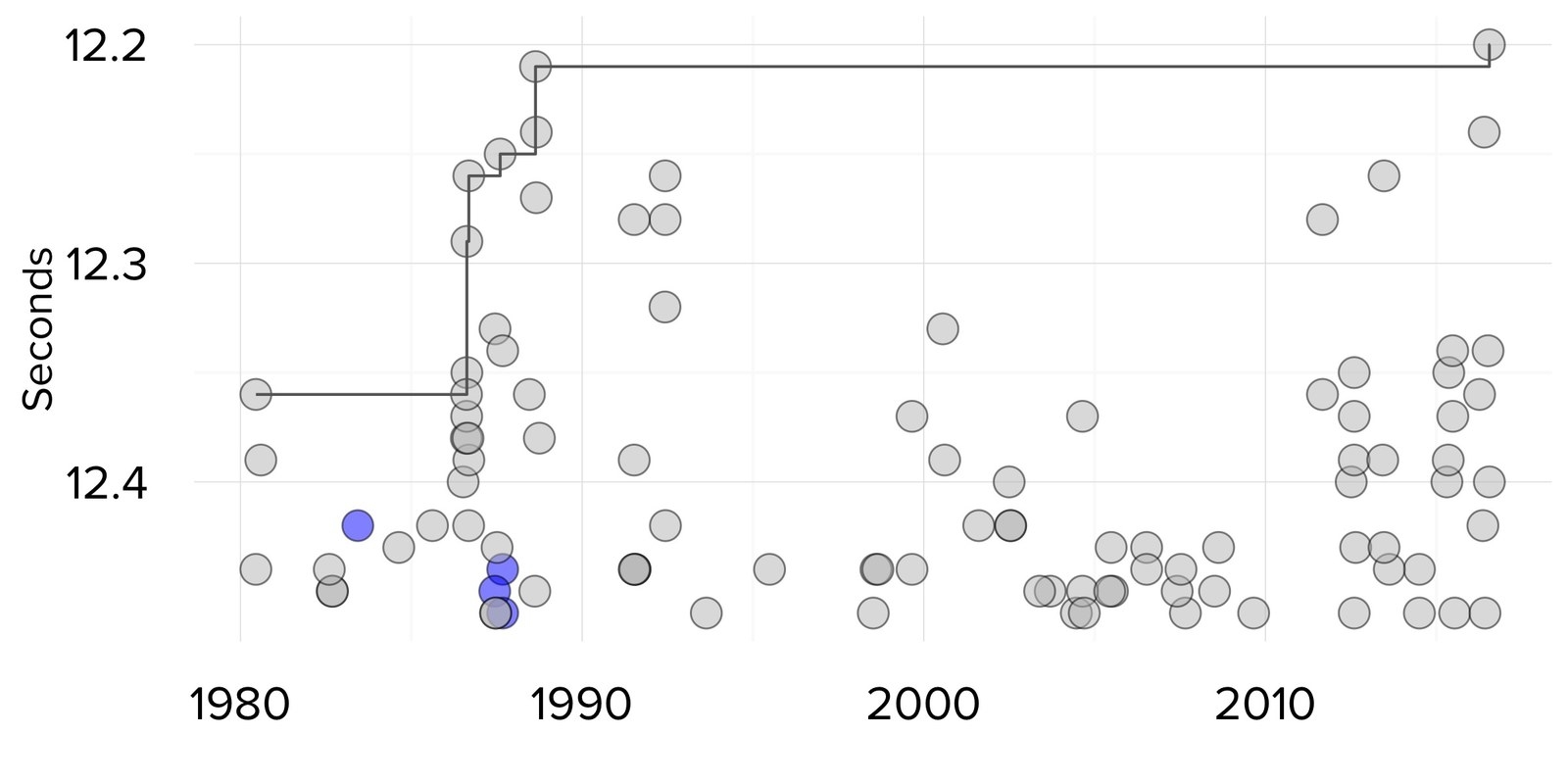 There's a second, darker reason for the dearth of recent world records.
Steroid use in track-and-field athletics exploded in the 1980s, before drug testing became as sophisticated and rigorous as it is today. Apart from the few athletes who were caught — notably Canada's Ben Johnson, disqualified after testing positive for stanozolol after winning the 100 meters at the 1988 Seoul Olympics — nobody knows for sure which athletes doped and which performed clean.
Still, two well-documented state-sponsored programs provide a partial view of how doping has distorted track and field. According to an independent report commissioned by the World Anti-Doping Agency released on July 18, Russian authorities ran a doping program from late 2011 onwards, with positive results being swept under the rug by the national testing laboratory in Moscow.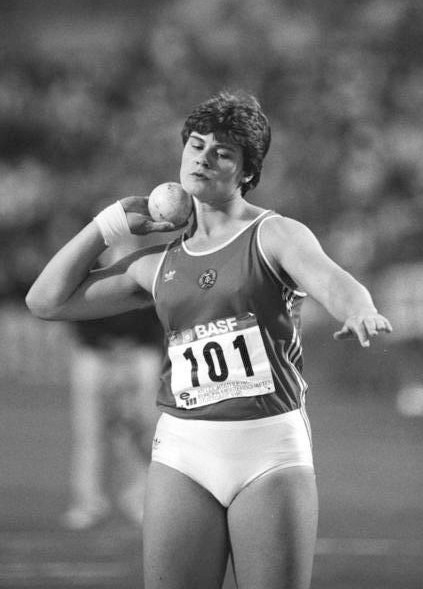 Even this malfeasance pales beside the massive doping program that ran in East Germany until the collapse of the Communist state. Often without their knowledge, athletes were given "vitamin" pills that were really massive doses of steroids. Many later reported health problems. Andreas Krieger, who competed in shot put for the East German team as Heidi Krieger, later had gender reassignment surgery and complained of chronic pain in his hips and thighs.
The program's full extent was revealed in the 1990s by biologist Werner Franke of the German Cancer Research Center in Heidelberg and his wife, Brigitte Berendonk, who competed in the discus for West Germany. They found meticulous records of systematic doping in files held by the Stasi, East Germany's notorious secret police.
Performance records for women's sprints and throws show how dominant East German athletes were at the doping program's height — and how contemporary performances have fallen away from the marks set in the 1980s.

Women's discus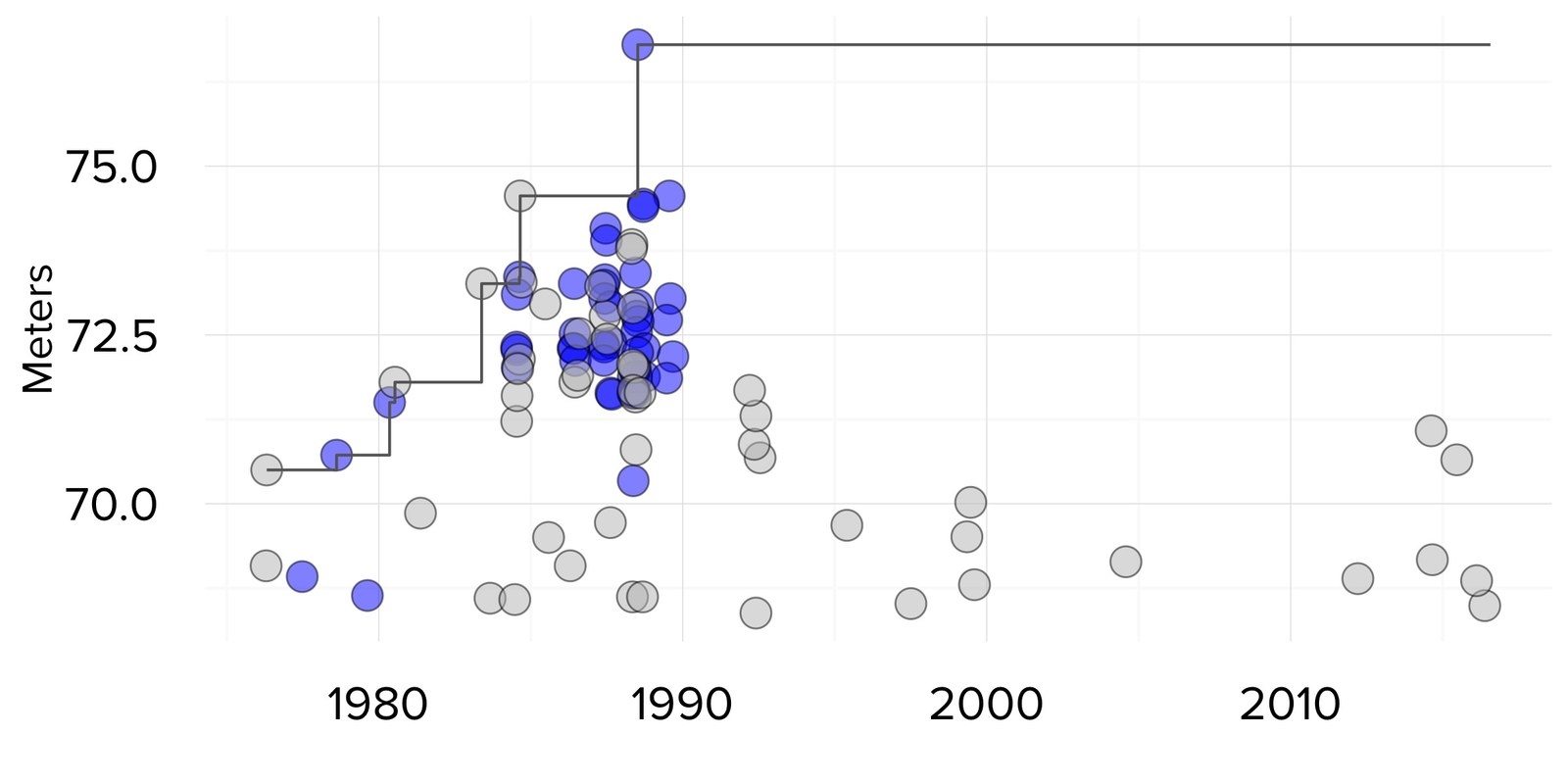 Women's 400 meters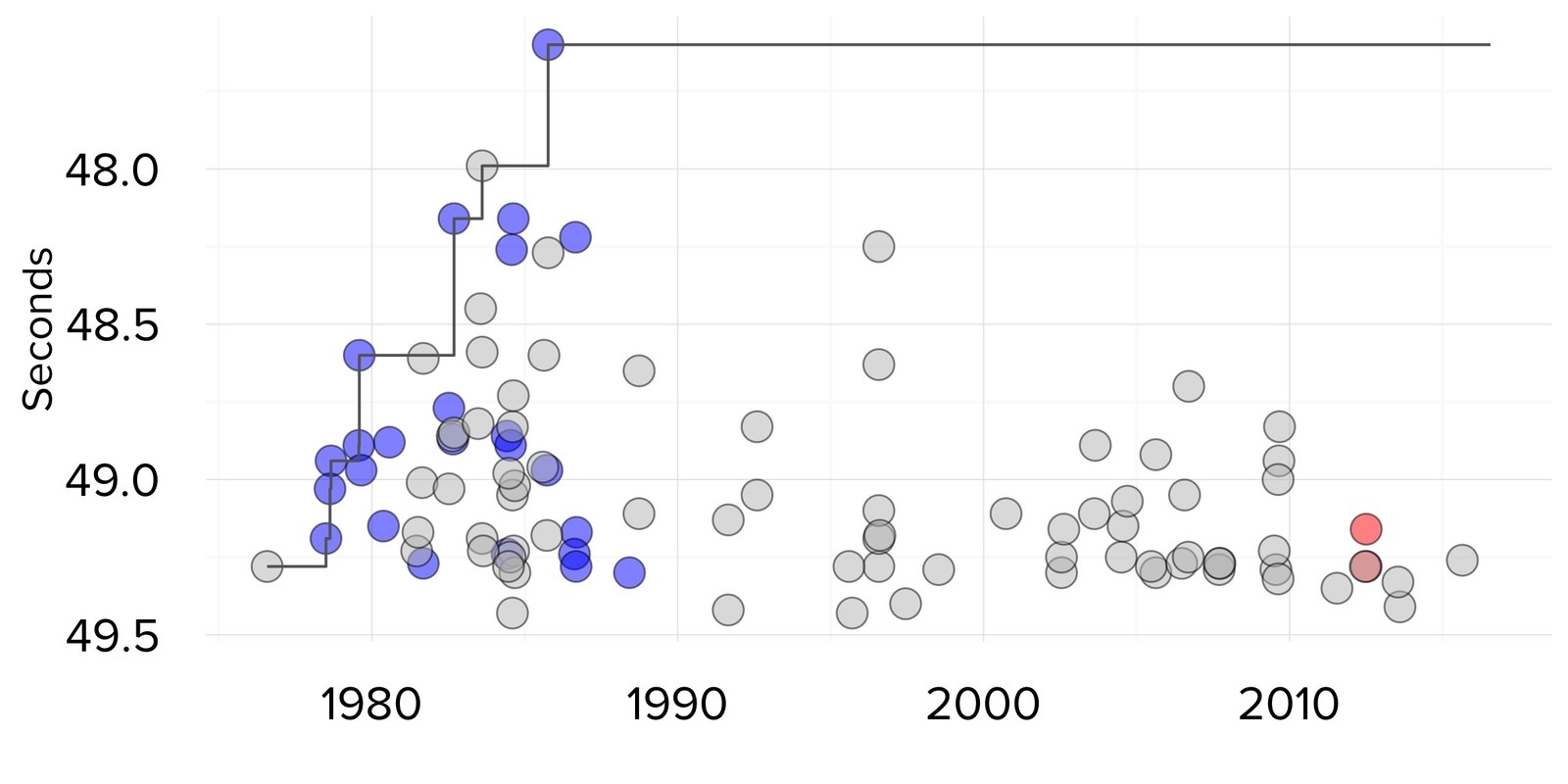 Judging from recent performances by Russian athletes, that nation's modern doping program had nothing like the impact of its East German predecessor. Indeed, with today's frequent testing and "biological passports" — which monitor athletes' blood for subtle signs of the way in which the human body responds to doping — scientists say it would be impossible to repeat the widespread abuse of the 1980s.
"The era of industrial-strength doping is over," Joyner said. "There's only so much cloak-and-dagger that they can do."
Given the human body's limits, the best hope for big leaps in performance lies with developments in technology. After flexible fiberglass poles were introduced in the 1950s, pole vault performances soared. And when dirt running tracks were replaced by synthetic materials in the 1960s, runners' times improved by about 3%, Joyner said.
Indeed, technological improvements seem to explain why records in swimming were all set relatively recently, in marked contrast to track and field.
When today's records were set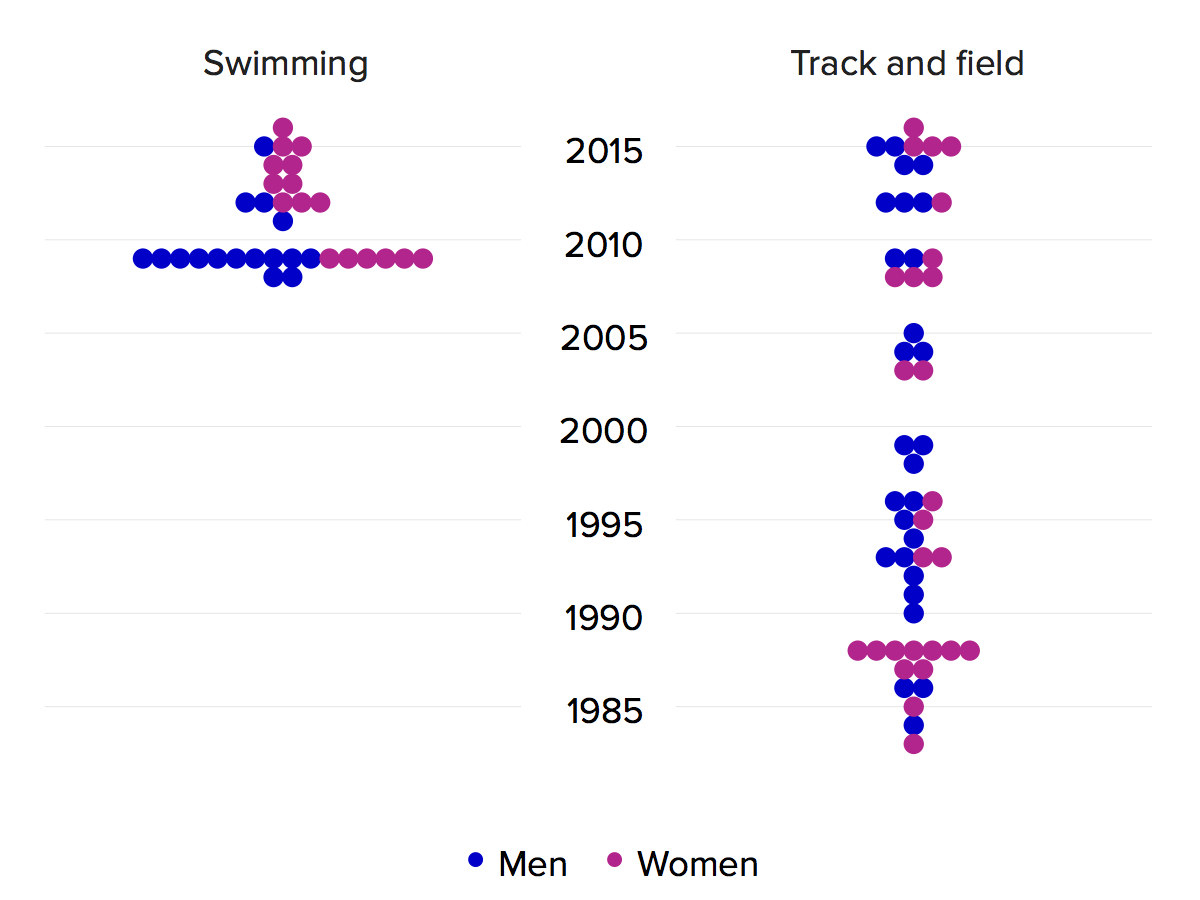 Swimming times depend crucially on the drag that water imposes on the human body. And in recent years, pool designers have worked hard to promote fast times, preventing the turbulence created by swimmers from interfering with their progress.
"The waves that are created by the swimmers have been reduced significantly by the design of the pools and the lane dividers," the University of Wolverhampton's Nevill told BuzzFeed News.

Swimsuit design is also crucial: The glut of world records in 2009 followed the introduction of all-body polyurethane suits, which dramatically reduced drag in the water and improved buoyancy — they were banned in January 2010.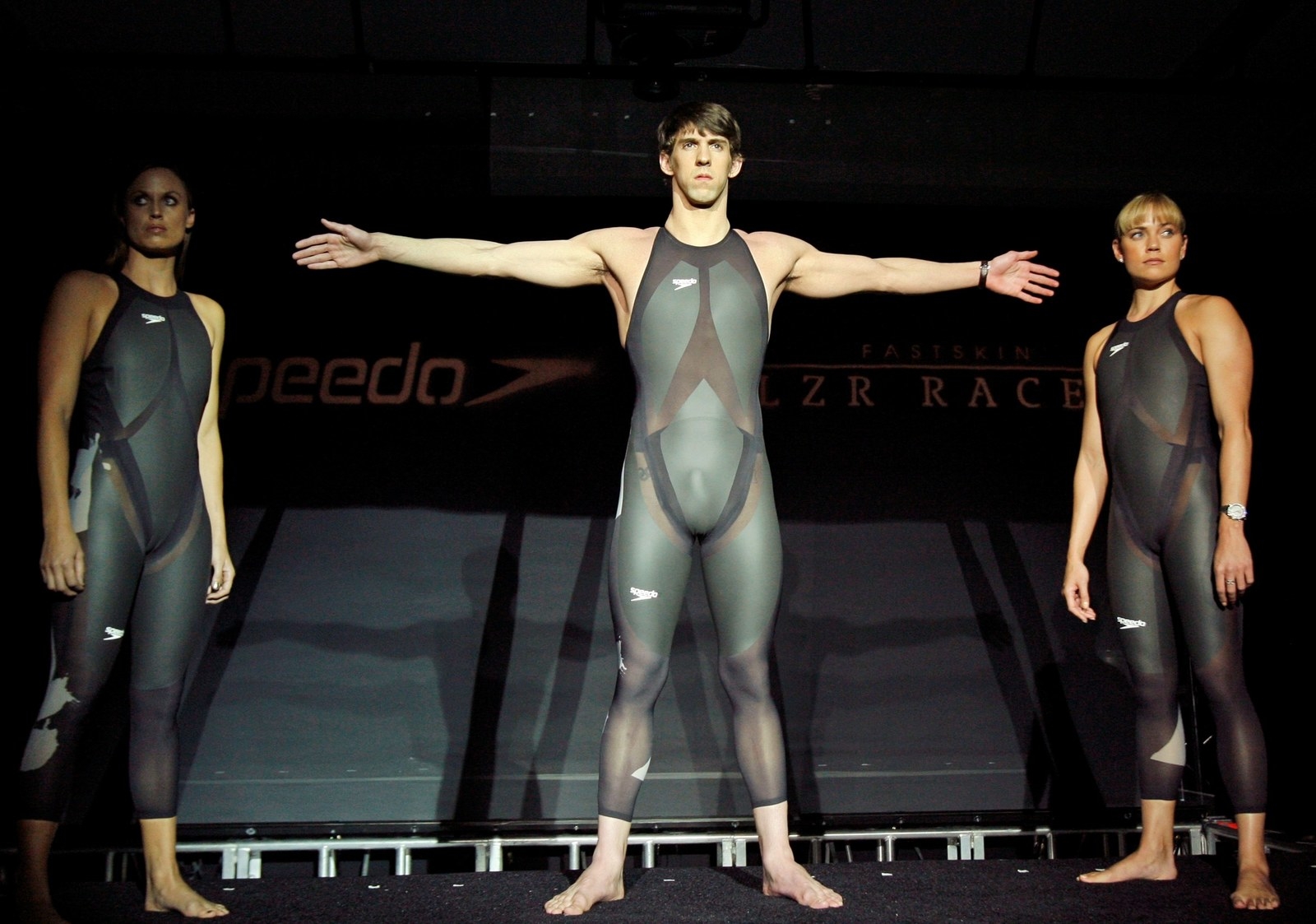 But if track and field is your thing, where are the best chances for a world record in Rio?
Some women's events were added to the Olympic roster fairly recently, and don't yet seem to have reached the plateau of performance that has becalmed world records in other events. In the women's hammer, for instance, Poland's Anita Wlodarczyk is definitely worth watching.
Women's hammer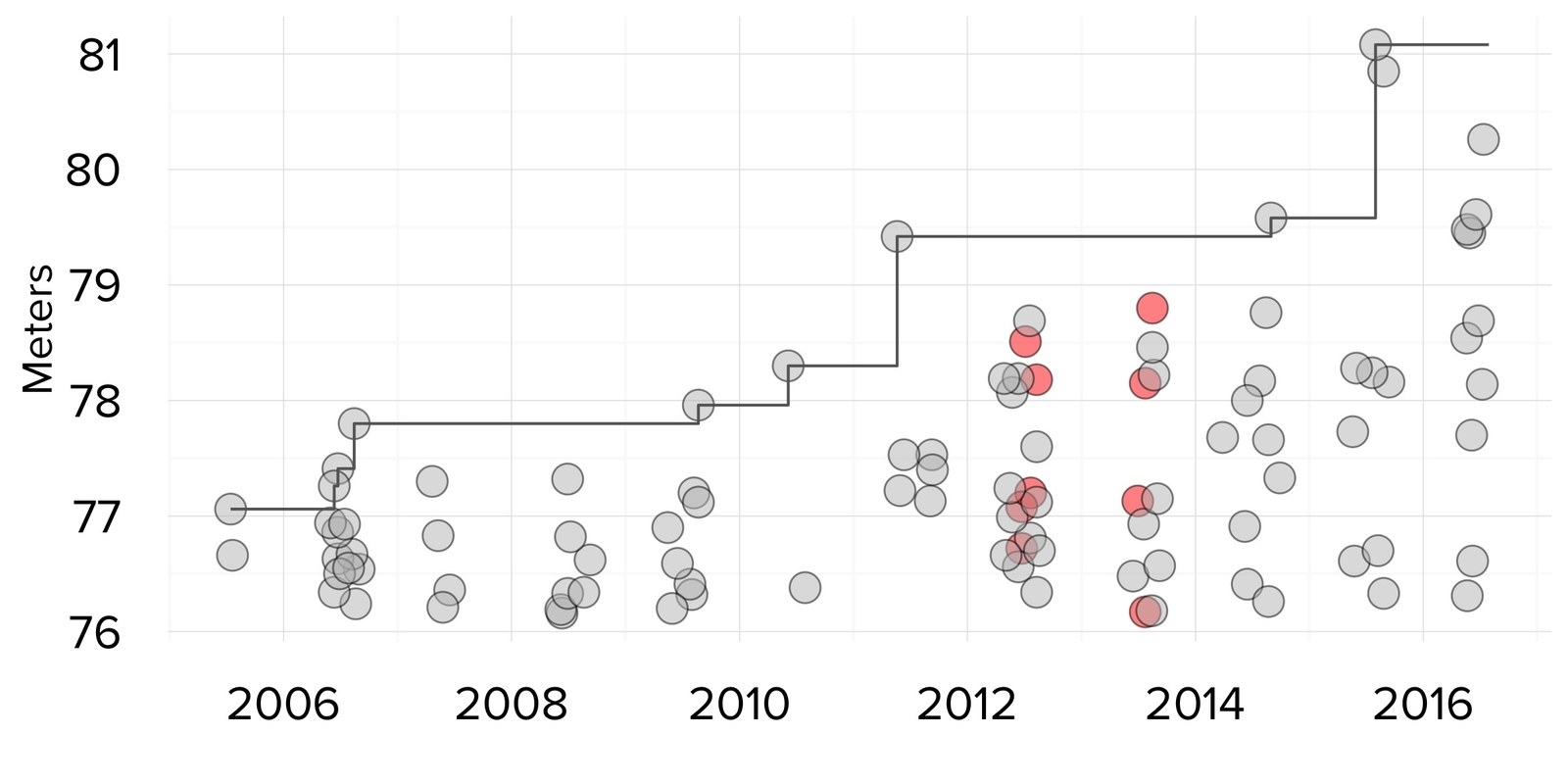 Apart from these events, the best hope for a new world record in Rio lies with truly exceptional performers, such as Portland's Ashton Eaton, who has twice set world records in the decathlon — which provides the ultimate test of all-round athletic ability.
Men's decathlon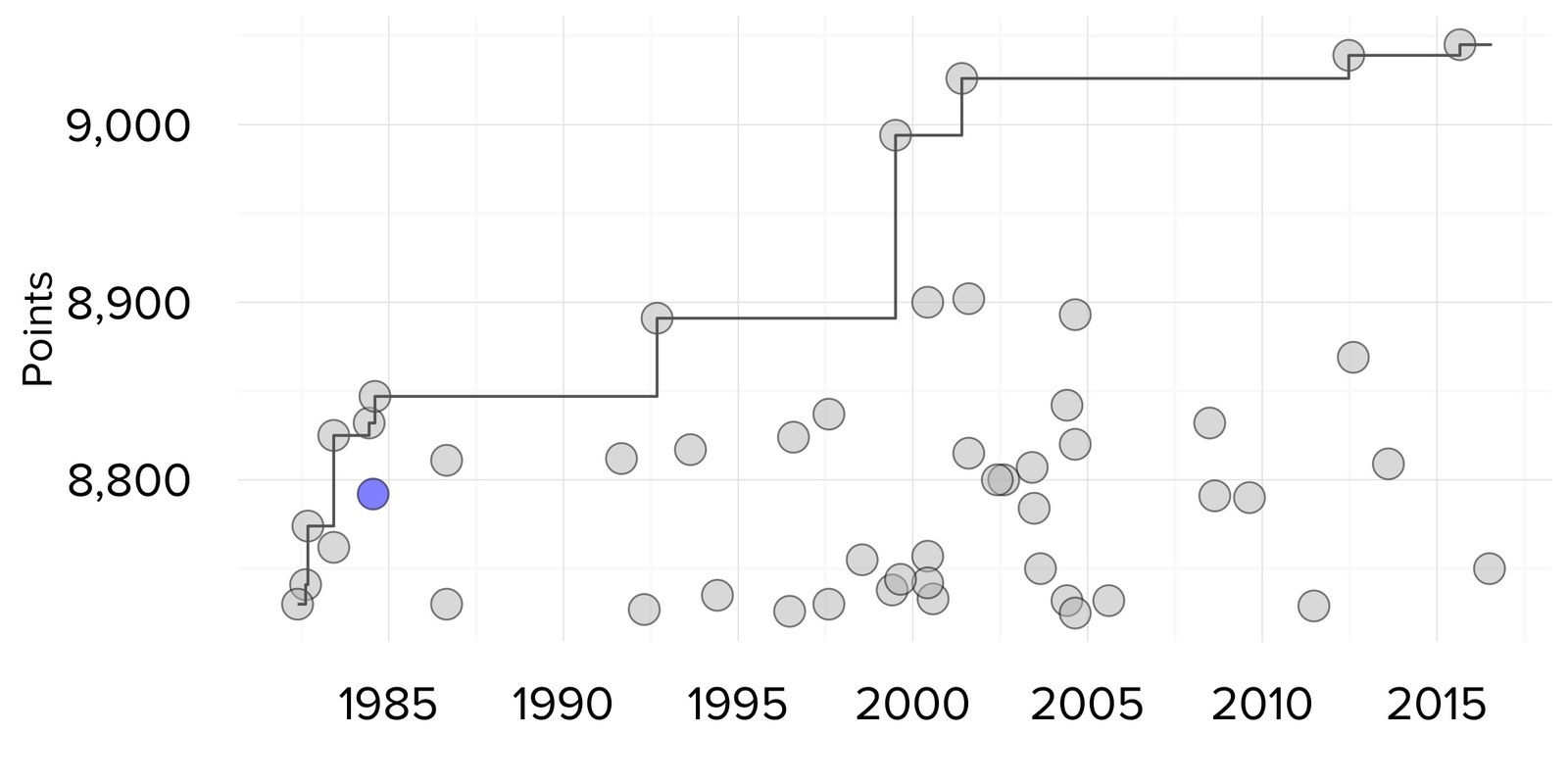 Interested in other events? Take your pick.
Peter Aldhous for BuzzFeed News / Via iaaf.org
All charts show outdoor performances only.
UPDATE
This story has been updated to reflect that the analysis included only outdoor track-and-field events. A chart documenting pole vaulting was included in an earlier version and has been removed.