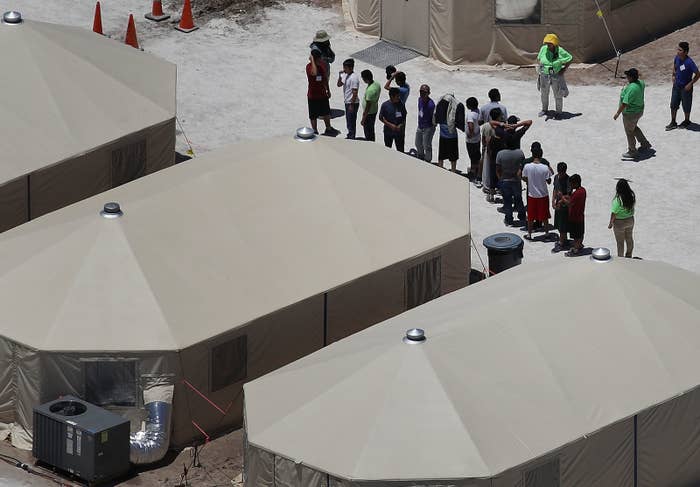 Two companies that sell DNA tests for people to research their family trees have offered to provide free testing kits to help reunite families separated by the Trump administration's "zero tolerance" immigration policy.
But according to immigration advocates working with the separated families, it won't really help. In most cases, the main obstacle isn't identifying lost children, but overcoming the logistic and legal hurdles to putting families back together.
"It's more an issue that the government just won't take any responsibility," Melissa Lopez, executive director of Diocesan Migrant & Refugee Services in El Paso, Texas, told BuzzFeed News. "They have all the information they need, even in the case of young children."
On Thursday, Jackie Speier, a Democratic member of Congress from California, asked the Silicon Valley DNA testing firm 23andMe if it could help with the problem of separated families. The company's CEO, Anne Wojcicki, tweeted that customers had been asking the same question, and said she would like to help out.
Others, including former Obama administration health official and USA Today columnist Andy Slavitt, had also called for DNA testing.
Then MyHeritage, a rival company based in Israel, said it would donate up to 5,000 testing kits to help separated families.
"In light of the humanitarian tragedy that has taken place, in which children have been separated from their parents, we have decided to rise to the challenge and take the lead in helping these families," said Gilad Japhet, MyHeritage's CEO, in a statement.
"Some children are too young to speak. Some speak only indigenous languages. Matching the parents and children is the key requirement," Roi Mandel, a spokesperson for MyHeritage, told BuzzFeed News by email.

Immigration advocates contacted by BuzzFeed News said these efforts, however well-intentioned, are mostly unnecessary.

"It's great that everybody's wanting to try to help," Lucas Swanepoel, vice president for social policy with Catholic Charities, which is working with immigrant families separated at the southern border, told BuzzFeed News. "What's really needed at this time is financial support to the various agencies that are assisting these children and supporting the families."
"In my opinion, it's easy to determine familial relationships," said José Xavier Orochena, a lawyer in New York City who is representing a woman from Guatemala currently detained in Arizona whose children have been moved to New York. Her problem is an upcoming hearing that will set a bond for her release, and whether she can afford to pay that bond.
Orochena and Lopez said that in a small number of cases, if there is doubt that adults claiming custody of separated children really are their parents, DNA testing might be helpful. But if that is required, it will be important to use tests that are accepted in immigration courts, and ensure that samples are handled with a careful legal chain of custody to ensure that they have not been tampered with.
More than 30 DNA testing companies across the US currently have the accreditation to provide these tests. But neither 23andMe nor MyHeritage are set up to do so.
Bioethicists, meanwhile, are concerned about desperate parents giving DNA samples without thinking about the implications for their privacy.
BuzzFeed News reached out to 23andMe and MyHeritage to ask about immigration advocates' concerns.
"To help reconnect parents and children, we intend to offer our genetic testing services through non-profit legal aid organizations representing these families," 23andMe said in a statement. "We are well aware that genetic data contains highly personal information and we want to ensure that it is handled confidentially and with the consent of anyone tested."
"Where we can help, we want to help," Rafi Mendelsohn, MyHeritage's director of PR and social media, told BuzzFeed News. He said the company was starting to reach out to organizations working with affected families to see how that would work in practice.
"We're in the process of setting up collaborations, including in Central American countries," Mandel added.

Lopez of Diocesan Migrant & Refugee Services urged companies and individuals who want to help to talk to NGOs working on the problem. "They can reach out to local organizations and volunteer. They can make monetary donations," she said.
UPDATE
This story has been updated with further comments from MyHeritage.
UPDATE
This story has been updated with a more detailed statement from 23andMe.