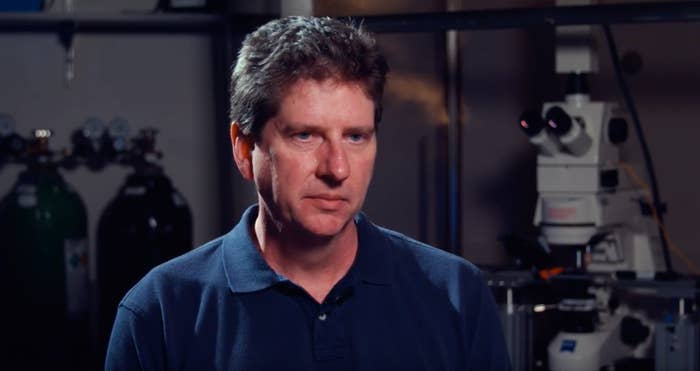 In August, just days after a scientist alleged on Twitter that David Sweatt had "drugged and raped a student," Vanderbilt University in Nashville placed him on leave.
Now, email correspondence obtained by BuzzFeed News confirms that a grad student at Oregon Health & Science University alleged he drugged and assaulted her. The documents also reveal that Vanderbilt was told about the anonymous allegation and warned that Sweatt represented a "potential safety threat" 11 months before they removed him from campus.
The woman who reported Sweatt's behavior, who is not named in the documents, did not respond to requests for comment. Sweatt's lawyer, Andrew Miltenberg, sent a statement denying that his client did anything wrong.
"Beginning in August, and set in motion by people with a destructive, political agenda that is not tethered to reality, Dr. Sweatt has been targeted by anonymous, irresponsible and unfounded allegations," Miltenberg wrote. "Dr. Sweatt denies any wrongdoing. He has always conducted himself, both professionally and in his private life, in a respectful, thoughtful and consensual manner."
Sweatt, chair of Vanderbilt's Department of Pharmacology, studies the molecular underpinnings of learning and memory. He has written a popular textbook on the subject and in 2008 was made a fellow of the American Association for the Advancement of Science.
He is also an artist, painting abstract works with titles like "NMDA Receptor," reflecting the themes of his scientific research. It was this pastime that on Aug. 7 prompted Francis Collins, director of the National Institutes of Health (NIH), to write a glowing blog post about Sweatt "pursuing beauty" through science and art.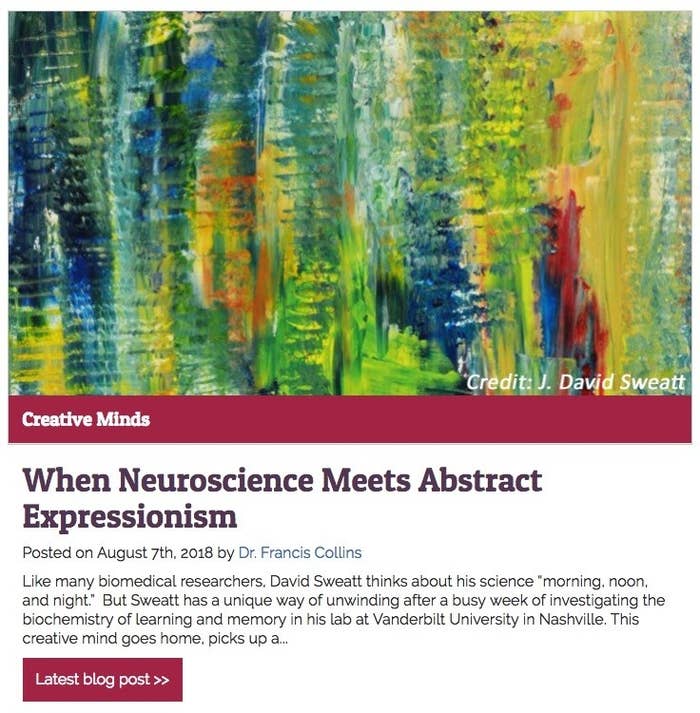 After Collins tweeted a link to the blog post, Sarah Myhre, a climate scientist at the University of Washington, and a member of the Seattle branch of the group 500 Women Scientists, replied: "Do you know that Dr. David Sweatt, the 'gifted painter' you are lauding here, has been accused of drugging and raping a student?"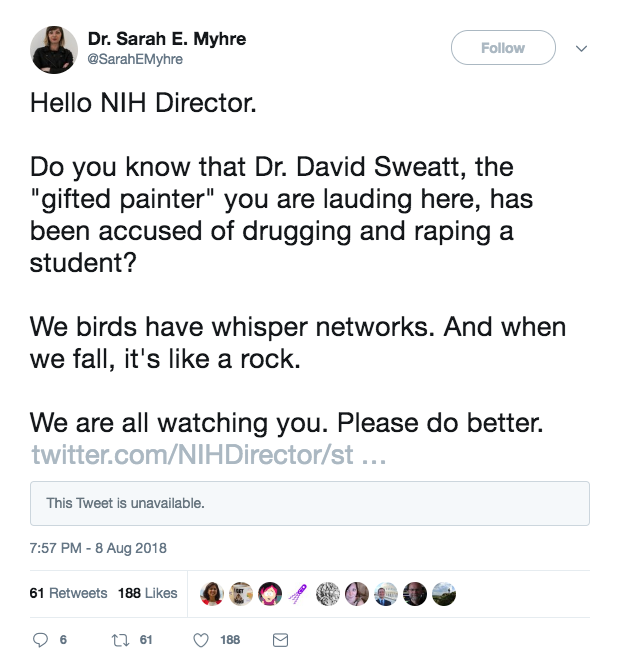 The NIH — which over the years has provided more than $20 million to Sweatt's research, including more than $1.7 million in grants to train grad students and postdoctoral trainees — quickly removed the blog post, and Collins deleted his tweet.
"NIH took down the blog on Friday, August 10, and feels it was appropriate to remove the blog while Vanderbilt looks into the matter," a spokesperson for the agency told BuzzFeed News by email.
Also on Aug. 10, Larry Marnett, dean of basic sciences for Vanderbilt's medical school, wrote to colleagues at the university: "I want to make you aware that as of today David Sweatt, Chair of Pharmacology, is on leave." When BuzzFeed News asked about the allegation made on Twitter at that time, the school confirmed that it was "looking into the matter."
"Providing a safe and welcoming environment is a priority, and we take seriously any complaints of misconduct," a Vanderbilt spokesperson added.
Email correspondence obtained by BuzzFeed News through a public records request to Oregon Health & Science University (OHSU) reveals that almost a year earlier, Vanderbilt was told about an allegation that Sweatt had "drugged and assaulted" an OHSU graduate student.
On Sept. 5, 2017, these records show, the student emailed Laura Stadum, Title IX coordinator at OHSU, who is responsible for handling complaints of sexual harassment or assault, wanting to know about procedures for making a complaint about a member of the faculty at another university.

Stadum put the student in contact with Heath Kula, chief of the OHSU Police Department. Then Stadum met with the student, in which the student said that she was assaulted by Sweatt at a scientific meeting in another state in early 2015.
In a Sept. 13, 2017 email, Stadum told her Vanderbilt counterpart, Anita Jenious, about the allegation. She noted that the student wanted to keep her name confidential, "but based on the seriousness of the allegations involved and the potential safety threat, I advised her that I would at least need to reach out to you."

The same day, Stadum wrote to OHSU police chief Kula: "Last week I cc'd you on an email with graduate student [redacted] reached out to me last week and reported that she had been drugged and assaulted by a non-OHSU employee while at a conference in [redacted]."
Notes from the OHSU Title IX office also reveal that by Sept. 20, 2017, Stadum had spoken by telephone with the Title IX offices at both Vanderbilt and the University of Alabama at Birmingham (UAB), where Sweatt worked at the time of the alleged incident, to discuss procedures if the student decided to make a complaint at either of those schools.

The next day, Sandra Keith of Vanderbilt's Title IX office emailed Stadum explaining its policies and how to file a complaint. This was forwarded to the student. She did not pursue her complaint further with either Vanderbilt or UAB.
UAB told BuzzFeed News that it had no records of complaints against Sweatt, nor correspondence with other institutions about any such complaints.
"OHSU reached out to the UAB Title IX office to report a possible safety threat regarding David Sweatt," UAB's Title IX coordinator, Kasey Robinson, told BuzzFeed News by email. "At that time, Sweatt had already left UAB and was a full-time professor at another institution. The safety concern was referred to that institution. Based on confidentiality concerns, OHSU was not able to provide UAB with information sufficient to conduct a Title IX investigation of our own."
By June 25, 2018, Stadum of OHSU had been contacted again by Vanderbilt. She then wrote to the student once more, saying that the Title IX office at Vanderbilt wanted her feedback about approaching Sweatt "with information that there was a report made about an assault at a conference."
Vanderbilt told BuzzFeed News in a written statement that its Title IX office tried to substantiate the information provided by OHSU as soon as it was received, and "continued to pursue the issue until they had exhausted all available lines of inquiry." Because the student didn't make a complaint, and with her identity unknown, "they did not have a sufficient basis for conducting an investigation or taking any other immediate action."
"In August 2018, additional allegations were posted on social media," the statement continued, which provided "enough additional information to start an official investigation."
Sweatt remains on leave, and the investigation is ongoing, the university added.