Less than a year after the first confirmed US death from COVID-19, the nation's toll today passed half a million. This staggering loss was unimaginable then — and is almost impossible to comprehend now.
By the measure of what makes news, it's a 9/11 every single day for five and a half months, or more than 2,000 airliners disappearing off the radar, never to be seen again. We're approaching nine times the American military who died in Vietnam. The figure for US military fatalities in World War II was eclipsed in January. Only the Civil War, the bloodiest conflict in American history, lies ahead as a milepost of suffering and loss.
There is no moral equivalence between wars and pandemics. But there are lessons to be learned from every national tragedy. What we've witnessed with COVID-19 is the stumbling of a superpower, as a high-tech and wealthy nation that should have been well placed to limit the spread of a deadly virus was ultimately found lacking.
The coronavirus has exposed the fault lines and rampant inequality in American society. It has disproportionately killed older adults, those already sick, people with low incomes, and people of color. Millions lost their jobs and were left with little means of support. Stimulus checks were approved last April, but at a maximum of $1,200 they came and went all too quickly.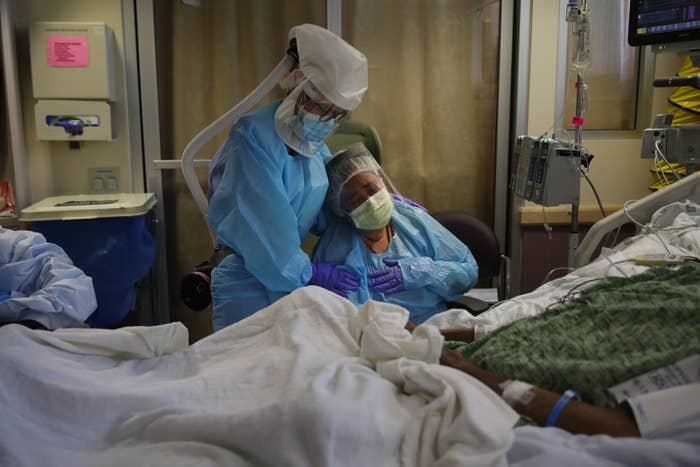 Meanwhile, hundreds of thousands of Americans were left alone to mourn their mothers, fathers, wives, and husbands. Many had to say their last farewells by FaceTime or Facebook — or not at all. As a nation, we failed to adequately mourn, until a new president finally acted as comforter in chief and led the nation's first ceremony of remembrance on the National Mall — on Jan. 19, the eve of Inauguration Day.
For month after month, America bickered. When our leaders could have developed a national strategy to limit the spread of the virus while rebuilding a shattered economy, they instead descended into bitter partisan disputes about "lockdowns" versus "reopening" — failing to put in place the infection control policies that allowed nations like South Korea and New Zealand not just to flatten the curve but to crush it.
The humble symbol of the COVID era, the face mask, was transformed from a sensible precaution that could limit viral spread — once scientists realized that airborne transmission, not contaminated surfaces, was the main problem — to a symbolic flashpoint in America's interminable culture wars.
Until November, then-president Donald Trump claimed that the virus would magically disappear, accepted no responsibility, and stoked the divisions that helped thwart an effective response. His false statements about the coronavirus ended only when an exhausted nation finally threw him out of his job and he became consumed by the biggest lie of all — the absurd claim that he won the 2020 election, culminating in the bloodshed at the Capitol on Jan. 6, 2021.
Through it all, the poor got poorer, the already fabulously rich got richer, and the bodies piled up.

Difficult as it is to fully account for everything we've lost, the hard numbers divide this historic loss of life into three waves, each with a distinct geography, revealed in this weekly animation of the cumulative death rate by county.
The first, which exploded rapidly in March 2020 and peaked the following month, hit hardest in and around New York City, New Orleans, Detroit, and in parts of Georgia. In those early days, doctors didn't know the best way to treat patients with severe COVID-19. So hospitals could do little to stop the carnage and saw a steady stream of patients cycle through ICU beds to refrigerated trucks lined up as temporary morgues.
"You walk into the hospital and you think, Not only is the virus infecting people — it's infecting the hospital itself. It's pushing out everything else," one doctor at Elmhurst Hospital Center in Queens, New York, told BuzzFeed News in late March.
Similar scenes played out across Europe, from London to the Lombardy region of Italy. But while European nations managed to reduce viral transmission to a low level over the summer months, the US did not.
By mid-April, the CDC and the White House had put together a set of guidelines for states to plan staged reopenings of their economies. But, egged on by Trump, state governors across the Sun Belt, from Arizona to Florida, largely ignored these criteria and quickly resumed the riskiest activities, including indoor drinking and dining.
As a result, a summer surge of cases tore across the South. The number of people dying rose too but didn't reach the terrible heights of the spring. That was because doctors had by then figured out better treatments for the most severely ill patients, lying them in a prone position rather than rushing to put them on a ventilator, and treating them with a powerful steroid drug to damp down rampant immune responses that can do even more harm than the virus itself. Southern states were eventually forced to reverse their premature resumption of normal activities, which partially controlled the surge. But it seemed that the nation was willing to tolerate a steady drumbeat of deaths that continued to average around 750 a day through the whole of September.
Then came the deadliest wave. As the weather chilled and people increasingly gathered indoors, cases and deaths began to surge again, first in the Upper Midwest and the northern Plains states. Experts could see the writing on the wall by October. "I'm increasingly concerned that this will be a rather steep and long third wave," Saskia Popescu, an epidemiologist at the University of Arizona and a member of the Federation of American Scientists' Coronavirus Task Force, told BuzzFeed News, as the daily death toll started to rise once more.
This time the virus wreaked havoc across the entire nation — including at the epicenter of US COVID denial. Just days after it emerged that the White House had hosted its own superspreader event, the gathering to introduce Amy Coney Barrett as Trump's nominee to serve on the Supreme Court, the president was rushed to Walter Reed Army Medical Center on Oct. 2 after he was diagnosed with COVID-19 and his blood oxygen reportedly plummeted to dangerously low levels.
Trump recovered to resume his lies, labeling the pandemic a "fake news media conspiracy" on the campaign trail. But many Americans did not recover as Popescu's prediction proved chillingly accurate. Hospitals across the nation were overwhelmed. For almost a month in January and early February, the seven-day rolling average of daily reported deaths only once dropped below 3,000; by Dec. 14, 300,000 people had died and on Jan. 19, Trump's last full day in office, the toll passed 400,000.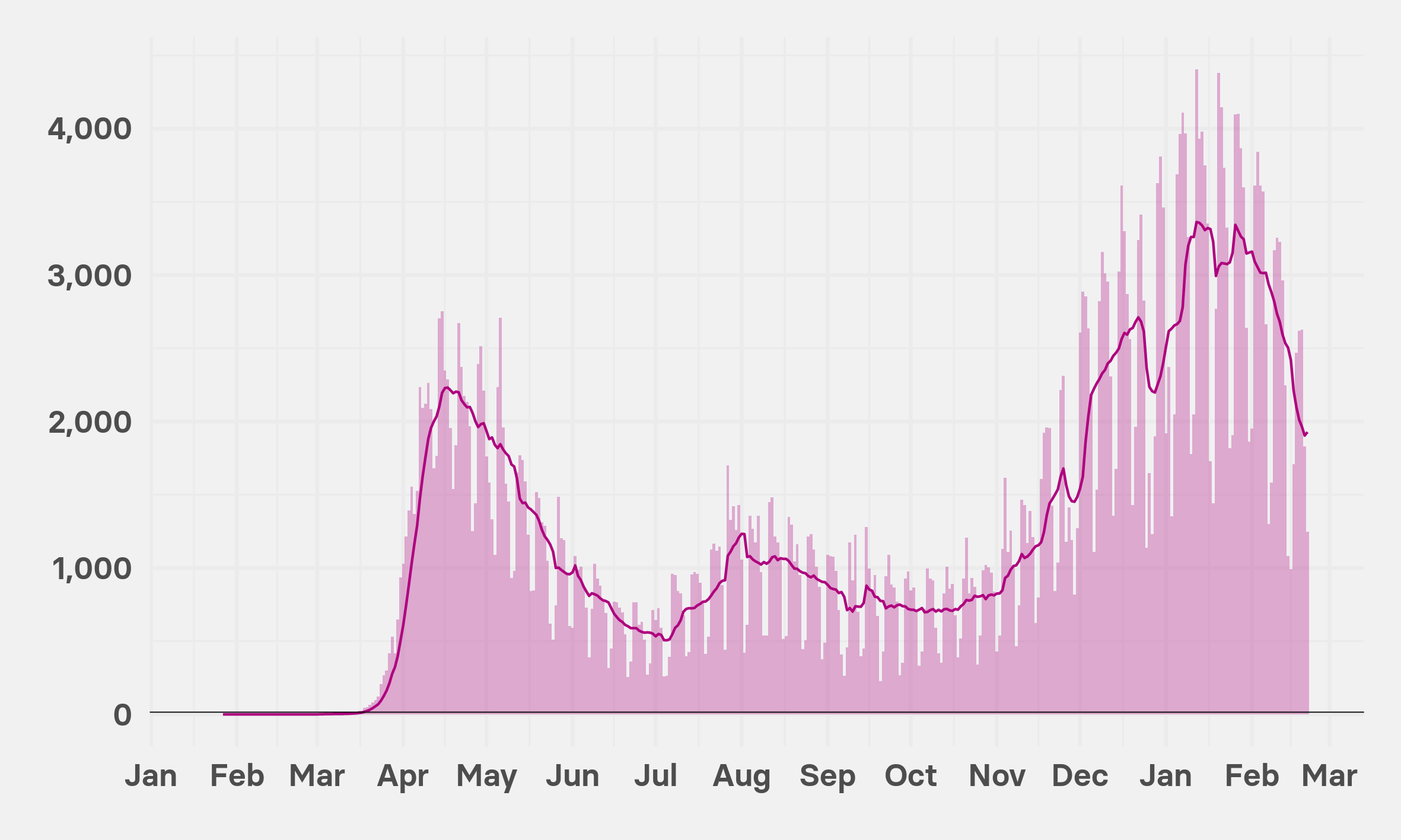 Thankfully, daily reported numbers of people getting sick and dying are now falling rapidly. It's not totally clear why things turned around, but a leading explanation is a combination of local policies and personal choices, as people saw what was happening in their communities and took steps to limit their exposure to the virus. The big question now is whether the continuing rollout of coronavirus vaccines, which began in December but has yet to extend far enough to explain the current decline, will suppress the pandemic and prevent further waves.

The development of highly effective vaccines on a timescale of months that few initially thought was possible is the biggest success story of the pandemic — a towering achievement of government investment and scientific innovation. The main concern is the emergence of new coronavirus variants that spread more quickly or have the potential to evade current vaccines and require them to be reengineered.
With luck, we will avoid a fourth wave and will be able to concentrate on learning the lessons of COVID-19. But on lessons learned so far, the signs aren't good.
From the early days of the pandemic, we knew that concentrations of older adults in nursing homes were uniquely susceptible to deadly outbreaks. But as the virus spread across the nation, state after state failed to protect their most vulnerable citizens. According to data gathered by the New York Times, more than a third of US COVID-19 deaths have happened in nursing homes. In 10 states, these facilities account for more than half of everyone who has died. Only vaccination has started to turn things around.
Similarly, we knew from early on that the virus was disproportionately killing Black and Latino Americans. Ensuring the vaccine rollout addresses these disparities should be a top priority. But due to a combination of hesitancy driven by distrust of the medical establishment and issues with access to healthcare, those same communities are now getting left behind in the vaccination drive.
The biggest mistake of all would be to assume that COVID-19 is a once-in-a-generation event that we can forget and put behind us. Humanity dodged a bullet twice, as other diseases caused by related animal coronaviruses, SARS in 2003 and MERS in 2012, fizzled out after ringing a global alarm. The emergence of a highly pathogenic flu virus, long thought to be the main pandemic threat, remains a constant possibility.
Sooner or later, another infectious disease will come to threaten our lives and our way of life. We don't have to make the same mistakes that turned COVID-19 into an American horror story. But next time we will need a plan, and the collective will to carry it out. ●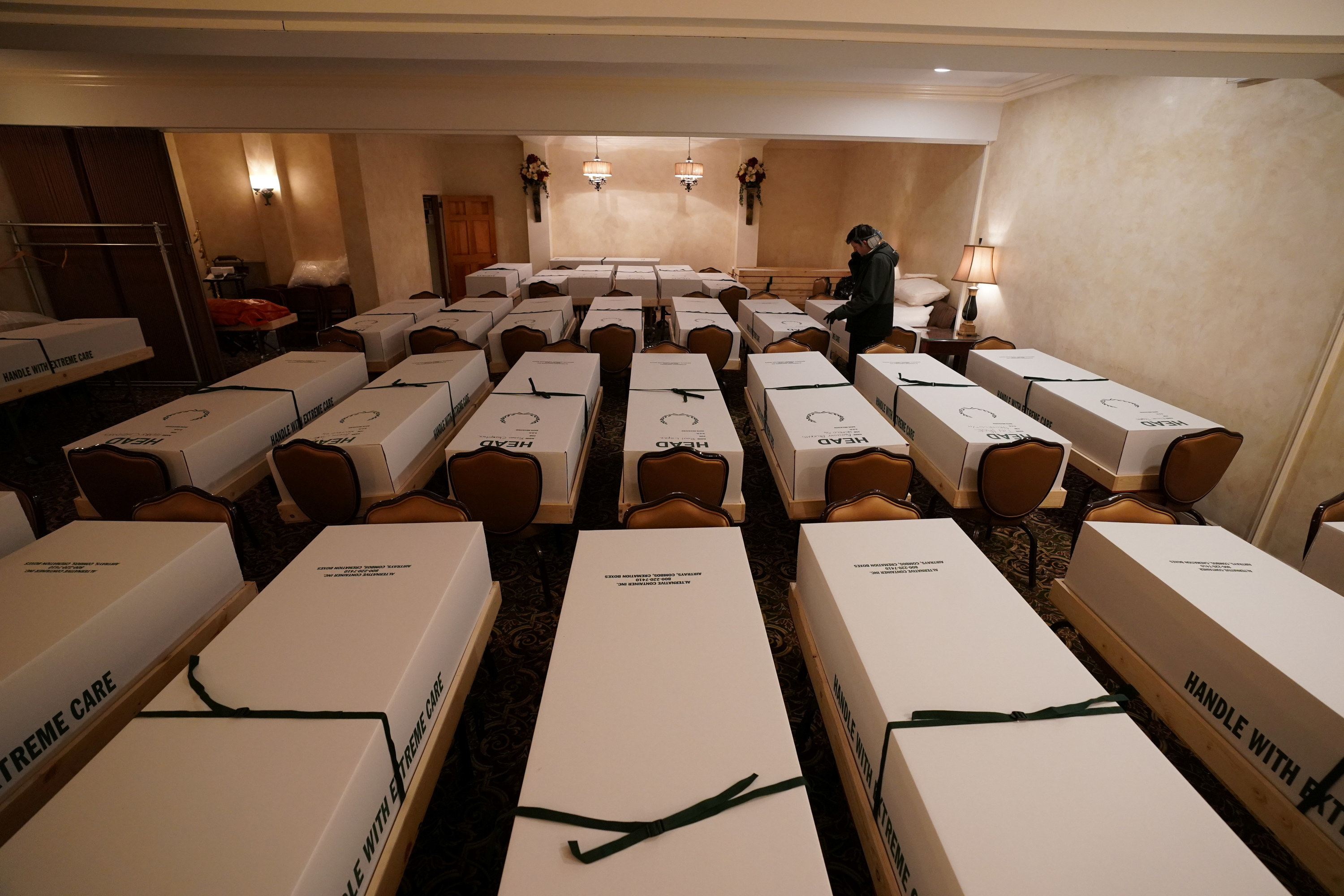 Top image: Lila Blanks leans over the casket of her husband, Gregory Blanks, 50, who died of COVID-19, ahead of his funeral in San Felipe, Texas, on Jan. 26, 2021 (Callaghan O'Hare / Reuters). Weekly cumulative death totals source: Johns Hopkins University CSSE.