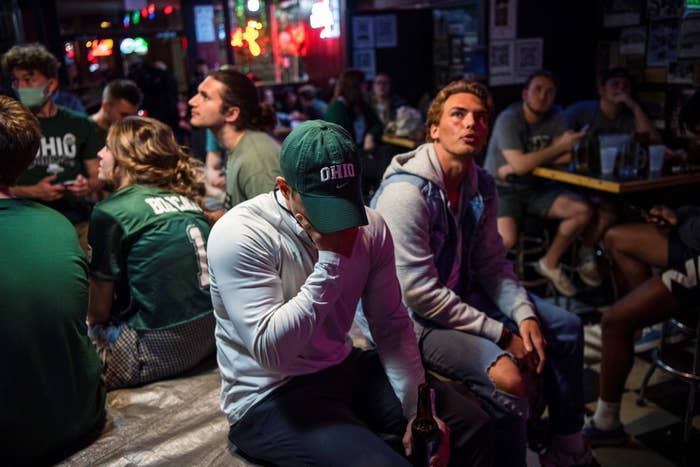 If you thought the pandemic was over in the US, think again. After almost three months of steady decline, the number of daily new cases of COVID-19 across the nation is rising. In several states, led by Michigan, the number of people in hospitals is also climbing.

That leaves the US at a critical juncture, experts warn. Even as the vaccine rollout picks up speed, the reopening of businesses, including bars and restaurants in many states, increased travel, a widespread sense of COVID fatigue, plus the spread of more transmissible and deadly variants, means that the US could be at the start of a fourth coronavirus surge.
"I am going to pause here, I'm going to lose the script, and I'm going to reflect on the recurring feeling I have of impending doom," a visibly shaken Rochelle Walensky, director of the CDC, said at a White House COVID-19 briefing on Monday. "We have so much to look forward to, so much promise and potential of where we are, and so much reason for hope, but right now I'm scared."
Health officials on Monday urged Americans to continue getting vaccinated, wearing masks, social distancing, and following CDC travel guidelines to prevent a fourth surge.
"We really need to hold on to the public health measures as we get more and more people — from 2- to 3-plus million people — vaccinated every day," said Anthony Fauci, director of the National Institute of Allergy and Infectious Diseases. "It will be a race between the vaccine and what's going on with the dynamics of the outbreak. We can win this by just hanging in there a bit longer."
COVID-19 cases are rising again nationally.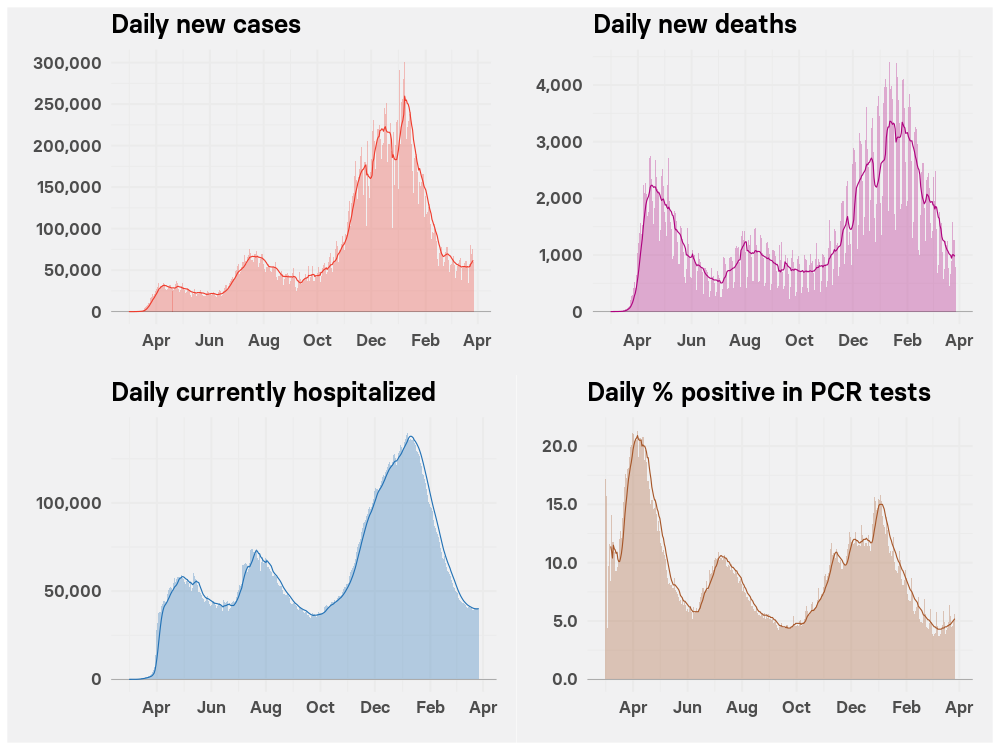 After a steep decline in new COVID-19 cases from the start of January, daily new cases across the nation began to level off and then ticked upward last week. Another key indicator of a renewed surge, the positive percentage of daily COVID-19 tests, has been rising for about three weeks.

Surges in the number of people in the hospital and daily reported COVID-19 deaths typically lag behind rises in cases by a few weeks.
"When we see that uptick in cases, what we've seen before is that things really have a tendency to surge, and surge big," Walensky said. "We know that cases can sometimes be a week or two behind the behavior that leads to those cases — the mixing that leads to those cases — we know that travel is up, and I just worry that we will see the surges that we saw over the summer and over the winter again."
Cases are surging in states across the US.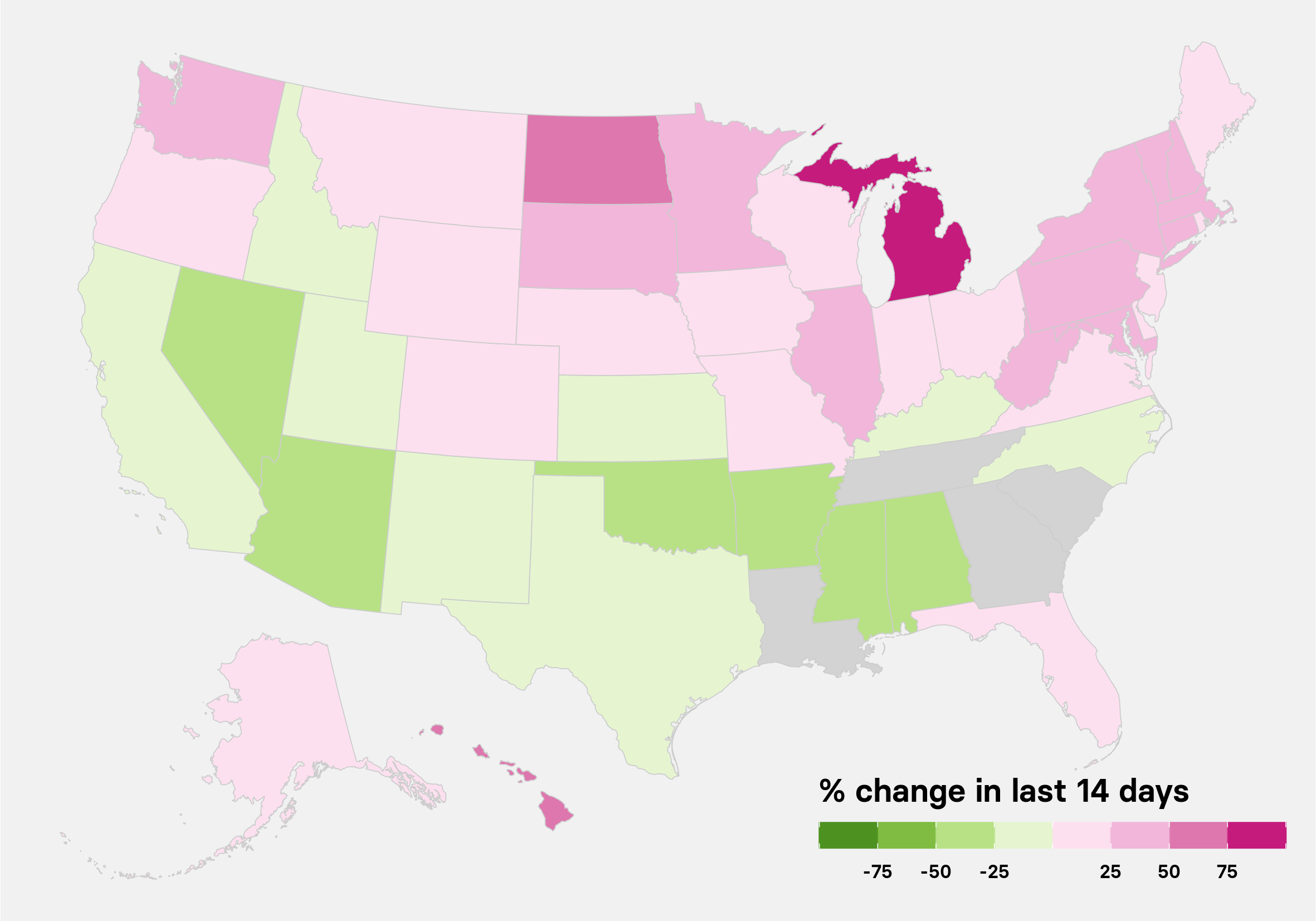 The rise in new cases began in Michigan, then fanned out across the Midwest and the Northeast. Now cases are rising in states from Hawaii to Florida — where spring break partying alarmed local health officials and led to clashes with police. "An enormous number of people are coming our way, and many of them, if not most, seem to have forgotten that there's a pandemic," the mayor of Miami Beach, Dan Gelber, told USA Today on March 15.

"I'm really worried about the spring break activity in Florida," George Rutherford, an epidemiologist at UCSF, told BuzzFeed News. "We'll know soon if those people brought cases back home with them. If we see an outbreak in Alabama in a college town all of a sudden, we might say, 'Yeah, that was the problem.'"
More dangerous coronavirus variants may be partly to blame for the rises in cases. Data from the CDC shows that Florida and Michigan lead the nation for confirmed cases of the more transmissible and deadly B.1.1.7 coronavirus variant, first seen in the UK. But this data provides a limited view of the spread of variants in the US, since genetic surveillance for these variants is still not widespread.
"We know about 26% of all sequenced virus is now the B.1.1.7 variant," Walensky said. "And that may be one of the reasons, if people are not doing the things — masking and distancing to protect themselves — this variant is probably less forgiving and more infections will occur."
Health officials also pointed to loosening restrictions in many states as a key problem.
"If we open up completely now, that is premature, given the level of infection that Dr. Walensky described," Fauci said. "We are really doing things prematurely right now with regard to opening up."
Walensky said she would be meeting with governors on Tuesday to urge them to "refrain from opening up too fast."
Michigan has seen an alarming spike in COVID-19 cases and hospitalizations.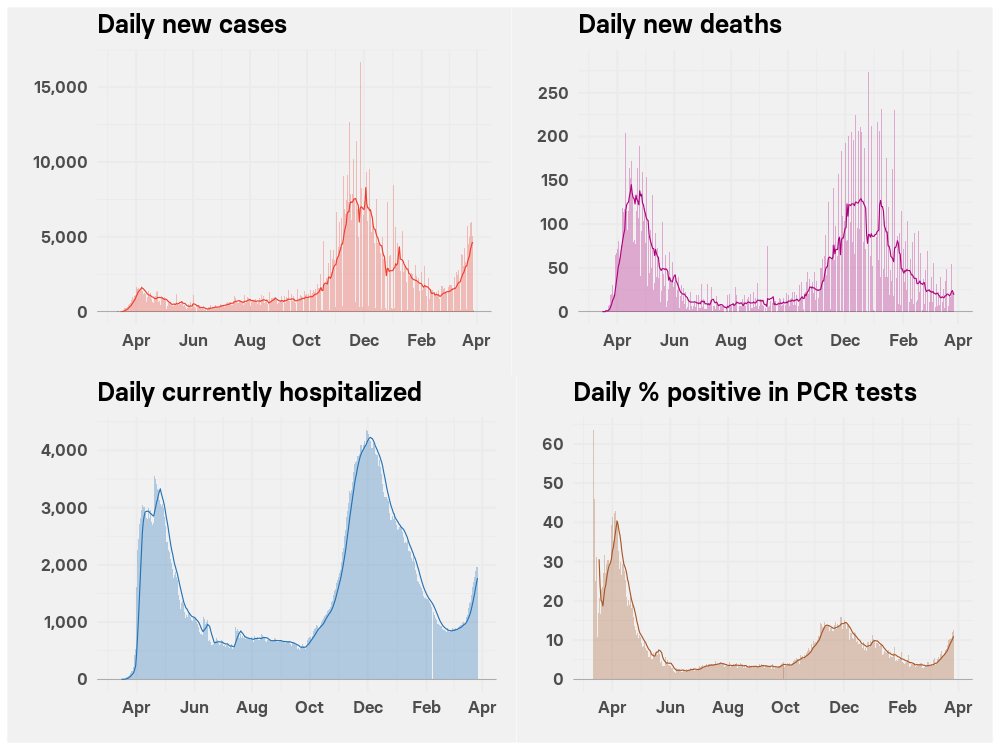 Trends in Michigan provide an alarming view of where the entire nation may be headed. Experts hope that the rise in cases won't be followed by such steep rises in hospitalization and deaths as in previous surges, because those getting infected now are mostly younger people who have not yet been vaccinated.
"The case count will become less of a focus as hospital capacity is no longer able to be threatened," Amesh Adalja, a specialist on pandemic preparedness at the Johns Hopkins Center for Health Security, told BuzzFeed News.
But in Michigan, the number of people in the hospital is now rising almost as steeply as it did in the fall, and the daily reported death toll also seems to be rising.
"We just had a perfect storm in Michigan, it all happened together," said Michigan State University epidemiologist Debra Furr-Holden. She attributed the rise in cases to the spread of B.1.1.7, reopening bars, gyms, and restaurants on Feb. 1, COVID-19 fatigue, warmer weather, and vaccination giving people false confidence to quickly resume risky behaviors. "We cannot think that we can vaccinate our way fast enough out of the spread to prevent this from going up again."
The coronavirus is also surging again in Europe, providing another warning for the US. In France, Germany, and Italy, the daily counts of new cases have risen sharply in the past few weeks — although Italy has managed to slow its surge after introducing renewed strict controls, including closing stores, schools, and restaurants.

One important advantage for the US, however, is that it has so far fully vaccinated 15.5% of its population, compared to 4.9% in Italy, 4.6% in Germany, and just 3.9% in France. That's largely because of vaccine supply issues in Europe, leading to a dispute with the UK, which secured doses of AstraZeneca's vaccine earlier than the European Union.
But just relying on the vaccines to halt rising cases may not be enough, especially because younger people are not yet eligible for vaccination in many states unless they have health conditions or occupations that put them at greater risk.
"We are not powerless — we can change this trajectory of the pandemic," Walensky said at the White House press briefing. "But it will take all of us recommitting to following the public health prevention strategies consistently while we work to get the American public vaccinated."
UPDATE
This story has been updated to include comments from Michigan State University epidemiologist Debra Furr-Holden.