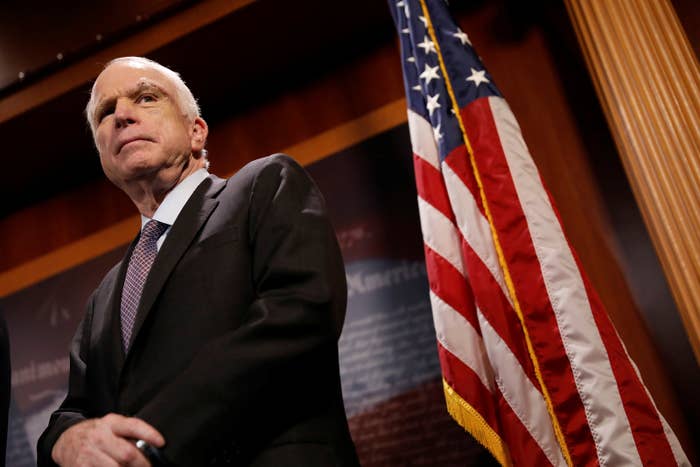 As John McCain walked into the Senate at midnight on Thursday, reporters asked him how he would vote on an imminent make-or-break vote on the Republican health plan. His response: "Watch the show."

And what a show it was. After an hour of desperate, last-minute lobbying by Republican leadership failed, McCain strutted to the center of the Senate floor, held his hand in the air to grab a clerk's attention, then swung his thumb downward in a no vote. With a literal flick of his wrist, McCain killed the Obamacare repeal plan his party had struggled for six months to keep alive.
The other two no votes were already known. Susan Collins of Maine had long been vocal about her opposition to the plan since the Senate started took up health care, citing its cuts to Medicaid and removal of protections for people with pre-existing conditions. Alaska's Lisa Murkowski had kept her cards closer to her chest but was well known to oppose the GOP plan over Medicaid cuts, defunding Planned Parenthood and other issues. Throughout the week Senate Republicans spent voting on various leadership-backed health care plans, Murkowski and Collins lined up to oppose them.
All eyes were on the final vote, which they were also expected to oppose, but it was unclear if Collins and Murkowski had a third Republican to go along with them.
Few people expected McCain to be the one to join them. The Arizona senator had made a dramatic return to Washington after a brain cancer diagnosis days earlier to keep the bill alive in a procedural vote on Tuesday. Many thought he would vote the same way early Friday morning.
And yet, it was clear just before the vote that something was up with McCain. The senator was surrounded by a rotating cast of Republicans, including Vice President Mike Pence and President Donald Trump in a reported phone call, trying to sway him. Collins and Murkowski continually checked in with McCain, in between getting pressed to flip themselves. Twenty minutes before he finally voted, McCain literally wandered over to the other side of the aisle where, surrounded by Democrats, he waved his arms, stared upwards and mouthed a drawn-out "Fuck!"
Finally, at 1:30am, after flying back to Washington explicitly to help Republican leaders pass their first health care vote, McCain voted it down.
"(The bill) offered no replacement to actually reform our health care system and deliver affordable, quality health care to our citizens," McCain said in a statement after joining Collins and Murkowski to kill the bill.
McCain didn't like the bill, but then most Republicans didn't like it and voted for it anyway. McCain hated the process, but then most Republicans hated the process and went along with it anyway.
People close to McCain say there wasn't one issue, but a combination of factors that drove him to bring down the bill.
"McCain has been pissing vinegar over this health care bill for months now. He's been very vocal about how much he hated the process. He's been vocal about how the bill is not good for his state," said Ana Navarro, a conservative commentator and friend of McCain's.
Navarro pointed to McCain's speech on the floor of the Senate Tuesday, just after he voted in favor of a motion to move the health bill forward. McCain railed against the partisanship of Congress and the breakdown in regular order in the speech — the first since his diagnosis — which was less about the issue of health care specifically, than about the US Senate, modern politics and his hopes for the country.
The path of the health bill was particularly bizarre. It went through no committee study in the Senate. It was written and rewritten behind closed doors. The final text of the bill was only revealed Thursday evening just a few hours before it went to a vote. In his speech, McCain called for a return to the process of slow, incremental working out of of problems through study. Debate and compromise. "It doesn't feel like a political triumph, but it's usually the most we can expect from our system of government," he said.
McCain faced a wave of criticism for voting to keep the health bill alive after making that speech. But Navarro argues he ultimately stayed true to it. "Anybody who knows McCain really should not be terribly surprised. Because he laid it out as clearly as he could [Tuesday]," she said.
What's up to speculation is how much McCain's ultimate vote was meant as a statement to Trump. As chair of the Senate Armed Services Committee, McCain's friends say he was stunned by Trump's announcement Wednesday that transgender people will be banned from serving in the military. McCain was "blindsided and offended" by the ban, according to John Weaver, a political consultant who was a close adviser to McCain during both of his presidential campaigns.
Weaver said McCain had frequently expressed his anger at the health bill and the Senate process in recent months.
And McCain was incensed by Trump's decision to publicly attack Murkowski — first in a tweet, and then through a phone call from the Interior secretary warning that there would be repercussions for Alaska if she didn't reverse her opposition to the health bill. Murkowski was an early supporter of McCain's 2008 presidential run and he holds Murkowski in high regard.
"The attempted bullying of Senator Murkowski weighed on him a great deal," said Weaver. "What's the one thing that broke the camel's back? It's hard to say. But it was a combination of all those things."
Navarro said she doesn't believe the White House's actions were a catalyst for McCain's no vote, but they certainly didn't help sway him the other way. "Everything this White House has done in the past week is the type of thing that infuriates John McCain," she said.
McCain still believes strongly in repealing and replacing Obamacare, however. Exactly what happens now on the issue is unclear, but McCain is telling friends he hopes the Senate's Health committee takes up the issue and starts work on a bipartisan plan.
"He does believe in the institution. He thinks if you grind out the hard work in committee you can get a bipartisan result," said Charlie Black, a friend and former presidential campaign adviser for McCain.
McCain has now returned to Arizona where he will undergo treatment for brain cancer. It is not immediately clear when he plans to return. His office did not respond to a request for comment on this story.
Black said he spoke to McCain after making his dramatic vote and the senator was in high spirits. "He's fine," said Black. "He feels fine and thinks he did the right thing."