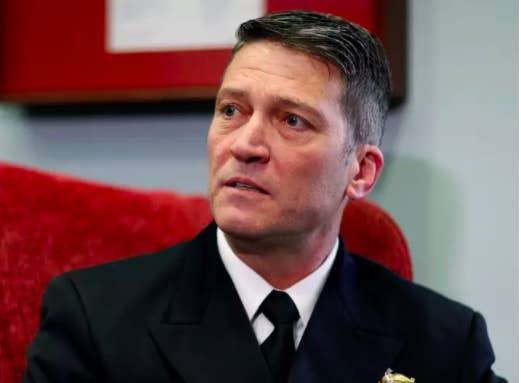 President Trump's nominee to run Veterans Affairs, Dr. Ronny Jackson, gained the nickname "candyman" for his willingness to prescribe powerful drugs to White House staffers without any documentation, according to a detailed list of allegations made public by Senate Democrats Wednesday.
The allegations come from conversations with 23 of Jackson's current and former colleagues, according to a release from Sen. Jon Tester, ranking Democrat on the Senate Veterans Affairs Committee.
Jackson has served as the White House doctor under both Republican and Democratic presidents, which also meant serving as the personal physician to the president. He would regularly be on call to step in if the president had a health issue, but according to the list of allegations, on at least one occasion Jackson could not be reached because he was "passed out drunk in his hotel room."
The document does not name any people interviewed, but also says that Jackson made other physicians uncomfortable with his habit of prescribing White House staffers whatever drugs they sought without paperwork.
The White House Medical Unit was once thrown into a panic by the discovery of missing tabs of Percocet, a prescription painkiller, the document alleges, and it says it turned out Jackson had provided "a large supply" of Percocet to a White House staffer and that Jackson "had private stocks of controlled substances."
In January, Jackson appeared before the media and praised President Trump's "great genes" while giving him a full bill of health. Earlier this month Trump tagged Jackson as his nominee to take over Veterans Affairs after David Shulkin was pushed out of the job.
Questions quickly started being raised about Jackson's background and qualifications, and even some Republicans said they were concerned about the White House's vetting process.
Trump indicated Tuesday he may encourage Jackson to withdraw his name from consideration to spare him from the "ugly and disgusting" vetting process. But by the end of the day Trump was reportedly standing behind Jackson's nomination.
On top of allegations of irresponsible prescribing of drugs and alcohol abuse — which include that he got drunk and wrecked a government vehicle at a going-away party — the document released by Democrats alleges that Jackson created a hostile work environment.
It includes quotes from anonymous colleagues referring to Jackson as "abusive," "explosive," "incapable of not losing his temper," and "the most unethical person I have ever worked with."