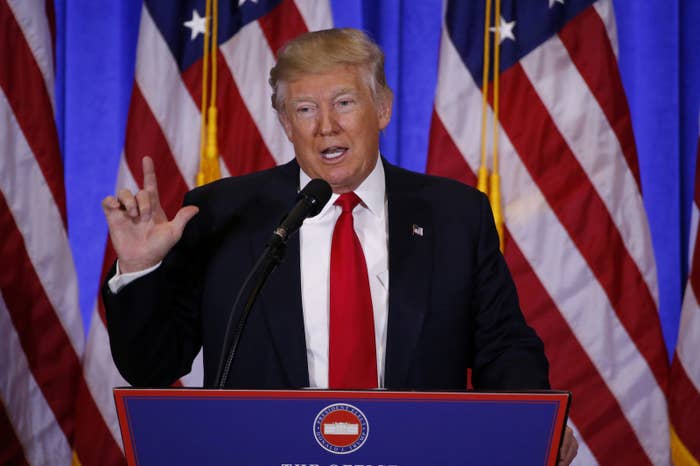 WASHINGTON — President-elect Donald Trump's congressional liaison wants an investigation into who, if anyone, in the intelligence community leaked an explosive dossier alleging Russian influence over Trump.

The document published by BuzzFeed News Tuesday contains unconfirmed allegations that have been passed around political, intelligence and media circles in recent weeks. Trump has blasted the documents as fake and a "disgrace."
Rep. Chris Collins, Trump's go-between for members of Congress, said he does not believe the allegations of Russian ties to Trump contained in the dossier are true, and that he does not think Congress has a role in investigating them. But he does want to see an investigation into how these documents were shared and eventually made public.
"My first thought is we need to know who in the CIA or in the intelligence community was leaking confidential information to the press, and there needs to be repercussions for that," Collins said.

"I would absolutely support congressional action to find out who in the CIA is so focused on undermining the Trump presidency that they 'leaked' this third-party opinion thing. You can call it blackmail-ish," he said, referring to the document. It's not clear that the CIA was involved in the leak. It was compiled by a former British intelligence official.

Some Democrats on Capitol Hill, including Sen. Dick Durbin, a member of leadership, are calling for an investigation by Congress into Trump's alleged ties to Russia. "The allegation that an American president could be susceptible to blackmail by a hostile foreign government is historic and deeply troubling," Durbin said in a statement Wednesday.
But there seems to be little interest among Republicans in delving into the contents of the unverified document.
Sen. John Thune dismissed the report as "discredited," while Sen. Richard Shelby said "Russia's been putting that kind of stuff out for years." Sen. Lindsey Graham said that everything that comes from Russian sources should be treated with suspicion and the matter should be left to intelligence officials, not politicians.
Sen. Rand Paul, however, joined Collins in proposing an investigation into how the document got out, rather than its contents.
"I think we should investigate who in the intelligence community is leaking privileged and classified information," he said.
House Intelligence Committee chairman Devin Nunes told reporters Wednesday that he had not seen the 35-page report until it was published by BuzzFeed News. Asked if he is confident Russia does not have compromising information on Trump, he said "I have no idea. I have no idea."
Nunes said there is a "finished intelligence product" on Russian interference in the US election, and the Intelligence Committee voted to share that with the entire House. He said that briefing should take place Thursday or Friday. An unclassified report on the Russian hacking was released to the public last week.