Trump's Health Secretary Won't Say If He Will Try To Kill Or Save Obamacare
Health and Human Services Secretary Tom Price gave Congress few indications Wednesday whether he would try to salvage Obamacare markets or tear down the system.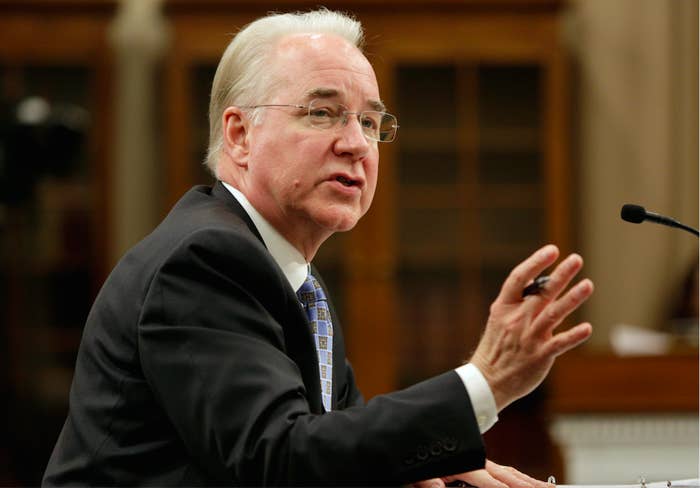 WASHINGTON — The man in charge of either saving Obamacare, dismantling Obamacare, or neglecting Obamacare gave little sign to Congress Wednesday as to what he would do, after Republicans failed to pass a bill repealing the law.
With the GOP's health care bill dead (at least for now) the Trump administration finds itself running a health system the president has repeatedly vowed to do away with.
"The best thing we can do, politically speaking, is let Obamacare explode," Trump said just last week.
Health and Human Services Secretary Tom Price mostly avoided giving direct answers about whether he will try to strengthen or weaken Affordable Care Act regulations when he appeared before the House Appropriations Committee Wednesday.
But Price has a huge amount of regulatory power to gut or strengthen provisions of the ACA. He could make changes that independent experts and even some Democrats are calling for to stabilize markets and hopefully bring down prices. Or, as Trump proposed, he could do nothing and hope some markets fail.
In reference to the individual mandate, the crux of the ACA that requires people to purchase health insurance if they can afford it, Price told the committee "so long as the law is on the books, we at the department are obliged to uphold the law."
But Price also said the existing rules increase premium costs and run contrary to the goals of the Trump administration. "We would suggest that the proof isn't there that the individual mandate actually increases the amount of coverage," he said.
With a filing deadline fast approaching for insurance companies to decide if they want to stay involved in individual marketplaces, Larry Levitt of the Kaiser Family Foundation told BuzzFeed News the best thing the Trump administration could do for markets is clear up this uncertainty.
"The single most important thing the Trump administration could do right now is to assure insurance companies that it intends to run the program effectively," said Levitt.
"That would include things like continuing outreach, enforcing the individual mandate, making the cost-sharing subsidy payments to insurers, and settling the lawsuit over the risk corridor program and making those payments."
One key opening for Republicans to either kneecap or bolster Obamacare markets involves a lawsuit launched by House Republicans opposing what are called cost-sharing reduction payments.
These payments compensate insurance companies for lowering premiums to low-income Americans who could otherwise not afford insurance. Republicans alleged the program is a breach of Congressional spending authority, and a lower court decision agreed. The Obama administration appealed the decision.
If the Trump administration dropped that appeal, insurance companies would be hit with a $7 billion annual bill. Whereas if House Republicans drop their lawsuit, the industry would be free of that threat looming over them. Key House Republicans are now openly talking about the need to drop the lawsuit.
Price repeatedly said Wednesday he could not comment on that file because it was before the courts.
The administration could significantly bring down premiums by supporting these programs and enforcing the individual mandate, Andy Slavitt, an administrator at the Centers for Medicare and Medicaid Services under Obama, argued in a recent op-ed.
On the regulatory side, the Trump administration's approach to Obamacare has been contradictory so far. First, Trump signed an executive order directing agencies not to enforce Obamacare regulations as much as they could.
But then, more quietly, Health and Human Services put out new regulations that provided the insurance industry with some of the changes they say they need for market stability.
Meanwhile, Republicans in the House continue to have meetings and are publicly insisting they are growing closer to drafting a health care bill that can pass the House.
"I'm pretty optimistic today," said Rep. Raul Labrador.
"I may feel differently next week, but I'm pretty optimistic today that we're going to get to a result where more than 216 members of the House are going to vote for the bill and not grudgingly vote for the bill but actually excitedly vote for the bill."