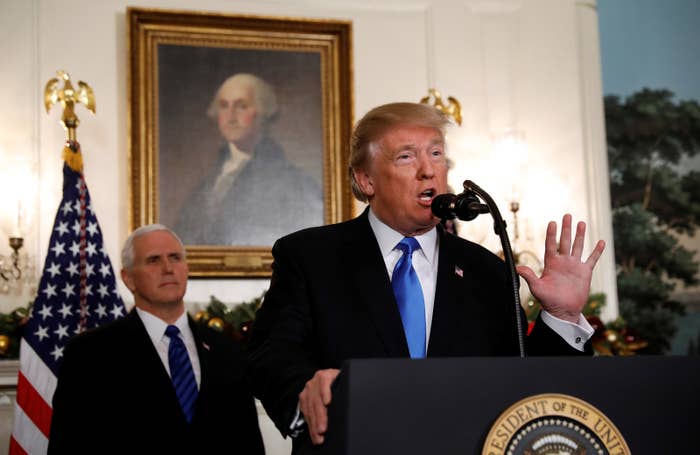 President Donald Trump stuck to his guns and formally announced heavy new steel and aluminum tariffs Thursday afternoon, despite fears from Republicans that it could start a trade war.

Trump is enacting a 25% tariff on steel imports and 10% tariff on aluminum imports, which will come into effect March 23. While the White House has exempted Canada and Mexico — for now — the European Union is already preparing to launch retaliatory tariffs against American products. The president insisted, however, they are necessary to revive America's steel industry.
Trump did make one potentially major concession by exempting Canada and Mexico from the tariffs. As two massive trading partners, the fallout among the three countries from retaliatory tariffs could have been enormous.
But while the exemption has no deadline, the White House insists it is not open-ended. Administration officials say the exemptions will be tied to ongoing NAFTA negotiations between the three countries. Trump tweeted this week that the tariffs "will only come off if new & fair NAFTA agreement is signed."
Canada and Mexico have objected to tying the tariff issue to NAFTA, as it essentially stacks the deck in America's favor. The Trump administration has not said how long the three sides have to come to a deal before the tariff exemptions will expire.
During the press conference officially announcing the tariffs Thursday, Trump threatened again to terminate NAFTA unless "a fair deal" for American workers and farmers is reached. "I have a feeling we're going to make a deal," said Trump. "We either make a deal or we terminate [NAFTA]."

Industry groups like the automotive, construction, manufacturing, aerospace and beverage industries, are already warning about higher prices and potentially thousands of job losses. But administration officials said Thursday they expect only minimal price increases to consumers and no domestic job losses as a result of Thursday's action.
The White House is framing the tariffs as a national security issue and says that if action is not taken then the domestic steel industry will collapse. That would leave the country without a domestic source of steel needed for essential military projects, say officials, as well as essential infrastructure such as dams and the electricity grid.
But Republican lawmakers pushed back against this logic and questioned how the tariffs can be a nationals security issue if they are also being tied to NAFTA talks.
House Speaker Paul Ryan released a statement Thursday saying he opposes the tariffs but is relieved that Trump exempted Canada and Mexico. He called for exemptions to be extended to other trading partners as well.
"We will continue to urge the administration to narrow this policy so that it is focused only on those countries and practices that violate trade law," said Ryan. "There are unquestionably bad trade practices by nations like China, but the better approach is targeted enforcement against those practices."
Senate Minority Whip Dick Durbin said in a statement that he supports Trump's decision to "put China on notice," but criticized the tariffs as too broad.
"The sweeping tariffs announced today are like dropping a bomb on a flea," he said. "Launching an all-out trade war will alienate the allies we need to actually solve the problem of steel dumping, and could have huge unintended consequences for American manufacturers who depend on imported materials."