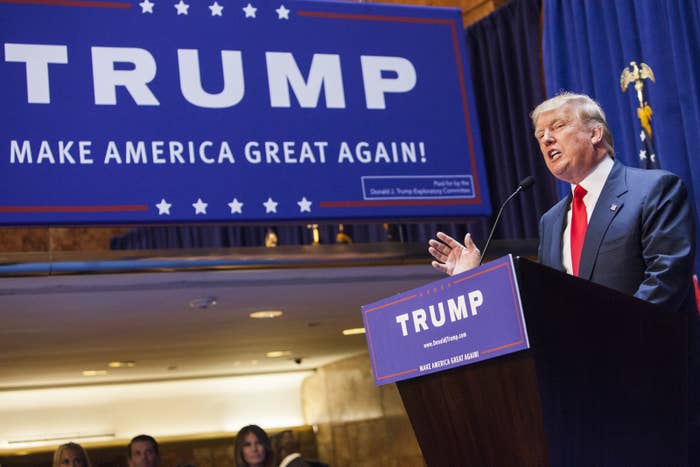 WASHINGTON — The allure of the Donald Trump brand has led middle-class investors to sink millions of dollars into Trump's luxury towers. But it was only after some of these tower deals turned into disasters that many investors realized these buildings were Trump-in-name-only.
Trump sells the rights to his name for millions of dollars and frequently has no actual ownership in the buildings that bear his name. Some of these Trump-branded development plans have collapsed, stripping investors of their life savings. When investors tried to sue, they were unable to recoup their losses from sometimes-bankrupt developers while Trump walked away without any liability.
Take for instance Sa Na Lee and her husband. In 2007, the couple saw a newspaper ad about a glamorous new Trump International Hotel being built in downtown Toronto, Canada. Attracted by the Trump brand, they met with a sales agent. (All information was obtained from court documents and a lawyer for the Lees and other investors said they were unable to be interviewed due to ongoing appeals.)
The $500-million (all prices Canadian unless otherwise noted), 65-story hotel featured both condo residences and hotel rooms. Condos were being marketed at $2.3 million and up, according to the Wall Street Journal. For a cheaper price, investors could buy hotel rooms and collect the revenue that flowed from them.
The Lees were pitched what seemed like a can't-miss deal. A Trump hotel room cost $857,000. Sales agents told buyers the Trump name would generate "buzz" in Toronto that would lead to high occupancy at rates of around $550 per night.
"It's going to be the most elegant building there is," Trump himself proclaimed in a PowerPoint presentation shown to investors. "There won't be a building to even compete with it. We're going to do something very special in Toronto."
Occupancy rates were projected at 55% to 75%. This would in turn generate a return on investment of anywhere from 7.75% to a whopping 20.9%. "Please note," the promotional page said at the bottom, "this is not a guaranteed investment program."
They took out a line of credit on their home to pay for the room, along with a $300,000 bank loan. The deal closed in 2012, the year the tower opened for business. Almost immediately, everything went wrong. Costs were higher than advertised. Both the occupancy rate and rental price sagged. Three other luxury hotels opened nearby, flooding the Toronto market. A sluggish Canadian economy failed to make the market great again.
In the first few months the Lees were losing $5,000 per month, according to court documents from a lawsuit filed later. Monthly losses mounted to $134,577 in a little over two years. In total, the investment cost them nearly a million dollars by the end of 2014.
An Ontario Superior Court judge would find the revenue projections shown to the Lees and others were deceptive. The documents were not backed up by research but rather were "essentially just pick-a-number-speculation," wrote Judge Paul Perell. Because Trump had not put any cash into the hotel and had no ownership stake, there was little investors could do to recoup damages from Trump — despite Trump's name emblazoned on the building, his company managing the hotel, and his reputation being the cornerstone selling point to investors.
A disastrous launch sent many investors scrambling for the door. Of 206 units preliminarily sold, 156 opted out before the sales were closed. The other 50 are stuck with their units.
"Sophisticated, wealthy investors did not buy the hotel units from what I've seen," lawyer Mitchell Wine told BuzzFeed News. Wine represents 23 investors who are suing, including the Lees.
People also poured money into a planned Trump condo resort in Baja, Mexico. About 250 people invested $32.5 million (American) in deposits, all of which was spent.
The project was abandoned in 2009 without ever being built. The investors sued, but it turned out Trump was not the developer at all. He had licensed his name, and said he was not responsible for the developers spending all of that money without getting a construction loan.
Trump did settle a lawsuit that alleged he had misrepresented his level of involvement in the resort.
A similar story played out in Fort Lauderdale, Florida, where Trump promoted "his" new waterfront hotel. Again, the condo building did not get built and again investors lost six-figure deposits. Investors say that it was only after the project collapsed that they learned Trump was not the developer at all.
Trump spoke in the first-person about developing a Trump Tower in Tampa, Florida, he described as ""so spectacular that it will redefine both Tampa's skyline and the market's expectations of luxury.'' He even flew down to pitch investors in person. Many only learned after the development plan collapsed, taking their investments with it, that Trump had no ownership stake. He had licensed his name to an outside developer for $4 million.
Trump and his lawyer did not respond to a request for comment.
Sarbjit Singh was a middle-aged, father of two who made around $55,000. He borrowed money from his father, a retired welder, to buy an $804,000 hotel unit in the Trump Tower in Toronto. When he asked if the projected room rental price of $550 per night was high, he was told no. Trump's name would drum up interest, the sales agent said. The hotel would be great and it would be fully occupied.
In the first few months, Singh's room ended up selling for an average of $428, not $550. His occupancy was 33%, well below the projected 55%-75%.
His costs ran $8,000 per month while he was only making back half of that. The Ontario Superior Court assessed his total losses by the end of 2014 at $248,000.
The actual owner of the Toronto tower is Talon International Development Corp., co-founded by Russian-Canadian billionaire Alex Shnaider, one of the richest businessmen in Canada. At the time of the tower opening, Shnaider had been accused of kidnapping and bribery by a former business partner. Two years later he would be exonerated in court.
The people who invested claim the Trump name conveyed a certain guarantee of quality. But eventually even Trump's team accused Talon of mismanagement in a public war of words. Talon, in turn, blamed the troubles on Trump, whose company was contracted to manage the hotel. When Talon made steps towards canceling Trump's contract and removing his name from the Toronto skyline, Trump threatened to sue for hundreds of millions of dollars.
Talon and the minority investors backed down. Trump continues to manage the building and a lawyer for Talon confirmed there is no active court battle between the two sides. Talon is now trying to unload the building to someone else.
Despite it all, this February Trump called the Toronto Tower a "tremendous success" in an interview with Bloomberg News, and mused about whether he would allow Talon to sell it. "Maybe I will, maybe I won't. I'd rather buy it," he said.
With Trump in the clear and continuing to collect management fees, the investor lawsuit centered on Talon. It suffered a major blow last year in Ontario Superior Court. The judge found that though the sales material was misleading, it was unreasonable for the Lees to rely on it. In other words: they should have known was a risky investment.
However, the Singh and Lee families got a new burst of hope just this Thursday when the Ontario Court of Appeal overturned the trial ruling. This allows them to launch a new lawsuit against Talon and Trump for fraudulent misrepresentation.
Though the misrepresentation claim primarily targets Talon, Trump is not off the hook yet. In the meantime though, for Mitchell Wise's middle-class clients, their ruinous losses continue to mount.
"No, things have not turned around," said Wise. "No one is able to sell their units — there is no market for the individual units it seems. The losses continue."