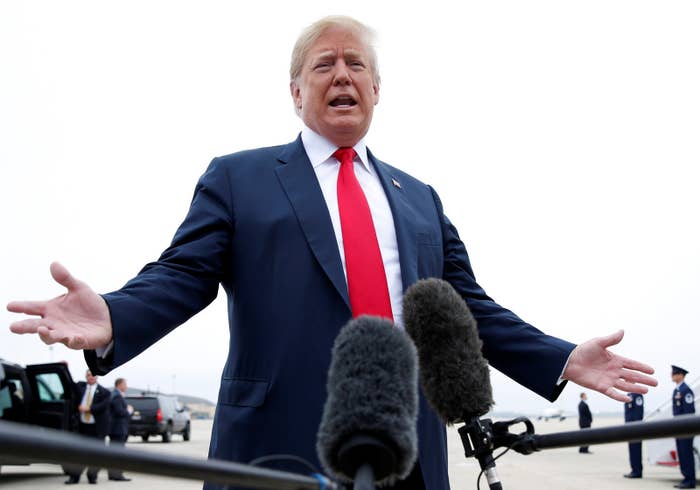 President Donald Trump will level steel and aluminum tariffs on three of the US's closest trading partners at midnight Thursday, overruling his own party and stoking fears of a trade war.

American consumers will almost certainly be hit with higher prices due to the tariffs, and a slew of major industries are warning of tens of thousands of job losses in the US due to increased costs and retaliation from trading partners.
Trump initially announced the import tariffs of 25% on steel and 10% on aluminum would come into effect in March, but he ended up exempting Canada, Mexico, and the EU. On Thursday, Commerce Secretary Wilbur Ross announced those exemptions would end at midnight.
Mexico has already announced its counter-tariffs will target American steel as well as food items like pork, sausages, apples, grapes, blueberries, and cheese. The EU has also said it has "no choice" but to impose countermeasures. And on Thursday afternoon Canadian Prime Minister Justin Trudeau announced retaliatory tariffs of $12.8 billion (US) worth of American goods — the same hit Canada is projected to take from the US tariffs.
Asked if he could be starting a trade war, Trudeau replied, "We're ready for anything."
The Canadian tariffs heavily target American steel products, but affect a long list of other products including yogurt, whiskey, orange juice, soy sauce, ketchup, sleeping bags, beer kegs, sailboats, playing cards, and pens.
Trudeau called Trump's actions "totally unacceptable" and said he would continue to argue common sense to an administration that "doesn't always align itself around those principles."
Republicans have overwhelmingly urged Trump to abandon his tariff plans, over fears that red states that voted for Trump could be hit worst of all. Canada and the European Union were previously coordinating how to hit back against the United States. Those actions, according to a source, will target steel-producing states that have pushed for tariffs, including places like West Virginia and Ohio that voted for Trump in the last election.
The tariffs are seen by many as leverage in the ongoing negotiations between Canada, Mexico, and the US on a new North American Free Trade Agreement. On the campaign trail, Trump railed against NAFTA as a bad deal for America and promised to rewrite it. But those negotiations have lagged for over a year and half, and there is still no end in sight.
Back in March, Trump tweeted that the tariff exemptions would only last "if new & fair NAFTA agreement is signed." Ross cited the still-ongoing negotiations as a factor in leveling the tariffs Thursday.
Tennessee Sen. Lamar Alexander called the new tariffs "basically higher taxes on American consumers" in a statement Thursday. "This is a big mistake," Alexander said. "These tariffs will raise prices and destroy manufacturing jobs, especially auto jobs, which are one-third of all Tennessee manufacturing jobs."

The last president to attempt steel tariffs was George W. Bush in 2002. He abandoned them a year later because the costs, from increased prices to job losses in related industries, outweighed the benefit to the steel industry.
UPDATE
This post was updated with Canadian Prime Minister Justin Trudeau's announcement of new counter-tariffs.