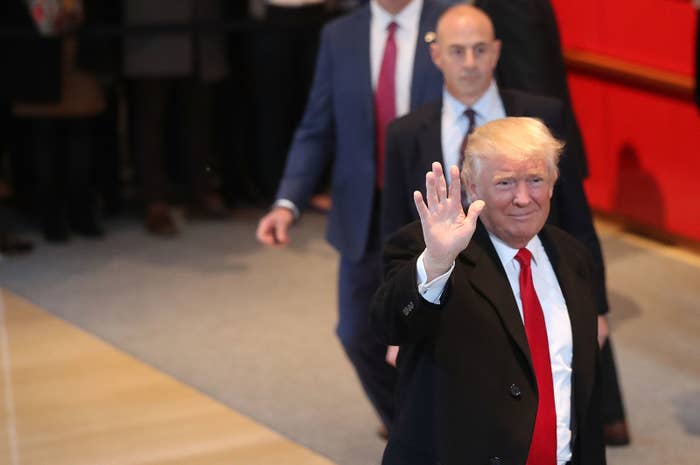 WASHINGTON — A Ukrainian oligarch who donated millions to the Clinton Foundation over the years made a $150,000 donation to the Donald Trump Foundation as a speaking fee for Trump.

Recently released tax returns for the Trump Foundation show that the six-figure donation was made by the London office of the Victor Pinchuk Foundation in 2015.
The Victor Pinchuk Foundation confirmed Tuesday that the $150,000 payment to Trump's foundation was for a 2015 speech Trump gave via video at a conference organized by the Pinchuk Foundation.

"The payment to President-elect Trump's foundation was in support of video link appearance at a conference called Yalta European Strategy Annual Meeting, which the Victor Pinchuk Foundation and Yalta European Strategy (YES) — an NGO founded by Mr. Pinchuk — organize annually in September in Ukraine," wrote Thomas Weihe, head of the board of the Pinchuk Foundation, in an email to BuzzFeed News.

One of the richest men in Ukraine, Pinchuk is a pro-Western businessman whose father-in-law, Leonid Kuchma, was Ukraine's second president.
"Mr. Pinchuk had met Mr. Trump some years ago in New York, this is how the invitation for Mr. Trump to speak at the (Kiev) meeting came about," Weihe wrote.

During his speech, which was plagued with delays and technical difficulties, Trump said Ukraine was not getting enough support from Europe and the United States. He also railed against the Obama administration and praised Pinchuk personally.
"Victor I've known for a long time and he is a tremendous guy, tremendous guy," said Trump.

Hillary Clinton previously faced scrutiny for hosting a dinner with Pinchuk and other donors who had given money to the Clinton Foundation while she was secretary of state.
Trump has repeatedly overstated how much he donates to his own charity.