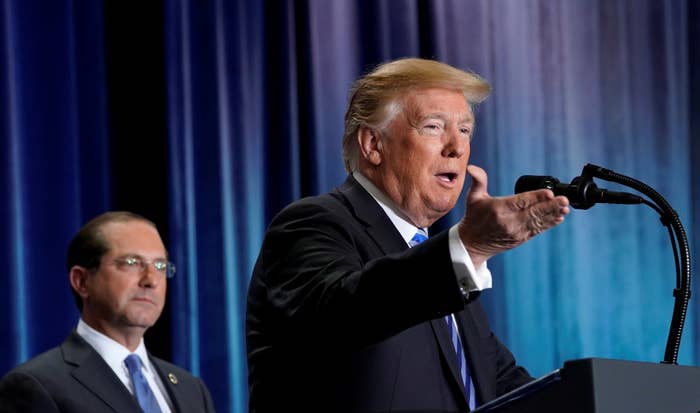 The Trump administration announced new guidance Thursday that will allow Obamacare subsidies to flow to unregulated health insurance plans for the first time.
It is one of the boldest steps yet taken by the Trump administration to take down the building blocks of the Affordable Care Act despite the law remaining on the books.
The ACA contained strict rules guaranteeing access to health care and what services insurance plans must cover. But it also had a system for granting exemptions to these rules — known as 1332 waivers — so that states could experiment with changes.
The Trump administration laid out new guidelines Thursday that provide states with far more leeway for 1332 waivers. Most notably, the new guidelines would allow for ACA subsidies to help pay for unregulated health insurance plans, which typically have cheaper premiums but higher out-of-pocket costs and cover fewer services.
The Obama administration had taken the opposite approach. While it allowed for people to have insurance plans outside of the ACA's regulations in certain circumstances, the individual markets were bolstered because only regulated plans qualified for subsidies. Since taking office, Trump has encouraged the proliferation of skimpier off-market plans.
With ACA repeal off the table for now, this has become the foremost health policy fight in Washington. Democrats want to drive more people onto the markets, bringing down the costs of regulated plans. Republicans have sought to make it as easy as possible to leave the markets for plans that are cheaper but less robust.
"The Trump administration is committed to empowering states to think creatively about how to secure quality, affordable healthcare choices for their citizens," said Health and Human Services Secretary Alex Azar in a statement announcing the new guidelines.
Democrats warned the changes will lead to a proliferation of "junk plans" that leave people high and dry when they have a health emergency. Sen. Patty Murray, ranking member on the Senate Health Committee, called the new template "a how-to guide for health care sabotage."
Not all of the new guidelines will be controversial. The new guidance also grants states broader leeway in how it uses public funds to bring down premiums. This can include reinsurance — essentially insuring the insurance companies — and creating publicly subsidized "high-risk pools" for the most expensive patients who bring down premiums for others.
None of these changes are automatic. States must seek approval for all 1332 waivers from the Department of Health and Human Services.