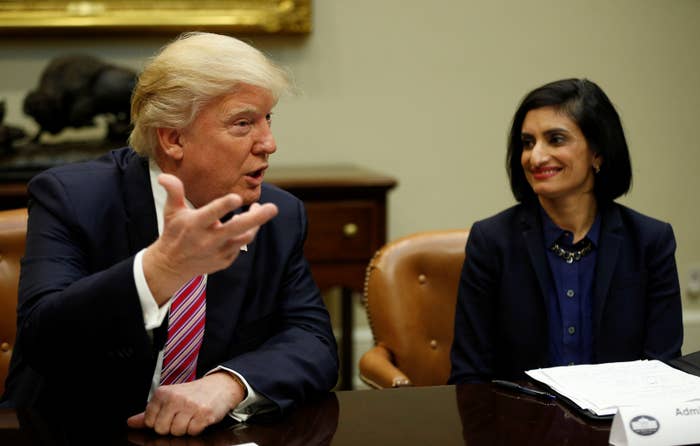 Over 5,000 low-income people in Arkansas are on pace to lose insurance by the end of this month, as new changes to the Medicaid system, approved by the Trump administration, start to take effect.
The changes allow Arkansas to boot people off of Medicaid, the publicly subsidized health insurance program for people with low income and people with disabilities, if they do not work or perform other duties for 20 hours each week.
The goal of the change is to encourage people to find work, but less than 2% of the affected population managed to meet the requirements, while over 98% failed and are now on track to be stripped of insurance, according to data from the Arkansas Department of Human Services.
"My fundamental question about what's happening in Arkansas is 'is this a failing system or an intended consequence?'" said Joan Alker, executive director of the Center for Children and Families at Georgetown University. "I would certainly say it's the latter."
While Arkansas is the first, there are 10 other states either approved or pending approval to enact work requirements to their Medicaid programs. If their results are remotely similar, it could lead to tens of thousands of low-income people losing health insurance across the country.
This new system is part of the Trump administration's plans to reform the health care system through regulations after legislation to repeal Obamacare failed in Congress.
Medicaid has traditionally been a health insurance program available to any citizen who meets the criteria. The Obama administration expanded it to cover low-income people making up to slightly above the poverty line. As the federal government has the final word on Medicaid systems, Obama refused to let states enact work requirements.
The Trump administration reversed course and encouraged states to enact work requirements. Trump appointed Seema Verma, who has long championed work requirements, as administrator of the Centers for Medicare and Medicaid Services. Requests for approval started to roll in.
Under the Arkansas system, there is a three-strike policy, whereby if nondisabled people fail to perform 80 hours of work activities per month for three months, they are banned from receiving Medicaid for the rest of the year, even if they subsequently start working.
The program was phased in over two months. About 5,400 people now have two strikes for June and July and will be kicked off Medicaid at the end of this month, unless they meet the requirements in August. Another 6,500 have one strike and could lose insurance at the end of September.
This compares to just 205 new people who have met the requirements by either working, volunteering, training or searching for work for 20 hours per week.
This is not to say that only a couple hundred people on Medicaid in Arkansas are working. In fact, 14,000 were already working when the requirements came into place and were thus unaffected. Another 16,000 received exemptions for things like disability or caring for a child or elderly family member.
According to Alker, internet access may be a significant factor in people failing to report into the system. One study ranked Arkansas 46th in the nation in terms of broadband internet access.
"When you're talking about a population that is low income and has residential instability, some of these folks are homeless or on the brink of homelessness … it's clear that when you roll out a system like this many folks are going to fall through the cracks," said Alker. "If Arkansas was serious about helping people get to work this is not how they would do it."
In a Washington Post op-ed earlier this year, Verma spelled out the administration's approach to the waivers. She said Medicaid must be tailored to provide "flexibility" to states, while also providing protections for those with disabilities and other health issues. In the piece, Verma dismissed criticism that the requirements would turn out to be a barrier to health care.
"It is unfortunate that some automatically assume that low-income Americans are incapable of contributing to their communities, especially when many of them already do or want to do so," she wrote. "It is even more shameful that they would dress up this unflattering view of their fellow citizens in the guise of compassion."
Earlier this month in a meeting with reporters, Health and Human Services Secretary Alex Azar defended work requirements as a way to lift people out of poverty and improve their health outcomes. He said the administration has no plans to back away from this policy.
"We're moving forward. We're committed to this approach, we believe it's the right thing for health care, we believe it's the right thing for individuals in the program," said Azar.