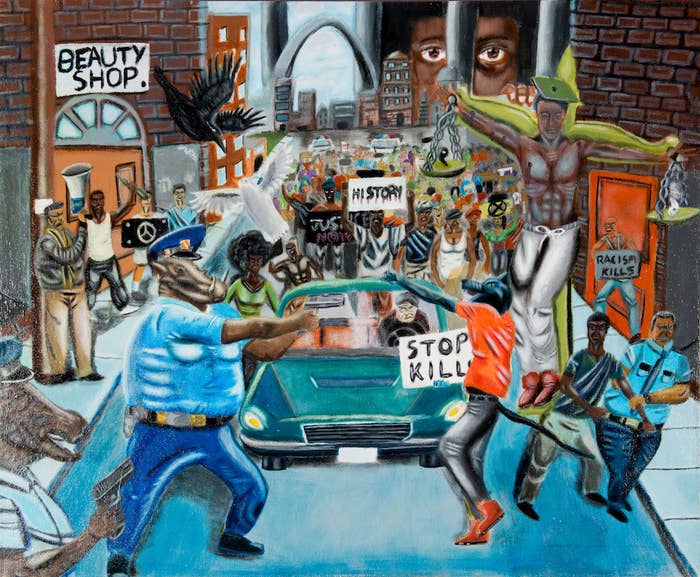 WASHINGTON — A young artist's freedom of speech rights were breached when his painting was taken down from Congress, a new lawsuit alleges.
Missouri artist David Pulphus and his congressman, Lacy Clay, filed a lawsuit in federal court Tuesday against the Architect of the Capitol arguing alleging Pulphus's painting "Untitled #1" was unfairly disqualified from an art competition.
Pulphus was one of several hundred high school students to win a Congressional art contest in 2016. One painting from each district was displayed in a hallway underneath the Capitol Building. It was hung in June but several months later became the subject of controversy.
Conservative outlets attacked the painting for depicting police officers as pigs. This was picked up by Fox News and last month multiple Republican congressmen took down the painting without authorization. Each time Clay would rehang the painting.
Republicans appealed to Architect of the Capitol Stephen Ayers that the painting breached contest rules against depicting "subjects of contemporary political controversy or a sensationalistic or gruesome nature."
Though the painting had already been approved, Ayers reversed the earlier decision and disqualified the painting. It was taken down for good on January 17 of this year.
In their lawsuit, Pulphus and Clay argue that the painting, which depicts an arrest in front of a protest, has been misunderstood and does not portray police officers as pigs. "Both the young man and the officer have animalistic features: the officers appear to have the heads of warthogs, while the young man has the head of a wolf and a long tail," the lawsuit reads.
The lawsuit alleges many of the other winning paintings contain political messages, including one of two white police officers harassing an African-American playing checkers, a portrait of Senator Bernie Sanders with doves flying above his head, and a painting of a homeless veteran.
The lawsuit claims Pulphus has suffered harm to his reputation as an aspiring young artist and Clay "is experiencing ongoing stress and anger over the retroactive and viewpoint-based exclusion of his district from the Competition."
The lawsuit also alleges that Clay's ability to perform his representational duties has been impinged because he can no longer promote the artwork of his district like other members of Congress.
The lawsuit argues that the First Amendment rights of both Clay and Pulphus were violated through an unreasonable restriction on speech. They are seeking for the removal of the painting to be declared unconstitutional, for the painting to be restored to the wall, and an award for costs.