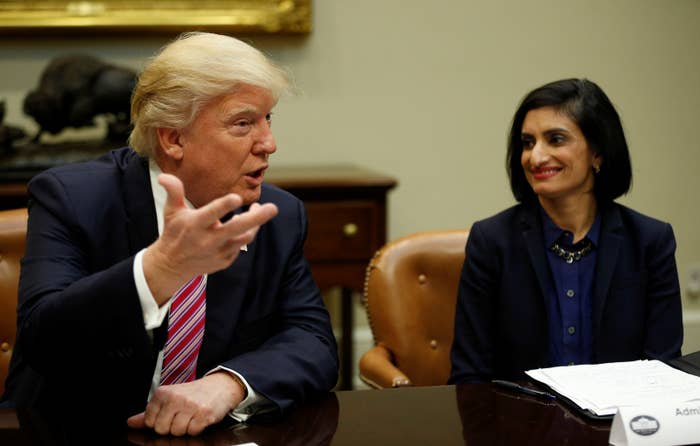 The Trump administration announced Thursday it will now allow states to require Medicaid recipients to prove that they are working or actively seeking work to continue using the federal health insurance program designed for low-income and disabled people.
The Center for Medicaid Services released a guidance letter telling states they can attach new conditions to Medicaid, such as forcing recipients to prove they are looking for work or that they are participating in community service.
The move is a significant transformation of the social safety net program, which up until now had been open to anyone who met the admission criteria. States who adopt such requirements will have unprecedented power to remove people from Medicaid rolls even if they cannot afford insurance otherwise.
The Trump administration says that 10 states have sought to pursue work requirements so far: Arizona, Arkansas, Indiana, Kansas, Kentucky, Maine, New Hampshire, North Carolina, Utah, and Wisconsin.
Medicaid is the publicly funded health insurance program for people whose incomes place them near or below the poverty level and/or cannot work due to physical ailments. Obamacare raised the income level cutoff from the poverty level, $12,000 per year for an individual, up to $16,000 per year.
Republicans attempted to bring in work requirements last year during their failed attempt to repeal Obamacare. Republicans tout them as a way to push non-disabled, unemployed Medicaid recipients to reenter the workforce. And CMS head Seema Verma has long been a proponent of such measures.
Requirements could involve forcing recipients to prove they are actively seeking work, volunteer their time to community service if they cannot find work, or undergo job training programs. CMS says these conditions will only apply to adults who are not pregnant and who qualify for Medicaid on a basis other than disability. The details would be crafted by the states and CMS says it will approve each proposal on a case-by-case basis.
Research shows that a majority of Medicaid recipients are either employed, unable to work due to a medical condition, or not in a position to work (such as being a student or retired but not yet eligible for Medicare).
A recent University of Michigan study found that about one quarter of Medicaid recipients were able to work but unemployed. As Vox reported last month, the study found that of this out-of-work group two-thirds said they had a chronic physical illness, one third said they had been diagnosed with a mental illness, and one quarter said they had a physical or mental condition that significantly interfered with their ability to function.
"The majority of folks that receive Medicaid are working today. Then you have folks that are disabled, that are caring for a child, those kind of circumstances," said Democratic Sen. Ron Wyden of Oregon. "What troubles me about the language I've seen so far [from CMS] is it seems to give states a wide berth to adopt policies that could hurt some people who are barely getting by."
Under the new CMS guidelines, states will be required to put "reasonable modifications" in place for those who need them, such as people with disabilities. And CMS will require the states to monitor and report the effects of these requirements.
CMS says it wants to test the hypothesis that instituting work, education, or "community engagement" requirements will lead to better health outcomes for Medicaid recipients. The memo cites studies indicating higher earnings are tied to longer lifespans, whereas unemployment is tied to higher mortality rates.