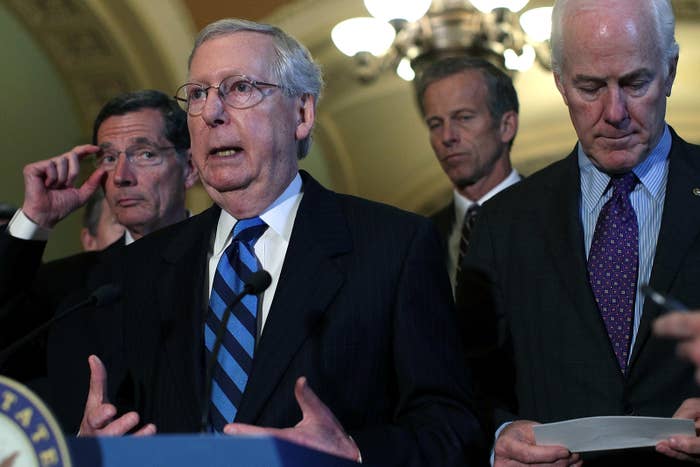 * Senate Majority Leader Mitch McConnell revealed his revised health care bill and is hoping to get enough support to win over the at least 50 of the 52 GOP senators need to pass the bill.
* Read the new draft bill here. And the two summary documents here and here.
* This revised bill is not necessarily the final draft that will go to a vote next week, items can still be changed and lawmakers will first need to see a score from the Congressional Budget Office (CBO) — which is expected on Monday. All Democratic senators are expected to vote no.
* McConnell presented his original draft to the Senate two weeks ago but had to cancel a planned vote after opposition from a handful of Republicans signaled that it wouldn't pass a vote.
* Sens. Susan Collins of Maine, Dean Heller of Nevada, and Lisa Murkowski of Alaska are believed to be the toughest moderate votes to win over. All three have significantly voiced major concerns with the bill.
* On the conservative side, Sen. Rand Paul of Kentucky declared Tuesday he will vote against the bill and Sens. Ted Cruz of Texas and Mike Lee of Utah are also pushing for major deregulations of insurance rules that likely will not be included in the bill.
Here are some takeaways about what the bill would do:
* Other than some some minor tweaks, the new bill makes identical cuts to Medicaid spending — which would represent a 36% reduction over the next two decades, according to the Congressional Budget Office.
* The new bill preserves some of the Obamacare taxes on the rich that were stripped away in the previous version. One investment tax that Republicans had gotten rid of in the previous Senate bill only benefited people making over $200,000 per year. The new bill maintains that tax, worth $172 billion over 10 years.
* Those funds are redirected into new spending, including $45 billion to combat the opioid epidemic and $70 billion to stabilize insurance markets on top of the $112 billion that was in the original bill.
* The premiums in Obamacare were targeted to push people into buying high-quality insurance plans. The new bill would go the opposite direction and allow people to put tax credits (essentially the GOP bill's version of subsidies) into plans that only offer catastrophic coverage.
* Many parts of the old Senate bill remain unchanged. The new draft also cuts federal funding from Planned Parenthood, and prevents any federal subsidies from paying for insurance plans that offer abortion coverage.
The new plan will give an option to sign up for cheaper, bare-bones plans
The biggest difference under the new bill is it adopts a proposal from Texas Sen. Ted Cruz that would allow insurers to offer cheap, bare-bones plans that do not cover health benefits that Obamacare made mandatory — like maternity care, prescription drugs, and addiction treatment.
To do this, insurers must also offer separate plans that offer all of those mandated services. The idea is that healthy people can choose less expensive plans while people who need more services can choose the more robust ones.
But the idea is untested and comes with some obvious risks. If healthy people move to the cheaper plans, only high-cost patients will stay with the more robust and expensive plans, causing premiums to rise higher and higher on the fuller plans and potentially creating a death spiral.
To combat this, the bill creates a fund to put federal money towards lowering costs of the full Obamacare-style plans. Exactly how much money it will take to stabilize those plans is unknown, as this system has never been tried in the US before.
The bill puts $70 billion over eight years specifically towards helping people pay for high-cost insurance plans. This is on top of another $70 billion in new money that states can use as they please and could also be put towards bringing down the costs of these plans. In total, payments to the states to stabilize insurance markets go from $112 billion over a decade in the last bill to $252 billion in the new version.
Major Republican says she's likely to oppose the bill
Senate Republicans can only lose two votes in order to pass their health care bill and they appear to have lost them already.
On Thursday, Maine Sen. Susan Collins told reporters she is "very likely" to vote against it next week — on a procedural vote that would allow Republicans to start debating the bill and set up a final vote.
"It is very likely I will vote no on the motion to proceed. The only thing that could change that is if the CBO analysis that comes out Monday indicates that there would be far fewer changes in Medicaid than I believe," Collins told reporters.
"I do not think that we should rewrite an important, vital entitlement program without having extensive hearings and making sure we understand the implications," Collins added.
She went further on Twitter Thursday, saying that she is "Ready to work w/ GOP & Dem colleagues to fix flaws" in Obamacare.
Kentucky Sen. Rand Paul said Wednesday, before the new draft was released, that he would also vote no, putting the Republican margin for victory at zero. Paul did not immediately comment on the bill after its release Thursday.
Wisconsin Sen. Ron Johnson, who has been critical of the Senate health care bill in the past, told reporters Thursday he would vote for the motion to proceed and allow senators to debate the bill — but he is withholding judgment on final passage.
"I've been very consistent," he said. "When, in the end, I'm going to be forced to vote on something, my valuation is going to be continuous improvement. I'm not going to let perfect be the enemy of the good. … So I'm going to just take a look at whatever that is and if I really do think it puts us in a better spot tomorrow than we are today, my guess is I'll probably support it, unless there's just something so awful in it that I can't. But right now there's a lot of good aspects to what the Senate's trying to do."
Just minutes before Republicans met to learn about the bill Thursday, Sens. Lindsey Graham of South Carolina and Bill Cassidy of Louisiana announced their own alternative health plan, which they say is designed to win bipartisan support.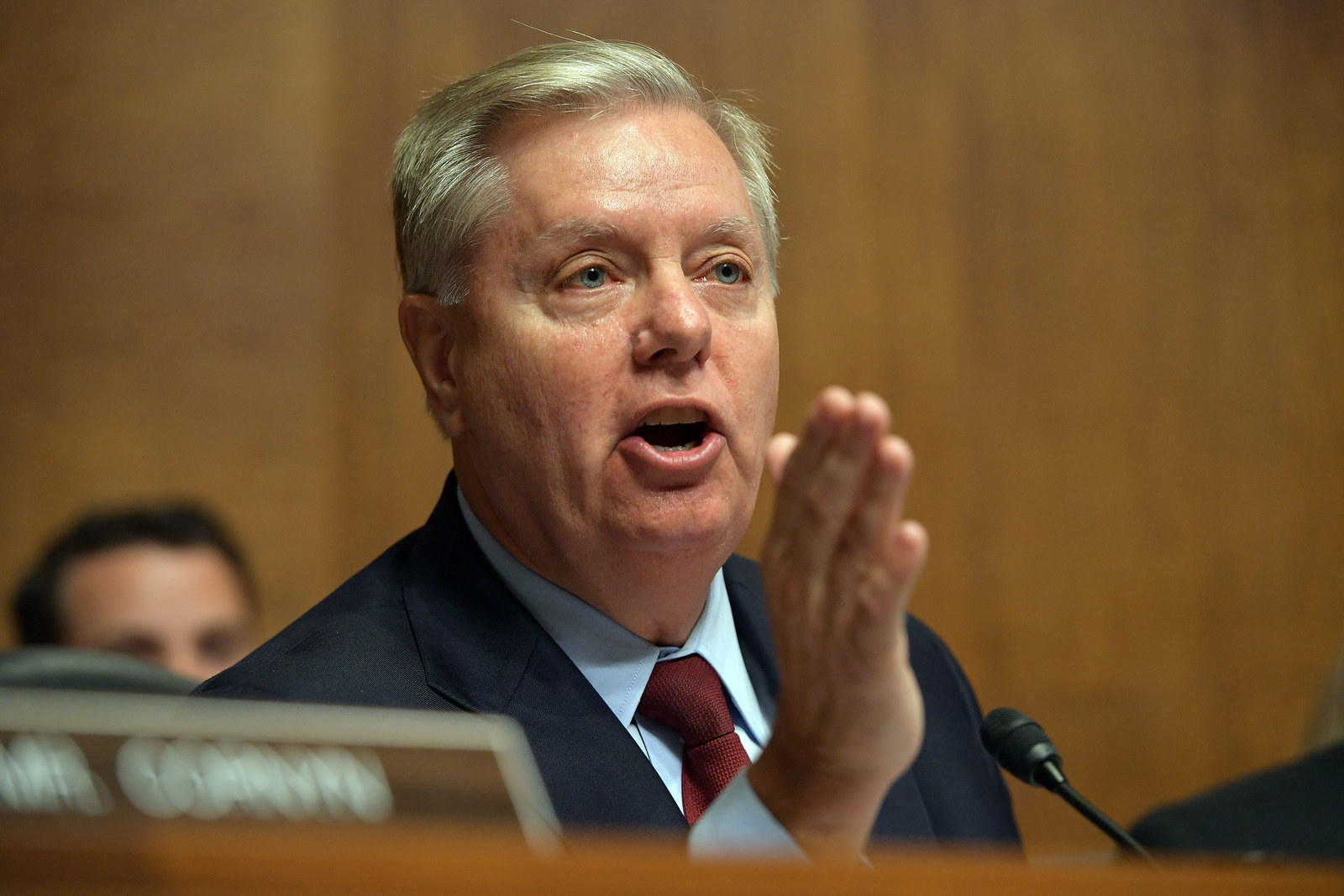 Republicans say the new bill isn't perfect, but it's better
Several Republican senators exited the meeting Thursday saying that the new health care bill was a major improvement on the previous version.
"it's certainly better than Obamacare and it's better than it was. … It was definitely better, it was received well," said Sen. Graham, who released an alternative health care plan with Sen. Cassidy earlier Thursday.
"Personally, I thought it was a very upbeat meeting. Personally, I think the bill has been improved in a positive way," Tennessee Sen. Bob Corker said, adding that many members had not seen the bill before it was released Thursday and had a lot of questions.
It's still unclear how many of the senators who have been on the fence or outright opposed to previous versions of the bill feel about the updated version. Several senators avoided reporters on Thursday, exiting the meeting through back hallways.
"Whether we've got 50 votes or not, I don't know," Graham said, acknowledging that many of his colleagues — particularly moderate members and those up for reelection in 2018 — are still in a tough position on the bill. "I know this: that if you're a United States senator and your governor is saying this bill hurts your state, and you're a Republican and they're a Republican, you're pretty much in trouble," he said.
Graham said that getting more Republican governors on board could give senators more room to support the bill as well, pointing specifically to Nevada Gov. Brian Sandoval who opposed previous iterations of the health care bill. Nevada Sen. Dean Heller is one of the most vulnerable Republicans up for reelection next year.
Arizona Sen. Jeff Flake, who is also up for reelection in 2018, wouldn't say Thursday if he'll support the new health care bill, saying he is "reviewing" it. But Flake added that "it's improved certainly with the consumer freedom option" — the Cruz amendment that would allow insurers to offer plans with lesser coverage for cheap, as long as they also offer full-coverage plans.
Still, many Republican senators who supported the previous bill said that they're hopeful that the changes will be enough to get them to 50 votes. Senators are expected to take a preliminary vote on the bill next week.
"I look forward to the debate next week, which I hope will happen," Corker said.
McConnell took to the Senate floor after the meeting, encouraging his colleagues to fulfill their campaign promises of the last seven years and repeal Obamacare.
"Failure to act means more families get hurt by Obamacare as it continues to collapse," he said. "It also means the law's problems will grow more formidable, making them even harder to solve. That's not something any of us should be comfortable with. So it's time to rise to the occasion. The American people deserve better than the pain of Obamacare. They deserve better care. And the time to deliver that to them is next week."
President Trump: "Health care is tough"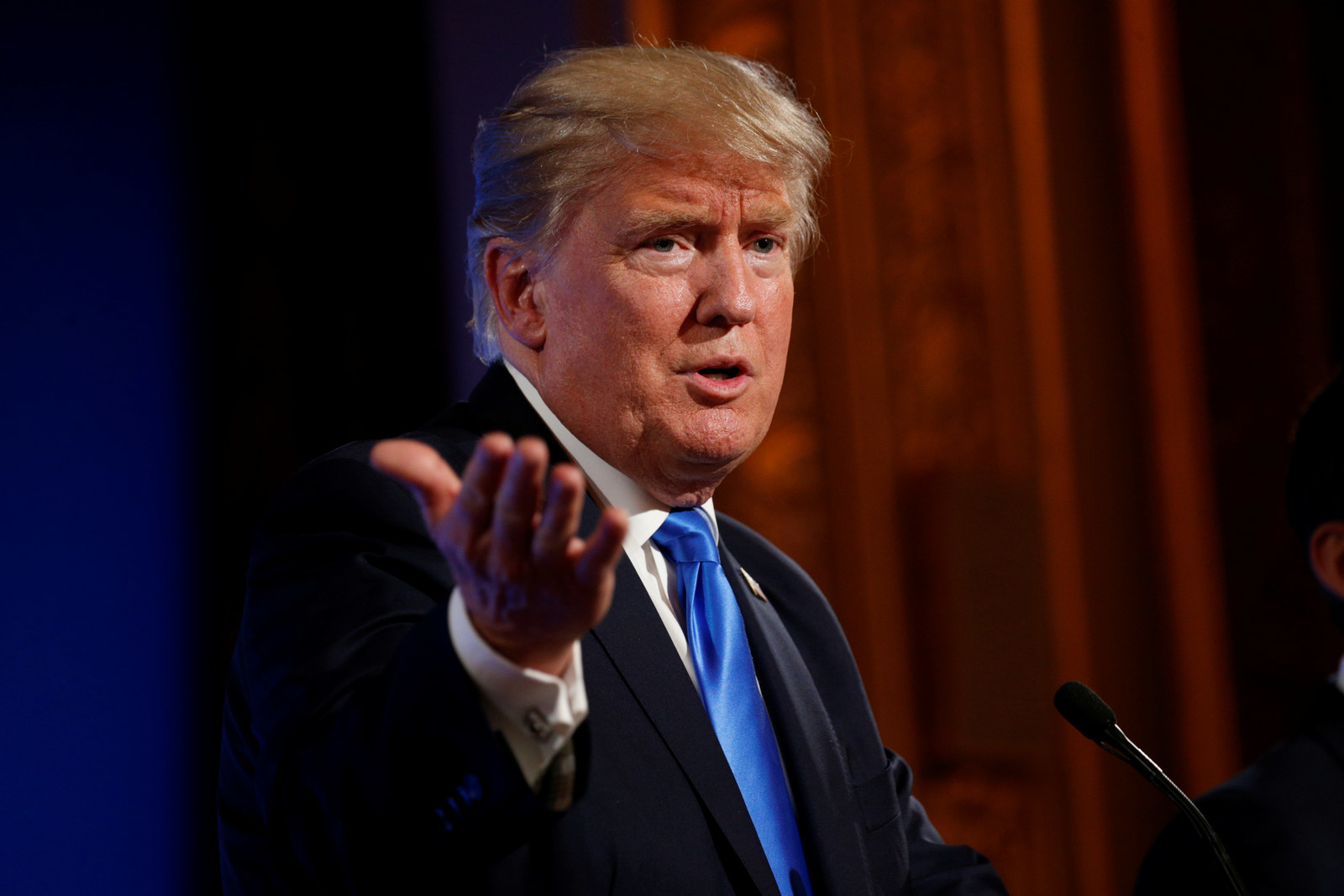 Here's some of our past reporting on the measure:
No one is talking about the things that would actually make health insurance cheaper
In theory, Congress is currently grappling with how to bring down the rising costs of health care. In reality, as Republicans debate their health care plan, the main drivers of health costs are not being discussed at all. Instead, politicians are largely fighting over how existing costs should be paid.
Republicans say they need to repeal Obamacare because costs are skyrocketing. They argue that loosening burdensome regulations will increase competition and bring down costs.
Read the full story here.
The Republican health care fight is a mess. Here's why they'll keep trying anyway.
After years of unity over repealing Obamacare, Senate Republicans head into the July 4 break without a plan they can agree upon and divided on multiple fronts.
After failing to reach a deal on a health bill this week, Senate Republicans are now tossing around a slew of drastic ideas to try to reach a final product that both the moderate and conservative wing of the conference can support.
"I cannot tell you how frustrated I am," Wisconsin Sen. Ron Johnson said of the uncertainty, lack of progress, and what he called fearmongering about the health plan.
Senate Republicans are heading home for a week at home as far apart as ever, with a health plan that was polling terribly before the Congressional Budget Office released a new report on Thursday showing their last draft would slash Medicaid by 35% over 20 years.
But there is still no sign of Republicans giving up, or opting to work with Democrats on a compromise solution. Whatever their differences, Republicans have been promising to repeal Obamacare from the day it was signed into law. They voted for 74 Obamacare repeal bills when they were shooting with blanks — bills that offered no alternative health insurance system and would all be vetoed by then-president Obama anyway. Six months after they took both chambers of Congress and the White House, they are desperate to avoid reaching a point at which they have to admit they couldn't pull it off when they are in charge.
Read the full story here.
Senate Republicans are considering leaving some Obamacare taxes in place
For the first time, Republicans senators are openly contemplating keeping billions of dollars of Obamacare taxes in their health bill.
Since Speaker Paul Ryan first introduced the House's Obamacare repeal and replacement bill in January, the GOP plan has been to cut Medicaid by hundreds of billions of dollars and direct those savings into tax cuts that mostly benefit the rich. But now the pendulum could be swinging the other way.
Several Republican senators on Wednesday expressed discomfort with giving such a large tax break to the most affluent Americans in a bill that will lead to 22 million fewer people having health insurance than under Obamacare.
South Dakota Sen. Mike Rounds said Wednesday that at a lunchtime meeting of the Republican conference he brought up the idea of keeping an Obamacare tax of 3.8% on the investment income of the richest Americans. Preserving that tax would save $172 billion over a decade, which could be used elsewhere in the health bill.
"That particular (tax) that would have been part of the Obamacare product, I would not be afraid to have it considered to be maintained," said Rounds.
Rounds did not say what the reception to the idea was from other Republicans, and said many ideas are still being thrown around.
Read the full story here.
The Senate has just released a draft of its very secret Obamacare repeal bill
The Senate bill to repeal and replace Obamacare makes several changes to the House bill but keeps the same skeleton, including cutting almost a trillion dollars from Medicaid over a decade and letting states loosen rules on what insurance companies must cover.
One huge way the Senate breaks from the House bill is when it comes to preexisting condition protections. The Senate bill does not let states do away with rules that ban insurers from charging people with preexisting conditions higher prices than healthy people. Though people with chronic health conditions could still be affected by other waivers — say, if their insurance plans no longer cover services they need — they cannot be priced out of the market due to their health conditions under the Senate bill.
This could be a hurdle to the ultimate passage of the bill into law. In the House, an amendment to let insurance companies charge sick people more was key to getting enough support to pass the AHCA. Both the House and Senate have to agree on a final bill before it can be sent to President Trump's desk to be signed into law.
Here's all the details on the original draft of the bill.
Outside Your Bubble is a BuzzFeed News effort to bring you a diversity of thought and opinion from around the internet. If you don't see your viewpoint represented, contact the curator at bubble@buzzfeed.com. Click here for more on Outside Your Bubble.