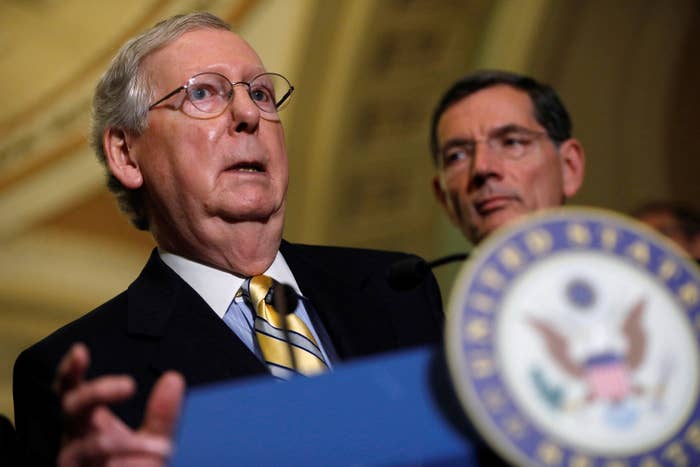 After years of unity over repealing Obamacare, Senate Republicans head into the July 4 break without a plan they can agree upon and divided on multiple fronts.

After failing to reach a deal on a health bill this week, Senate Republicans are now tossing around a slew of drastic ideas to try to reach a final product that both the moderate and conservative wing of the conference can support.
"I cannot tell you how frustrated I am," Wisconsin Sen. Ron Johnson said of the uncertainty, lack of progress, and what he called fear-mongering about the health plan.
Senate Republicans are heading home for a week at home as far apart as ever, with a health plan that was polling terribly before the Congressional Budget Office released a new report on Thursday showing their last draft would slash Medicaid by 35% over 20 years.
But there is still no sign of Republicans giving up, or opting to work with Democrats on a compromise solution. Whatever their differences, Republicans have been promising to repeal Obamacare from the day it was signed into law. They voted for 74 Obamacare repeal bills when they were shooting with blanks — bills that offered no alternative health insurance system and would all be vetoed by President Obama anyway. Six months after they took both chambers of Congress and the White House, they are desperate to avoid reaching a point at which they have to admit they couldn't pull it off when they are in charge.
"I think just about everybody made some promises when they were running. I think they ought to keep their word," said Alabama Sen. Richard Shelby.
Adding to the pressure, Senate Republicans have other pressing issues on their plates — from the debt ceiling, to a budget bill, to tax reform — that have to take a back seat until health care is worked out.
There's "a lot of pressure, I won't lie," North Carolina Sen. Thom Tillis said. "We have a health care system that's collapsing, that takes away the luxury of time. We also have all these other things that we have committed to do this year."
The plan was for this to be finished by now, at least in the Senate. Majority Leader Mitch McConnell had spent weeks pulling his conference towards a compromise bill that would cut Medicaid spending, but more slowly than what the House planned, and erased some Obamacare rules while keep protections for preexisting conditions.
It wasn't enough. At least nine senators opposed moving the bill to a vote. Now the GOP is trying to come up with new ways to win over both the moderate and conservative factions of the conference. But it's facing divisions at every turn.
The hope for Republican leaders is that they can put more money into health care protections to win over moderates while appeasing conservatives with deregulation. For moderates, leadership plans to add $45 billion over a decade in funding to combat the opioid epidemic (the original Senate bill had just $2 billion), and it's considering keeping $172 billion in Obamacare taxes on the rich in tact.
But leaving any Obamacare taxes in place will be a major fight as well. A half dozen senators (Susan Collins, Mike Rounds, Bob Corker, Ron Johnson, Bill Cassidy, and Marco Rubio) came out to some degree this week in favor of keeping Obamacare's 3.8% investment tax on individuals who make over $200,000 per year. But others, including Sens. Rand Paul, Ted Cruz, and Pat Toomey, vehemently oppose it.
"We pledged that we would repeal Obamacare. I don't remember anybody going around saying 'well, except for these job-killing tax increases,'" said Toomey.
Then there's the battle between Toomey and Ohio Sen. Rob Portman over how much Medicaid funding should be provided to the states (Portman wants more, Toomey wants less.)
And there's the question of regulations. Sen. Ted Cruz is leading a charge to create a fully unregulated insurance market alongside a regulated one. But many of his colleagues don't want to touch the rules that protect people with preexisting conditions, which are among the most popular parts of Obamacare.
So now Republicans need to find a way to please some senators who want more Medicaid spending and some who want less, some who want to maintain key Obamacare regulations and others who want to jettison them, and some who want to keep a tax on the rich and others who insist it be killed.
They can afford to lose just two of 52 GOP senators. Paul and Collins are widely considered to be hard nos unless the bill is majorly reformed. That leaves zero margin for error.
If Republicans can't get there, there are voices that have been pushing for a bipartisan process all along. Sen. Lindsey Graham is one of those, and said Thursday that ultimately Republicans will not be judged on whether they fulfilled their promise to repeal Obamacare, but on whether they fixed health care.
"That's what we're all going to be judged on, not some campaign promise, we'll be judged on the outcome," he said.