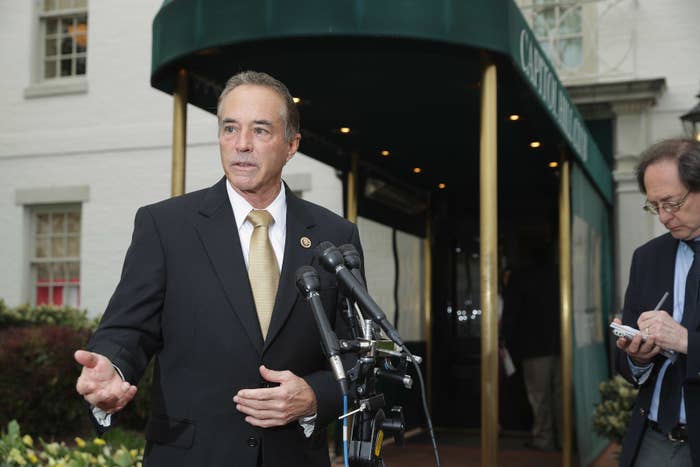 WASHINGTON — The health insurance lobby is pushing hard for two Obamacare subsidies to be extended and congressional Republicans appear to be listening.
There's growing appetite in the GOP to preserve two programs they once viciously opposed — the cost sharing subsidy and reinsurance program — as insurance companies warn that markets will be thrown into turmoil without them.
The industry says the subsidies are "critical" to avoid an insurance company exodus from state marketplaces and spikes in premiums. They seem to have convinced Republicans in both the Senate and the House.
"They are lobbying a lot of us," said Rep. Chris Collins, a chief congressional ally to President Donald Trump.
"I had them in my office today, and I'm nodding my head in agreement that we do need to give them some level of assurance as they're setting their rates and plans for 2018."

The cost sharing subsidy helps individuals pay for out-of-pocket costs. The reinsurance program is an industry subsidy worth billions that expired at the end of 2016. It provides funding to insurance companies who cover large numbers of high-cost patients. Republicans vigorously opposed both programs before and after the passage of the Affordable Care Act. But that opposition has softened.
Senate health committee Chair Sen. Lamar Alexander said this week that Republican's may have to continue both programs for two-to-three years whether they like it or not.
Asked Thursday if the programs should be extended, Sen. Orrin Hatch responded Thursday with a simple "could be."
Sen. Rob Portman said extending the programs "may be necessary" and said he believed the majority of Senate Republicans would support that path.
Even Rep. Mark Meadows, chair of the far-right Freedom Caucus, supports a temporary extension of the two programs.
"It is important that a repeal on our side doesn't create necessarily a crisis for our constituents or for the markets," he said.

The question now may not be if the programs are extended, but for how long. Meadows says he supports subsidies for 2017 rather than "pulling the rug out" of the industry. But by 2018 he wants Obamacare to be gone.
However, Sen. Alexander implied the programs may need to be continued through 2018 because insurance companies must begin 2018 regulatory filings by this spring. The industry says it needs an answer by the end of March.
Whether the Trump administration will agree to extend the programs is, as with so many things in the Obamacare debate, unclear. The nomination of Tom Price as Health and Human Services Secretary will be the next major step for the administration.
In the meantime, Republicans are softening their language. After months of declaring their plan to "repeal and replace" Obamacare, they've started using a third word — repair.
"I think it's a great idea," said Rep. John Duncan, citing the need to stabilize markets for the interim years while the health care debate gets settled.

"I was afraid that some of President Trump's strongest supporters were going to think that we could do all this stuff in 60 or 90 days and we can't do that."