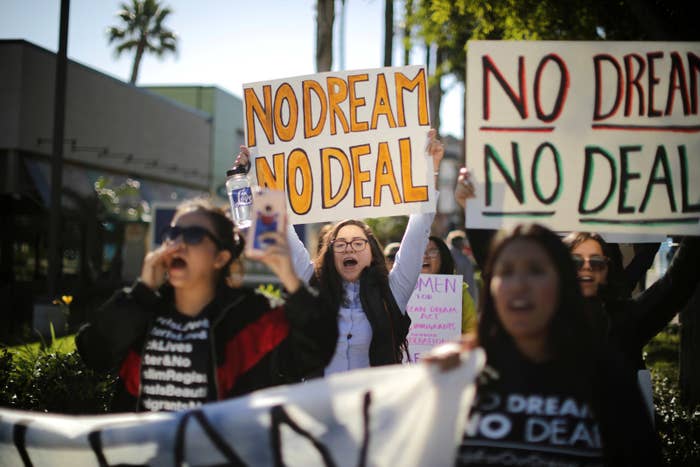 With just one week to go before a self-imposed deadline, Congress's efforts to reach an immigration deal are in shambles.

Lawmakers are hoping to avoid another government shutdown and extend DACA, the Obama-era program that allows children of undocumented immigrants to live and work in the country. The program expires March 5, putting 700,000 people at risk of deportation.
The Senate is supposed to vote on a bill by Feb. 8, but when asked Tuesday whether the Senate is any closer to a DACA deal than it was when the last government shutdown ended two weeks ago, Senate Democratic Whip Dick Durbin said, simply, "no."
The next day, members of Congress left DC for the week to allow Republicans to attend their party retreat. They're scheduled to leave again next Thursday, the day before the shutdown deadline, for Democrats to have their own retreat.
Formal talks between Durbin and his Republican counterpart John Cornyn have so far yielded no results. "There's different rumors out there that it's fits and starts, and maybe more fits than starts," said Republican Sen. Lisa Murkowski.
A bipartisan group engaging in more informal discussions, however, seems to be having more luck, but it's not clear if their ultimate product will be able to pass. A group of 20 to 30 senators dubbing themselves the "common sense coalition" has been meeting regularly at the office of Sen. Susan Collins and, while no deal has been struck, participants say progress is being made.
The problem is that the deal they appear to be working toward is at odds with the positions of House Republicans and the White House — the other two factions needed to pass any bill into law.
One way or another, the Senate is scheduled to start voting on a bill next week. As part of the deal to end the government shutdown, Senate Majority Leader Mitch McConnell promised to set up a floor vote and open amendment process on a DACA bill by Feb. 8 — "so long as the government remains open," he warned.
The bipartisan coalition and others, including No. 3 Senate Republican John Thune, say the path forward is a limited deal that grants a pathway to full citizenship for DACA recipients while also providing funding for border security.
House Speaker Paul Ryan has already said he would not put such a bill to a vote in the House and the White House is digging into its position against it. But given that the proposal is the only one on the table that is likely to pass the Senate, it's unlikely that any bill gets passed before DACA expires.
The White House wants more in exchange for keeping DACA afloat. Trump's proposed DACA framework would grant citizenship paths to 1.8 million undocumented children of immigrants while dedicating $25 billion to border security. It also contains broad changes to America's immigration system. Currently, American citizens can sponsor parents, spouses, siblings, and children, including adult children, to gain citizenship. The White House wants to limit this to only spouses and minor children.
Multiple analyses of the proposal found that that proposal would lower immigration by 500,000 people per year, cutting legal immigration rates almost in half. However, Republicans say the spots being cut would be put toward clearing the current backlog of unprocessed claims.
In past dealings, Republicans have tried to win these reforms — which they describe as ending "chain migration" but Democrats call "family reunification" — in exchange for a pathway to citizenship for the broader group of an estimated 11 million undocumented immigrants currently living in the United States. But the White House proposal offers no such quid pro quo. Some senators had hoped Trump would take a more conciliatory approach in his State of the Union address, but they left disappointed.
Instead, the immigration passages of Trump's speech placed a heavy emphasis on the gang MS-13 and stated, erroneously, that "a single immigrant can bring in virtually unlimited numbers of distant relatives."
Leaving the speech, Durbin was clearly dejected. "MS-13? No one is defending them! We're talking about DACA and DREAMers for God's sake. It's different worlds," said Durbin.
Sen. Jeff Flake, a Republican taking part in the common sense coalition talks, said it would have been nice if Trump had mentioned the positive contributions of immigrants. "I would have liked to have heard a bit more balanced approach. You had MS-13, balance that with a DREAMer in the audience," said Flake.
Other Republicans were emboldened, and say the onus is now on Democrats to bend to the White House's demands. This sets Congress on course for a DACA breakdown, and potentially another government shutdown. Republicans need at least nine Senate Democrats to pass a DACA bill and to keep the government funded.
It's a fight Republicans don't appear to be shying away from. As a possible preview of what is to come, Cornyn pinned the possible expiration of DACA on Democrats Tuesday. "If Democrats don't [negotiate with us] then the DACA program will end. That's not an outcome anyone would like but they would be responsible for it," he said after the State of the Union address.
Senators will have just four days to continue negotiations next week before the scheduled floor vote kicks off Thursday. In theory, the sides are communicating in the interim, but the Senate did not leave on a note of optimism. "I don't know," Flake said when asked what the plan was for the rest of the week. "Doing what we can from afar."