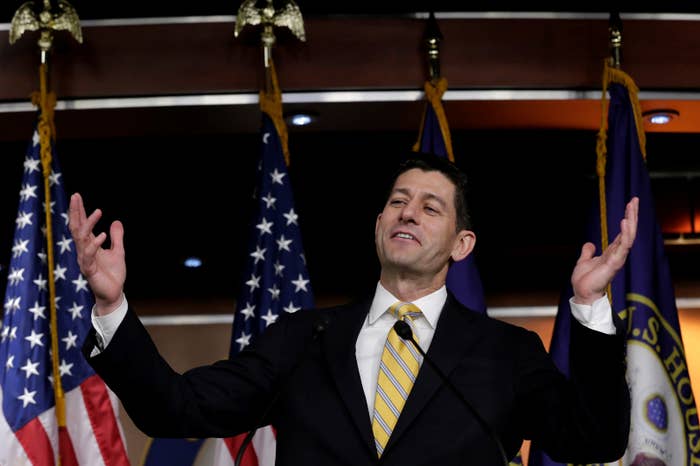 After weeks of negotiations and arm-twisting, House Republicans are finally putting their Obamacare repeal and replacement bill to a vote.
The American Health Care Act is scheduled to go to a vote Thursday afternoon, but it's still not certain that they have the votes to pass it. Many Republicans remain opposed or undecided and the Congressional Budget Office has not released its estimate of how much the amended version of the bill will cost individuals or how many people it will cover.
But a few Republicans who were on the fence or opposed announced they were switching their votes to yes on Wednesday and party leadership believes there are enough votes to take a shot at passage.
"We will pass this bill. I feel great about the count," said Majority Leader Kevin McCarthy Wednesday evening emerging from a GOP leadership meeting.
The new version of the bill allows states to waive protections for people with pre-existing conditions, but it is also based on the assumption that most states will not do this. It includes new funding for the states that do to establish high-risk pools to cover those higher-cost patients.
The last time Republican leadership planned a vote on their health care bill, they had to pull it at the last minute to avoid an embarrassing failure. Since then, the bill has been amended twice, once to appeal to hardline conservatives and again this week to win over moderates.
The so-called MacArthur amendment grants states the choice to waive major Obamacare regulations, including rules banning insurers from raising prices on people with pre-existing conditions. That won over the conservative Freedom Caucus but alienated many moderates.
The most recent amendment was negotiated between President Donald Trump and moderate Reps. Fred Upton and Billy Long on Wednesday morning to address those concerns. The Upton-Long amendment puts $8 billion in new funds over five years toward high-risk pools that will cover people priced out of the insurance market in states that exercise the pre-existing conditions waiver.
Upton said he came to that figure because leadership told him $5 billion would be suitable, so they added a few billion more to be safe.
"You gotta ask them. I asked, 'Is this going to get it covered?' And the answer was yes," Upton told reporters.
The amendment is a surprising tipping point because it is so minor compared with the other dollar figures in the bill. The AHCA already included $100 billion spread over 10 years to help states to pay for sick patients. However, the Congressional Budget Office projects the bill will cut Medicare payments to states by $880 billion over the next decade.
High-risk pools are traditionally extremely expensive because they cover the most high-cost patients. But Republicans are banking on few states actually using the waivers that the bill grants them.
It's hard to project how many states the high-risk pool cash could adequately cover, and Republicans aren't saying specifically how many they expect to use the waivers.
"I would presume that most states won't seek a waiver," said Upton.
If a large number of states waive pre-existing condition protections, millions of people could overwhelm the high-risk pools, the Kaiser Family Foundation warns.
"There are an enormous number of variables. But $8 billion over five years could likely provide coverage to a few hundred thousand high-risk patients, probably well short of what the need would be," said Larry Levitt of the Kaiser Family Foundation.
Kaiser polling showed about 4.7 million Americans on individual markets have pre-existing conditions that would have gotten them shut out of the insurance market before Obamacare.
Regardless, the new money was enough to win over a handful of moderates Wednesday. If Republicans do succeed in passing the bill Thursday it will still need to go through the Senate, where further amendments seem inevitable. South Dakota Sen. John Thune said Wednesday that he has been in talks with many colleagues about how to improve the bill.
If the vote fails in the House Thursday, that almost certainly spells the end of Republicans trying to reform health care without Democratic support. Thune said that if the AHCA cannot pass the House the next step would be to start over and begin work on legislation that can win bipartisan support.