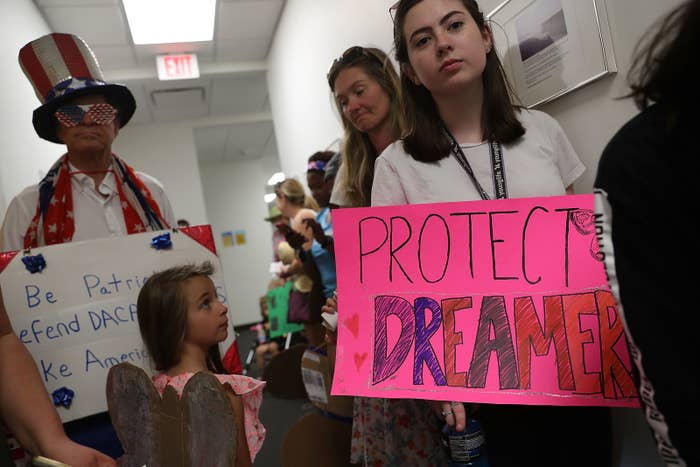 The last remaining Republican immigration bill has died in the House, leaving DREAMers without any legislative protection for the foreseeable future.
The so-called compromise bill, negotiated within the Republican conference, went down by a vote of 121–301 Wednesday afternoon. The conservative Freedom Caucus's preferred plan — the Goodlatte bill, which was less lenient in offering citizenship to DREAMers — also failed but received 193 votes last week. Democrats were united against Wednesday's bill.
For the Freedom Caucus, Wednesday's vote is evidence that leadership should have put its weight behind the Goodlatte bill. Some moderate Republicans say this backs up their argument that Republicans cannot pass an immigration on their own and must work with Democrats on a bipartisan bill.
"What was obvious today was Republicans cannot pass a 218[-vote] Republican bill, just as Democrats couldn't pass one in 2010," said Rep. Jeff Denham.

Neither is expected to happen anytime soon. House Speaker Paul Ryan didn't want to put any immigration bill forward for a vote, and only did so after Democrats and moderates in his own party nearly overruled him via a discharge petition.

Wednesday's vote fulfills the last of the commitment he made to his conference to avoid the discharge petition. That petition is now dead and starting another one is logistically unlikely. Republicans say that they will next turn their attention to crafting a more narrow bill that addresses children being separated from their parents at the border.
Republicans were flustered by President Donald Trump's approach. He initially supported the compromise bill, before last week tweeting that Republicans should "stop wasting their time on Immigration" until they elect more senators and House members. That seemed to kill any momentum the bill might have had, with one Republican declaring it "torpedoed by tweet."
Then Wednesday morning, Trump changed course, tweeting in all caps that Republicans should pass the "STRONG BUT FAIR" immigration bill. "PASSAGE WILL SHOW THAT WE WANT STRONG BORDERS & SECURITY WHILE THE DEMS WANT OPEN BORDERS = CRIME. WIN!" the president wrote. But it was too, little too late.
Authors of the compromise bill had bandied about the idea of amending it after it became clear that it did not have enough support to pass. In an effort to win over the Freedom Caucus, they considered adding mandatory e-verify, a policy requiring employers to check the citizenship status of their workers. But that failed to win over enough support and they decided to just put the bill forward as is.
The vote is yet another blow for DREAMers, who were brought to the country without documentation as children. For years they were allowed to legally live and work under former president Barack Obama's Deferred Action for Childhood Arrivals program. But Trump canceled that program in March and Congress has failed to agree on a permanent replacement.
DREAMers are currently protected from deportation by court injunctions. The cases are likely to be determined by the Supreme Court, and it is increasingly unlikely that Congress will act before then. Trump has wavered back and forth on the issue, and Congress is unlikely to tackle it again before the midterms.