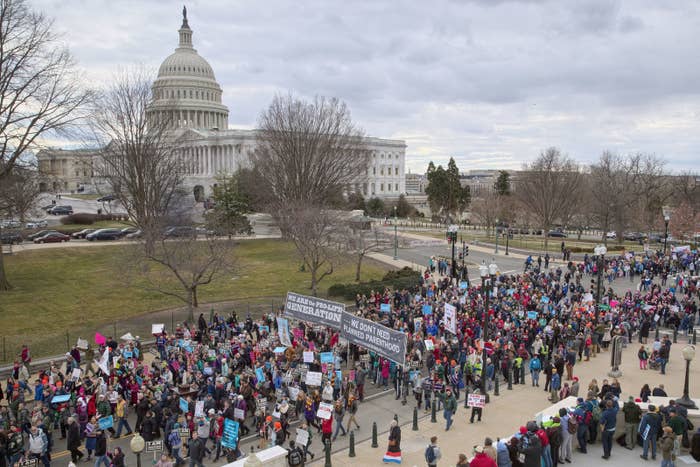 A provision in the 429-page Republican tax bill that would let unborn children hold college savings accounts has spilled into the abortion debate, where both sides see it as a step to redefining children in the womb as full persons under the law.
Defining unborn children as persons has been a key goal of anti-abortion advocates, who see it as the first step to unwinding court decisions that legalize abortion.
The bill released by House Republicans Thursday would allow a "child in utero" at "any stage of development" to be designated as the beneficiary of college savings accounts, known as 529 accounts. Currently, beneficiaries must have a social security number, but parents can work around this by setting up a savings account for themselves and then designating their child the beneficiary after birth.
But the GOP bill would allow a specific fetus to be named as a beneficiary before birth. It's not clear whether eligibility rules would change or unborn children would be given social security numbers. But activists across the abortion debate read the language as about something else altogether — instilling more legal rights on unborn children.
"The inclusion of the unborn in 529 college savings plans recognizes the humanity of the unborn child," said Marjorie Dannenfelser, president of Susan B. Anthony List, an anti-abortion right's organization.
March for Life President Jeanne Mancini, whose group also advocates against abortion, said the tax change "recognizes the personhood of unborn children… A child in the womb is just as human as you or I yet, until now, the US tax code has failed to acknowledge the unborn child."
For the pro-abortion rights movement, the tax bill is starting to be seen as the newest entry in a line of Republican laws aimed at rolling back abortion protections.
"It is absurd that House Republican leaders would use a tax bill to try to advance their agenda to undermine access to safe, legal abortion," said Planned Parenthood vice president of public policy Dana Singiser.
The reproductive rights network NARAL Pro-Choice America accused Republicans of "inserting 'personhood' language into their tax bill" in an attempt to "turn back the clock on this country."
It's not clear where the provision itself came from. Staff for the House Ways and Means Committee, who drafted the bill, did not respond to requests for comment. It was also not something pushed for by the anti-abortion rights lobby, according to Tom McClusky, top lobbyist at March For Life.
McClusky said the bill "smacks of elitism" because it would only benefit families who can immediately start saving for their child's college fund, while the legislation also does away with the adoption tax credit. McClusky said anti-abortion rights advocates had instead been pushing for the child tax credit to be extended to the unborn.
Multiple Democrats also expressed puzzlement about how the college savings provision made it into the tax bill. "I do know that it's an attempt to legitimize the language that they embrace, which makes a fetus a person," said Democratic Rep. Judy Chu, a co-chair of the Pro-Choice Caucus.
Lissandra Villa contributed to this story.