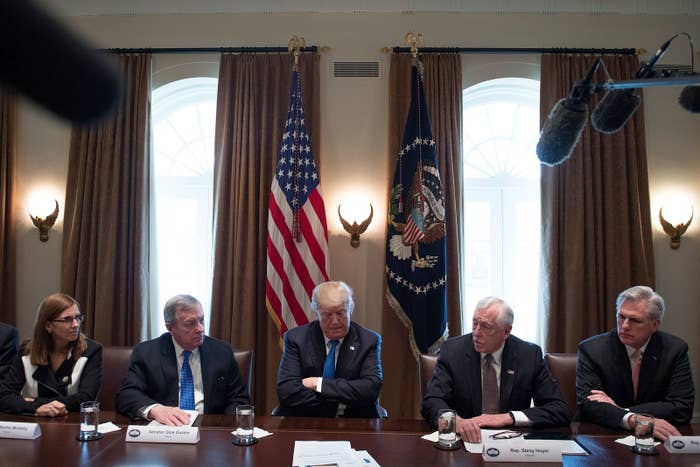 The fates of hundreds of thousands of undocumented people living in the United States may come down to haggling over the definition of the now-famous phrase "build that wall."

After a White House meeting Tuesday between President Donald Trump and two-dozen members of Congress there was clear support on all sides to allow approximately 800,000 undocumented immigrants who entered the country as children to stay. Known as DREAMers, these people currently have no legal status but have lived most of their lives in the United States.
They've been protected from deportation under Obama's Deferred Action for Childhood Arrivals program, or DACA. The Trump administration terminated the program and gave Congress until March to come up with a permanent solution. But the practical deadline for Congress to do something to fix DACA is likely Jan. 19 — the day the government is scheduled to run out of money unless a new spending bill is passed. Republicans would be just as happy to separate these issues, but Democrats want immigration and government funding tied together to maximize their leverage.
Trump called Tuesday for a "bill of love," and there are multiple bipartisan proposals, most notably the DREAM Act, which would create a path to citizenship for DACA recipients. But once you get past the "love" there are some major sticking points. Many Republicans say they will only agree to a deal if it comes with funding to build the wall along the Mexican border that Trump promised during the campaign. Democrats strongly oppose funding any such wall.
While these seem like polar opposite positions, the parties may not be that far apart. During the campaign, Trump described the border wall as "big," "high," and "beautiful." But the administration's funding request calls for a little over 300 miles of new border structures, plus upgrades to about 400 miles of barriers already built or approved. If completed, almost half of the 2,000-mile border would have some man-made form of physical barrier.
And even that expansion would take place over 10 years — whereas Trump currently has only three more guaranteed years in power — at an average cost of $1.8 billion per year, if Congress agrees to the White House's proposal. Including other projects such as roads and technology, the total ask is $33 billion over a decade.
"Even the president today has backed off of any kind of description that he's looking for a sea-to-shining-sea fence or wall," said Republican Sen. James Lankford after the White House meeting. "But he very certainly said there has to be a wall as a part of it."
The whole issue is a potential landmine for Republicans, who risk alienating the growing population of Latino voters on one side and angering the strongly anti-immigration elements of Trump's base on the other. Some high-profile Trump supporters, including Tucker Carlson and Ann Coulter, are already turning on the president. But several Republicans in Congress are trying to dial down the tension by pointing to polling that shows a healthy majority of Americans support a path to citizenship for DREAMers.
"You see Ann Coulter today attacking him. If we listen to the Ann Coulters of the world we're going nowhere. If we listen to the (anti-Trump) resist movement we're going nowhere. But here's the good news, Ann Coulter and the resist movements are outliers," said DREAM Act coauthor Sen. Lindsey Graham said.
Many Democrats are pushing for a "clean" bill to help DREAMers and argue that including billions of dollars in spending on a wall is a nonstarter. But take away the word "wall" and the opposition softens.
Democratic Sen. Bob Menendez, one of two Hispanic members present at Tuesday's meeting, insisted Democrats would not support a wall, but could support some physical barrier funding such as replacing and reinforcing existing fencing. "Everything has a definition. What that definition means is incredibly important," he said.
Senate Minority Leader Chuck Schumer speculated Tuesday there is a "border security" deal both sides could live with. Rep. Michelle Lujan Grisham, who chairs the Congressional Hispanic Caucus, said "there's a variety of places to go on border security that would be fairly amenable to both parties."
Border funding and how to structure the path to citizenship for DREAMers and their families are the two most pressing points of negotiation. Republicans also want to do away with the diversity visa lottery, the almost three-decade-old program that awards up to 50,000 people per year from countries with lower immigration to the US a visa for a green card. And they want to tackle "chain migration," whereby new citizens bring their relatives to the US who, in turn, bring other immigrants to the country.
But some of those issues will likely have to wait due to the sense of urgency running through these discussions. Schumer said Tuesday that he does not trust Republicans in the House to pass a DACA fix unless it is tied to a must-pass piece of legislation. And the spending bill Congress will have to pass by Jan. 19 is the only one on the horizon before the March DACA deadline. "We have very little faith if it's not in a must-pass bill that it'll ever pass," said Schumer. "[House Speaker Paul] Ryan has never put an immigration bill on the floor."
Meanwhile, DACA recipients currently have had no way to file for renewal of their status. Three former Homeland Security secretaries, Jeh Johnson, Janet Napolitano, and Michael Chertoff, wrote a letter to Congress warning that the burden of logistically restarting the system places the realistic deadline for passing a bill in mid-January. During a conference call Wednesday, the National Immigration Law Center described DACA recipients as fearing for their future.
A federal judge in California issued a ruling Tuesday night that ordered the administration to start accepting DACA renewal applications again, finding that the groups that challenged the termination of the program were likely to succeed. The Justice Department has vowed to defend the rescission in court.
In theory, this would be only the beginning. Trump said Tuesday he is open to tackling comprehensive immigration reform to deal with the approximately 11 million undocumented people in the United States, telling members of Congress, "if you want to take it that further step, I'll take the heat, I don't care."
But for now, all eyes are on a DACA deal. Several Republicans dismissed the likelihood of comprehensive immigration reform coming any time soon.
"I didn't read anything into that," said Republican Sen. Jeff Flake. "I mean everybody says they want it — defining it's a bigger problem."
UPDATE
This story was updated with information on a judge's ruling Tuesday night that the Trump administration must start accepting DACA renewal applications again.