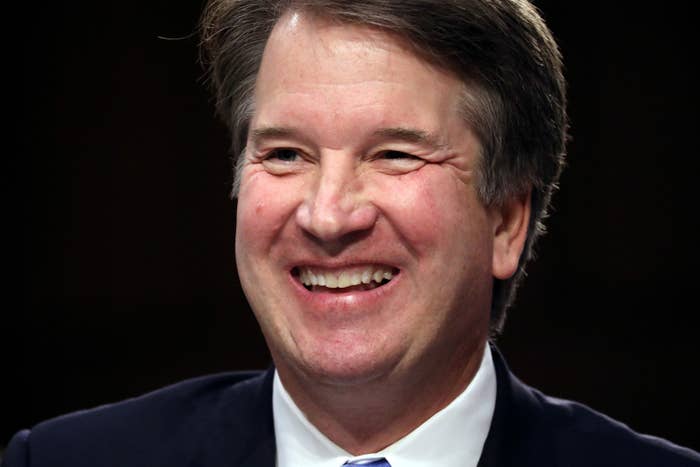 WASHINGTON — Brett Kavanaugh will be confirmed to the United States Supreme Court unless something shocking happens, as Sens. Susan Collins and Joe Manchin announced their support Friday.
That gives Kavanaugh, who has been accused of sexual assault, the support of 51 senators — 50 Republicans and Manchin, the Democratic senator from West Virginia.

Republican Sen. Lisa Murkowski announced earlier in the day she opposes Kavanaugh's nomination because she fears it will hurt the public's faith in the courts. Speaking on the floor of the Senate, Murkowski said she would vote "no" on Saturday but, on the final tally, be asked to be recorded as "present" — a courtesy she was extending to Republican Sen. Steve Daines who supports Kavanaugh's appointment but will be attending his daughter's wedding in Montana.
But in the end, it will not matter as Republicans needed just 50 votes for confirmation.
Collins has for months consistently declined to say how she felt about the Kavanaugh nomination. She voted with Republicans Friday morning to end debate on his nomination, but only after making it clear that didn't necessarily mean she would vote to confirm him. She said she would announce that decision Friday afternoon.
After then having lunch with Senate Majority Leader Mitch McConnell, Collins took to the Senate floor and announced in a speech laying out her reasoning for supporting Kavanaugh. As Collins stood up to speak, protesters in the Senate gallery shouted "Vote no."
Manchin, who is up for reelection this year, posted his statement supporting Kavanaugh just after Collins left the Senate floor.
"I have reservations about this vote given the serious accusations against Judge Kavanaugh and the temperament he displayed in the hearing. And my heart goes out to anyone who has experienced any type of sexual assault in their life," Manchin wrote in the statement. "However, based on all of the information I have available to me, including the recently completed FBI report, I have found Judge Kavanaugh to be a qualified jurist who will follow the Constitution and determine cases based on the legal findings before him."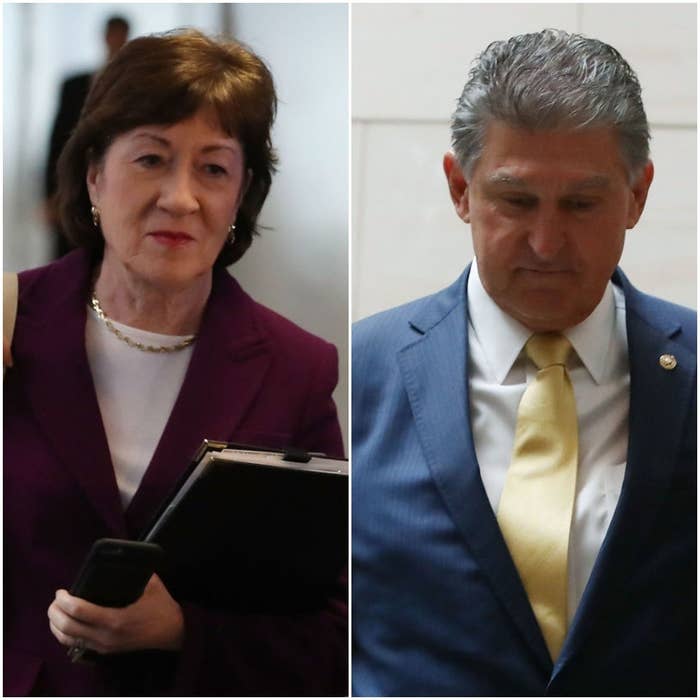 Collins gave a lengthy speech, in which she outlined Kavanaugh's past judicial opinions and thought before addressing the sexual assault allegations against him. Collins said that she found Christine Blasey Ford's testimony to the Judiciary Committee about her allegations "sincere, painful, and compelling," but that given Kavanaugh's denial under oath and without corroboration, the judge deserves the presumption of innocence.

"I believe that she is a survivor of a sexual assault and that this trauma has upended her life," Collins said of Ford. "Nevertheless, the four witnesses she named could not corroborate any of the events of that evening gathering where she says the assault occurred. ... Fairness would dictate that the claims at least should meet a threshold of more likely than not as our standard. The facts presented do not meet that precedent. ... Therefore, I do not believe that these charges can fairly prevent Judge Kavanaugh from serving on the court."
Collins also said she believed Kavanaugh would not overturn gay marriage, Roe v. Wade, or the pre-existing condition protections of Obamacare. And she said she did not believe Kavanaugh would allow President Donald Trump to shut down investigations against him.

After speaking for nearly an hour, Collins concluded, "I will vote to confirm judge Kavanaugh."

Collins told reporters after her speech that she made her decision Thursday night after reading the FBI's investigation into Kavanaugh, calling the interviews "helpful."
"Believe me, I struggled with it for a long time because ... I was very disturbed by the allegations that were put forth, and I found Christine Ford's testimony to be very heart-wrenching, painful, and compelling. But there was a lack of corroborating evidence," Collins said.
Soon after Collins finished speaking, Manchin took questions from reporters in the Senate hallways as protesters repeatedly yelled "Shame on you!" over the crowd.
"Do you believe the allegations? Do you believe Dr. Ford?" he was asked.
"I believe Dr. Ford. Something happened — I don't believe that the facts showed it was Brett Kavanaugh. But I believe something happened," Manchin said, without answering if he thought someone else did it.
Asked what he'd say to "women who watched this process unfold, heard Dr. Ford's story and feel like Judge Kavanaugh is getting confirmed anyway," Manchin said, "I don't know. I mean, I have empathy and sympathy to make sure this doesn't continue."

Protesters started shouting "Look at us! Look at us!"
When asked about Kavanaugh's temperament during last week's hearing, he said his testimony "bothered me a lot."
Manchin said there was "always more that could have been done, I guess," when asked about the FBI's investigation into the allegations. "I looked at what was in front of me and I had to make a decision."
He was asked, "You're up for reelection in a difficult race. Are you concerned the base is going to revolt?"
"I didn't look at this from a political standpoint," Manchin, who issued his statement minutes after Collins spoke, said.
There have been some hints on Collins' thinking along the way. A pro–abortion rights Republican, Collins told reporters she did not believe Kavanaugh would overturn Roe v. Wade. She also described the FBI investigation into Kavanaugh as "very thorough" Thursday.
But she also was an early voice calling for Ford, Kavanaugh's first accuser, to testify before Congress ahead of any vote and condemned President Trump when he mocked Ford's testimony.
Collins, Murkowski, and the late John McCain famously teamed up to defeat Obamacare repeal last summer. But barring someone changing their mind at the last minute, there will be no moderate revolt this time.
The Senate can move to a final vote on Kavanaugh's nomination as early as Saturday. Republican Sen. Steve Daines is expected to be absent for the final vote in order to attend his daughter's wedding in Montana, and with Murkowski voting "present," the final vote will be 50–48, which is sufficient to confirm Kavanaugh.
Lissandra Villa contributed to this story.
This is a developing story. Check back for updates and follow BuzzFeed News on Twitter.‏