WASHINGTON — One year ago members of Congress declared surprise medical billing an unjust market failure and vowed quick action to fix it.
Both political parties agreed. Who could defend the growing cases of massive bills for people who go to the emergency room and are unknowingly treated by out-of-network doctors? One 2019 study found that 4 out of 10 emergency room visits resulted in a surprise bill.
But that fix has yet to arrive, in part because of a massive ad blitz from private-equity companies that have bought up physician staffing firms and profit from surprise bills. Swing states and districts across the country were inundated with ads attacking Congress's plan as an insurance industry scheme that would cause doctor shortages and hospital closures.
Two attempts to pass legislation fell apart after pitched, last-minute negotiations between and within parties. This month Congress has a third and final chance to pass surprise billing legislation by tacking it onto a must-pass coronavirus aid bill.
But that effort seems to be dying a slow death while the public is distracted by the COVID-19 pandemic.
Multiple congressional aides told BuzzFeed News there are no active negotiations about including surprise billing in the next COVID aid package, though those talks could ramp up closer to the deadline. President Trump supports ending surprise billing but hasn't mentioned it since May. And private equity has gone silent.
As recently as April, Blackstone Group and KKR & Co. — two private equity firms that have invested in physician groups — were spending millions on ads in states where vulnerable senators are up for reelection. Then in early May, the ads stopped altogether. There have been no ad buys since.
Jen Taylor, director of government relations for Families USA, said she thinks the silence from private equity is because the companies believe they have already won and don't see the coronavirus bill as a threat.
"Last year when it was clear that there was a lot of momentum in Congress to ban surprise billing, you couldn't turn the channel without seeing ads backed by private equity firms trying to slow down the process," she said.
"They have deep pockets, so it's unlikely that they suddenly lack the resources to continue that effort, and much more probable they are betting that Congress won't move forward with legislation."
One problem for those backing an end to surprise billing is that COVID-19 has sucked the attention away from other public health issues. Another is that the issue does not hew to party lines in any predictable way. Both parties have advocates and both have members who don't want to be seen as cutting doctors' pay during a pandemic.
There are still powerful figures in Congress pushing a surprise medical billing fix. Senate Health Committee Chair Lamar Alexander is retiring and has made it clear he wants to end surprise billing before he does. Ranking Democrat Patty Murray is on board. In the House, Energy, and Commerce Committee Chair Frank Pallone and ranking Republican Greg Walden are pushing it forward.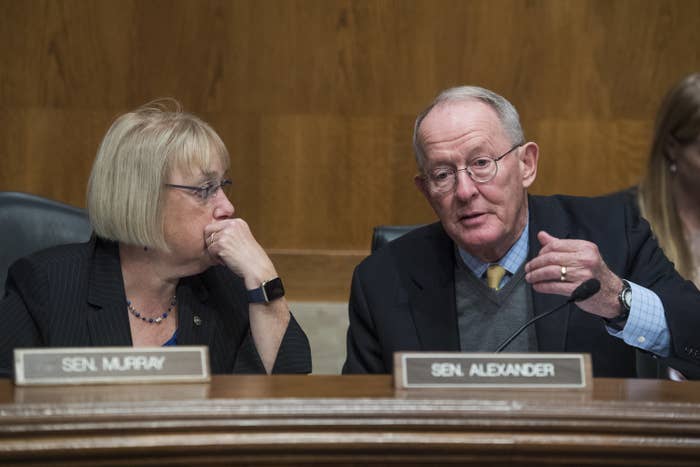 But top levels of party leadership seem content to shield their members from a tough vote. The Nancy Pelosi-led House passed a $3 trillion coronavirus aid bill that was ambitious and expansive but did not include surprise billing. Senate Majority Leader Mitch McConnell has been noncommittal about bringing the issue forward for a vote in his chamber.
"It's an odd one to whip, that's for sure," said one House staffer.
Congress nearly ended surprise billing late last year, only for talks to fall apart at the 11th hour. Less well known is that Congress almost succeeded a second time this past March when it passed the CARES Act, the largest coronavirus relief bill to date. Surprise billing was included in near-final versions of CARES in the final 48 hours of negotiations, according to congressional sources.
"It came very close," said a Republican aide.
CARES was must-pass legislation. Including surprise billing would not only have guaranteed its passage but would have provided political cover because of the need to respond to the COVID-19 pandemic.
But politicians were feeling outside pressure from doctors, hospital associations, and, notably, a dark money political action committee called Doctor Patient Unity.
Doctor Patient Unity popped up last summer when ending surprise medical billing first became a priority in Washington. The group spent tens of millions of dollars in 2019 attacking Congress's plan. In September, the New York Times revealed who was behind the PAC: large physician staffing practices TeamHealth and Envision, which outsource doctors to hospitals and handle the business side. Both companies are owned by private equity.
Blackstone bought up TeamHealth in 2017 for $6.1 billion, and the following year KKR bought Envision for $9.9 billion. The growth of these large physician staffing firms has coincided with a sharp rise in surprise medical billing.
In the second half of 2019 Doctor Patient Unity ran a huge ad campaign attacking Congress's surprise billing plan, spending $54 million according to Bloomberg News.
The legislative details for ending surprise billing have shifted, but in general the plan is to force a compromise: insurers must cover all emergency bills from in-network hospitals, but the fees to doctors and other staff are tied to benchmarks so they can no longer charge well above the norm.
Doctor Patient Unity was still running ads during the CARES negotiations. Between mid-March and late April alone the group spent $1.2 million in ads, according to FCC data. The largest ad buy was in Georgia, where both of the state's senators are locked in reelection races. Ads also ran in Louisiana, Texas, Arizona and North Carolina, all of which have senators up for reelection.
The ads often featured actors dressed as doctors speaking to the camera warning about "government rate setting." It portrays Congress's plan as a greedy insurance industry scheme that will cause doctor shortages and hospital closures. "It's more money for them and less care for us," one ad warns.
Members started raising objections, according to congressional sources with knowledge of the negotiations. Party leaders were hoping to pass the CARES Act swiftly with unanimous consent (they almost got it, but Kentucky Rep. Thomas Massie objected). Surprise billing was proving to be controversial; with no time to mount a campaign to win over skittish members, it was stripped from the final bill.
"We ran out of time," said the Republican aide.
Since that near miss, Doctor Patient Unity has gone quiet for the first time. The PAC did not respond to a request for comment.
"We've not seen anything from them now for a couple months, and I don't see anything on the horizon for them either," said Steve Passwaiter, vice president and general manager of media analytics company Kantar Media.
Part of the reason surprise billing has been pushed to the backburner is Congress took action — and coughed up money — so that insurers will cover coronavirus-related costs.
But Taylor said that doesn't go far enough in protecting patients from unreasonable bills in other situations.
"People still get in car accidents, people still have babies. These issues haven't gone away," she said. "Every day that goes by this gets worse."
If a fix is not passed as part of the next COVID-19 bill, it is almost certain nothing will happen before the election. The next chance would be in November during a lame-duck session. The CARES Act funded community health centers only until the end of November, and a health spending bill would have to pass before then.
Senate Health Committee Chair Lamar Alexander said in a statement to BuzzFeed News that surprise billing needs to be the capstone to Washington's coronavirus response before it gets to that point.
"The last piece of the puzzle is for Congress to end the practice of surprise medical bills being sent to patients who seek care," he said. "It's time to act."