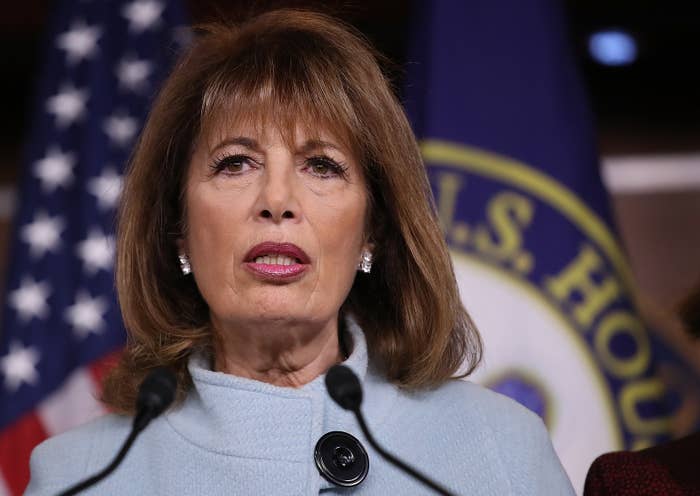 As pressure mounts on Congress to overhaul its secretive system for dealing with sexual harassment and workplace complaints, members are starting to rally around legislation that would do away with mandatory gag orders and provide victims with their own representation for the first time.
After BuzzFeed News revealed a secret settlement of a sexual harassment complaint against Michigan Rep. John Conyers, a small rush of members signed up to cosponsor the Member and Employee Training and Oversight On Congress Act (dubbed the ME TOO Act) to make significant reforms to the complaint process. The bill, introduced by Rep. Jackie Speier, now has 11 bipartisan cosponsors, six of whom signed the day after the Conyers revelations broke.
Congress does not have an HR department. Instead there is the Office of Compliance, which handles complaints from the 30,000 legislative branch employees across the country. The OOC has paid out $17 million across 264 claims over the past two decades, all while keeping the details of the complaints and identities of the accused secret.
Currently, an employee who wants to file a formal complaint must first sign a confidentiality agreement. Then they must go through 60 days of mandatory mediation and a 30-day "cooling off period" — a total of 90 days that a victim would potentially have to continue working with their harasser before they can launch a formal complaint.
The complainant can then opt to pursue a lawsuit or negotiate a settlement. While harassers are defended for free by taxpayer-funded lawyers, accusers must go in without representation or pay for their own lawyers out of pocket.
An employee who launched a complaint against Conyers said she felt "blackballed" by the process and believed "there was nowhere I could go."
The bill would make counseling and mediation optional, rather than mandatory, before filing a complaint or lawsuit. It would designate a person in the process to serve as "victim's counsel" to provide legal advice and representation to complainants.
The bill would also remove the signing of nondisclosure agreements as a condition of filing a complaint. The parties could still agree to sign nondisclosure agreements as part of a final settlement.
It would also mandate that employees who make a complaint can work remotely while their complaint moves through the system. Members of Congress would have to pay out settlements with their own money, and each office would have to publicly disclose how much it has paid out in settlements each year.
"In 1995, Congress created the Office of Congressional Compliance to protect itself from being exposed, and it has been remarkably successful," said Speier in a statement. "Zero tolerance is meaningless unless it is backed up with enforcement and accountability."
Senator Kirsten Gillibrand is spearheading the effort to pass companion legislation in the Senate, with three Democratic cosponsors.
The Conyers complaint raised the question of how many settlements are paid out through side channels. In this case, Conyers ostensibly rehired the complainant as a "temporary employee" for three months. She was paid $27,000 in salary and then removed from the payroll.
But her employment was a sham. She was directed not to come into the office and to do no work. She did not have access to office resources.
Florida Republican Rep. Ron DeSantis separately announced he is drafting legislation to "unseal settlement records, bar use of tax dollars to pay claims against members & staff, prohibit members from using office budgets to camouflage payments (a Conyers rule) & require reimbursements of the taxpayer."
While there appears to be growing appetite to reform the system, shining the light on previous settlements could be a major battle. Speaker of the House Paul Ryan has not specifically endorsed the ME TOO Act.
He said this week that he directed the Committee on House Administration to do a full review of policies related to workplace harassment, and reforms are now under consideration.
Minority Leader Nancy Pelosi says she supports Speier's bill. In her statement responding to the Conyers story, Pelosi called for Congress to pass the ME TOO Act in order to "advance equity in all workplaces in America."