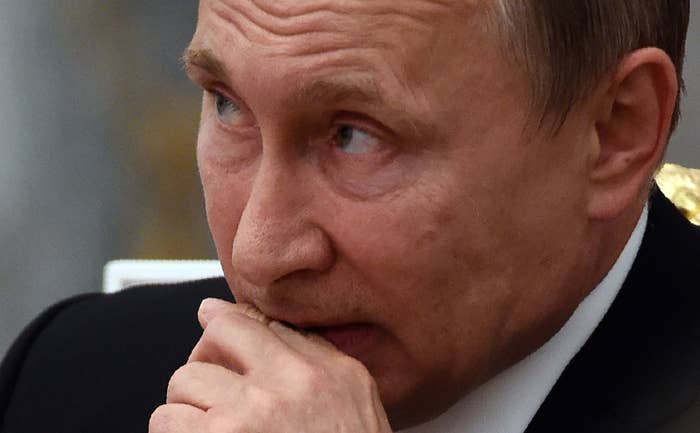 WASHINGTON — While deriding Vladimir Putin as a thug and a scoundrel Thursday, many congressional Republicans agreed that Donald Trump was onto something when he called Putin a stronger leader than Barack Obama.
"Vladimir Putin has proceeded to wipe the floor with Barack Obama all over the world map," said Arizona Congressman Trent Franks.

Franks said that Trump knows very well that Putin is "a thug," and was arguing Putin has advanced socialism more aggressively than Obama has defended democracy.
There has been mixed reaction to Trump's televised comments Wednesday when he said of the Russian president: "he's been a leader. Far more than our president has been a leader" and praised Putin for having a "strong control" over his country.
Speaker of the House Paul Ryan called Putin an adversary of America and his office said Thursday he does not agree with Trump on this issue. South Carolina Senator Lindsey Graham said Trump's position on Putin "unnerves me to my core."
But several other Republicans — though all quick to condemn Putin — said Trump had a point. But they argued that Trump was not, in fact, complimenting the Russian leader.
"Putin has pretty much had his way with Obama," said Alabama Congressman Gary Palmer.

"We've lost 40 years of influence in the Middle East in the eight years that Obama's been president. Putin has filled that void, so in that regard, he's been more effective than Obama. He's literally replaced us."

The Republican vice presidential nominee Mike Pence told CNN that it was "inarguable" Putin is a stronger leader to Russia than Obama has been in the United States but "that's going to change the day that Donald Trump becomes president of the United States of America."
Republicans pointed to Russia's growing power in Syria and expansion ambitions in Ukraine as examples of Putin's growing power.
"He's been a more assertive and aggressive leader perhaps than our president," said Pennsylvania Congressman Charlie Dent.
Dent said that while Putin is a dangerous man, he's aggressively pursued Russia's interests while many feel that America has retreated from the world stage.

"Vladimir Putin's no friend of ours, let me tell you," said Texas Congressman Roger Williams.
"Putin is a bad man. Barack Obama is a bad manager. Neither one of them we can count on."
Others wanted nothing to do with the issue. Mississippi Senator Roger Wicker said he went to a "very fine play" at Ford's Theatre so missed Trump's TV appearance.
Utah Senator Orrin Hatch said, simply, "I'm not going to get into that fight."