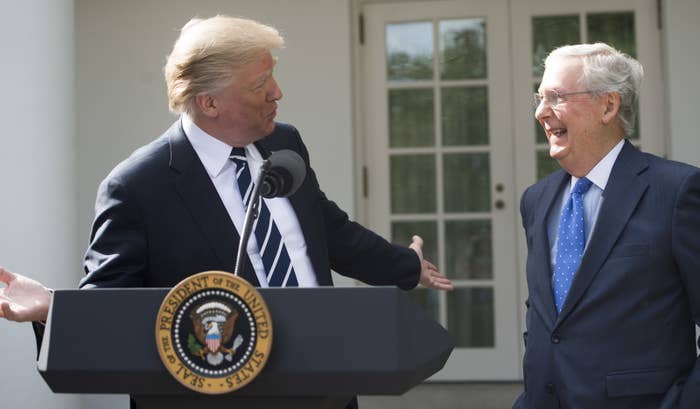 Leading senators from both parties have struck a deal to stabilize the Obamacare markets for two years, funding the subsidies for low-income Americans that President Donald Trump announced he would end last week.
For Republicans, the deal would give states "significantly" more freedom to get exemptions from the Affordable Care Act's rules. While the full plan has not been released, protections for those with preexisting conditions would not be affected. For Democrats, it essentially undoes Trump's executive order last week, by guaranteeing funding of key Obamacare subsidies through 2019.
"In my view, this agreement avoids chaos," said Lamar Alexander, Senate Health Committee chair, who negotiated the stabilization deal with ranking Democrat Patty Murray.
The question now is whether enough Democrats and Republicans will support it.
Continuing to fund the subsidies — known as cost-sharing reduction payments, or CSRs — will be a tough sell to Republicans and threatens to doom the plan. CSRs are paid to insurance companies and subsidize plans offered to low-income customers. Republicans have frequently denounced CSRs as an industry "bailout" and, in a memo detailing the administration's decision to end the payments last week, Attorney General Jeff Sessions argued that it was illegal for the president to make the payments, given that Congress is responsible for making funding decisions.
Unless Congress steps in, cutting off these subsidies is projected to raise premiums next year by 20%. The administration plans to stop making the payments immediately, beginning with one due on Oct. 18.
The deal is also expected to allow for anyone to sign up for "copper" plans that cover catastrophic illness at low premiums but with high deductibles (currently only people under 30 can sign up for these plans) and restore some funding for enrollment outreach that was slashed by the Trump administration.
Despite Trump's opposition to CSRs, Alexander said the president supports his bill.
"I'm encouraged of the consensus of support I've received, and that includes President Trump. He's called me twice in the past two weeks and he doesn't want people to be hurt in the interim," said Alexander.
Trump told reporters Tuesday that he has been "involved" in the negotiations for a short-term solution "so that we don't have this very dangerous little period, including dangerous period for insurance companies," adding that a deal would buy time for larger negotiation to overhaul Obamacare.
The full contents of the plan have not yet been released. Murray said the final details are being ironed out and should be announced soon.
But Alexander said Tuesday that the deal does not impact key Obamacare rules such as protections for people with preexisting conditions and the 10 essential health benefits that plans must cover. While states would be more able to get exemptions from Obamacare rules, Alexander said states would have to justify any exemption by showing it will provide "comparable coverage" at "comparable affordability" to Obamacare.
This is intended to ease concerns of Democrats, who unanimously opposed recent Obamacare repeal bills in large part because they would have opened the door to skimpier plans and more uninsured people.
Still, Alexander said the deal allows for "significant changes to the law" as well as faster approval of state waivers of Obamacare rules.
Murray said the deal will "help protect families from premium spikes as a result of sabotage we have seen from this administration."
Though the filing deadline for next year's insurance plans already passed in September, many insurers submitted two sets of filings — one for if CSRs are continued, and one for if they are not.
Meanwhile, Republicans say the Alexander-Murray bill buys time as they work toward another push for Obamacare repeal at some point down the road.
Murray and Alexander must now win over 60 votes in the Senate, House Speaker Paul Ryan, and a majority of members in the House. Alexander said several Republican senators have already expressed support for his plan, including Sens. Susan Collins, Lisa Murkowski, John McCain, Lindsey Graham, Bill Cassidy, and Mike Rounds.