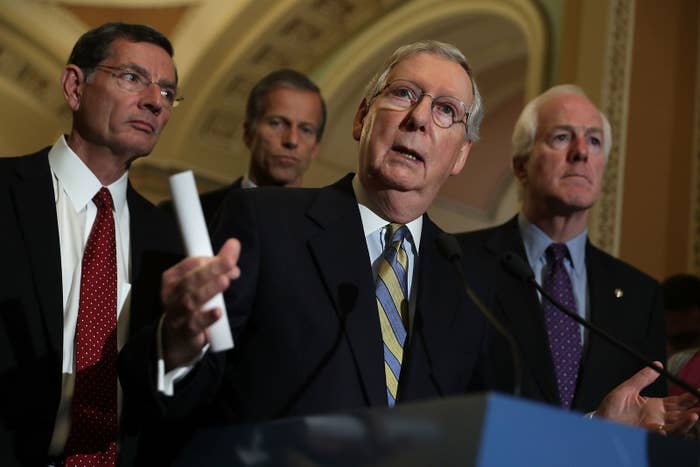 Senate Republicans seem set to move ahead with a House plan to allow states waive pre-existing condition protections and requirements for what insurance plans must cover in their health care bill. The move comes despite the Congressional Budget Office warning on Wednesday that those provisions could lead to skyrocketing health costs for people who are ill or pregnant.
The CBO found in a damning report that the American Health Care Act passed by the House earlier this month would lead to 23 million more uninsured people over a decade compared to Obamacare, and would lead to drastically higher costs for sick people in states that waive pre-existing condition protections. It also found that waiving essential health benefits, or rules determining what insurers must cover, could lead to an extra costs of $1,000 per month for maternity care.
Several Republican senators emphasized Thursday that the Senate bill will be dramatically different than the version the House passed. But on the question of pre-existing conditions, several senators confirmed the plan is currently to keep the House's plan to let states waive those protections with conditions.
"I think this should be state-managed so I'd be in support of the waivers," said Wisconsin Sen. Ron Johnson heading into a meeting of Republican lawmakers.
Sen. Orrin Hatch said "I think the waivers probably will be part of the final bill," while Sen. Ted Cruz said Republicans are trying to build consensus around state flexibility. Sen. John Thune, the number three member of GOP leadership, said there is broad agreement around giving states more freedom from federal regulations.
Republicans are at a key turning point with the health bill. After weeks of daily meetings, they are heading into a break week expecting to put pen to paper. Multiple senators said Thursday they expect to see draft legislation when they return in two weeks, though they cautioned it could change dramatically before it is released in its final form.
Senators are trying to find a way to beef up protections to avoid some of the disastrous scenarios projected in this week's CBO score. Asked if the score makes the Senate's job harder, Nevada Sen. Dean Heller said "It makes everything harder and more difficult. Twenty-three million people losing their health care, that's a good place to start."
But while the Senate negotiations have appeared much smoother on the surface, they face the same core dilemma as the House did — one part of the Republican conference is pushing for a more robust safety net, while the other is pushing for a more hands-off, deregulated approach. Any moves to appease one side alienate the other.
In fact, Senate Republicans have an even smaller margin for error than the House did, where they passed their version of the bill with just one vote to spare. In the Senate, Republicans need 50 of their 52 senators to pass the bill.
"With 50 senators needing to agree on this bill, everyone's in a strong position. You can't roll anybody," said Senate Majority Whip John Cornyn.
Cornyn, who will be responsible for counting votes on the bill as the Republican whip, was open about the obvious — that as of yet there is no consensus in among Senate Republicans on a full plan.
Louisiana Sen. Bill Cassidy has been one of the loudest voices among Senate Republicans calling for protections for people with pre-existing conditions. But he implied he could support pre-existing condition waivers as long as they were paired with a "very robust" safety net known as invisible high-risk pools. This proposal, which was tried in Maine, essentially subsidizes people with pre-existing conditions without removing them from the insurance markets.
It's not clear whether the Senate will ultimately adopt that proposal. The House-passed AHCA instead used basic high-risk pools, which cover people with pre-existing conditions outside of the markets, but have traditionally been underfunded.
GOP senators are also working to slow down the repeal of the Obamacare Medicaid expansion, which would expire in 2020 under the House bill. And they want to change the AHCA's refundable tax credits to offer more support to older and poorer Americans (the CBO found that the AHCA would lead to an almost 10-fold increase in premiums for lower-income people between the ages of 50-64).
The big question is whether that will offer enough support for senators who are taking a more moderate approach to the health care battle, like Lisa Murkowski, Susan Collins and Bill Cassidy, without losing strong deregulation proponents like Sens. Rand Paul, Ted Cruz and others.
In the meantime, senators are insistent that whatever bill they come up with will be an improvement over the CBO's projections of the House bill.
"That's what we have to try to do is come up with options in our version of the bill that prevent those kind of outcomes," said Thune.
"We know that it's a delicate balance… when you fix something over here, something else pops up over here and we've got members on different ends of the spectrum who want different things out of this."