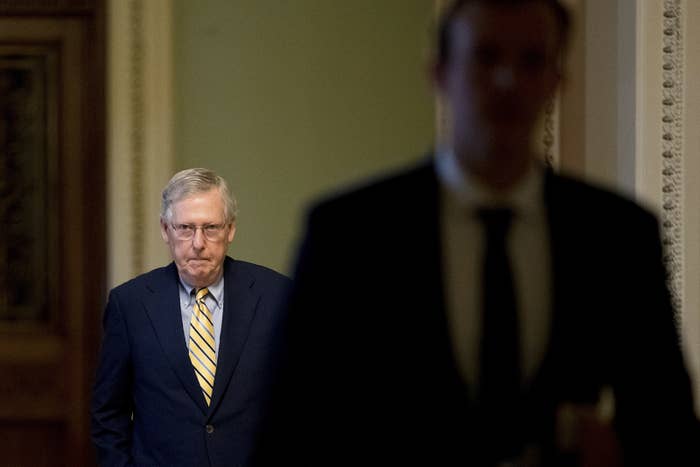 Senate Republicans are making a dramatic last-ditch effort to salvage a health care bill after their latest effort was killed on Monday night.
Months of trying for a full repeal and replacement of Obamacare came to an end as Sens. Mike Lee of Utah and Jerry Moran of Kansas announced they would vote against the latest bill. They joined Sen. Rand Paul of Kentucky, a fellow hardcore conservative, and Sen. Susan Collins of Maine, a moderate, to bring down the bill. Republicans could only lose two senators and have now lost four.
"Regretfully, it now appears that the effort to repeal and immediately replace the failure of Obamacare will not be successful," Senate Majority Leader Mitch McConnell said in a statement.

With little other option, McConnell is now making a last-minute play to pass a so-called "clean" Obamacare repeal bill. The bill would repeal all of the provisions of the Affordable Care Act, but delay repeal by two years, effectively setting a hard deadline for Congress to come up with a new plan.

Several Republican senators worried that the current repeal-and-replace plan went too far, both in cutting Medicaid funding and in repealing protections for pre-existing conditions introduced by Obamacare. Even most conservatives agreed that a straight return to the pre-Obamacare days was undesirable. But the two sides could not agree on a path forward.

McConnell was open in saying that for this new plan to succeed, it must first win the support of 50 of 52 Republican senators to agree to proceed to a floor vote.
"In the coming days, the Senate will vote to take up the House bill with the first amendment in order being what a majority of the Senate has already supported in 2015 and that was vetoed by then-President Obama: a repeal of Obamacare with a two-year delay to provide for a stable transition period to a patient-centered health care system that gives Americans access to quality, affordable care," he said in his statement.
A straight repeal bill could easily be defeated, but it is essentially the last choice for a party that has spent seven years vowing to repeal Obamacare. Republicans passed more than two dozen straight repeal bills under President Obama, knowing they would be vetoed. Once they controlled Congress and the White House that plan proved more difficult.
The health care bill Senate leadership was pushing would have cut federal Medicaid spending by about one-third over the next two decades, but would have preserved some key Obamacare measures that guaranteed access to health insurance for people with pre-existing health conditions. It would have introduced tax credits that were less robust than the Obamacare subsidies they replaced, but which provided a far wider safety net compared with what existed before the ACA.
A version of the bill barely survived a vote in the House, but could not pass the Senate. Moderates objected to the deep cuts to Medicaid and a potential return to the days when people with pre-existing health conditions faced prohibitively high costs. Conservatives argued that too much of Obamacare was kept in place — in particular the latest bill preserved hundreds of billions of dollars in taxes on the rich in order to pay for health programs.

For seven months, Republicans have struggled to strike a balance between the different wings of their party. Ultimately, that balance failed on Monday night. A straight repeal bill would still need to pass both the Senate and the House.
The latest version of the Senate health care bill was dead after two new Republican senators announced Monday evening they would vote against it, bringing the total to four. It takes just three "no" votes to kill the bill.
Sens. Lee and Moran, both from the conservative wing of the conference, released statements Monday saying they would not support a motion to put the bill to a vote on the floor.
"After conferring with trusted experts regarding the latest version of the Consumer Freedom Amendment, I have decided I cannot support the current version of the Better Care Reconciliation Act," said the statement from Lee. "In addition to not repealing all of the Obamacare taxes, it doesn't go far enough in lowering premiums for middle class families; nor does it create enough free space from the most costly Obamacare regulations."
Moran likewise said that the "closed-door process" did not do enough to address health costs and Republicans shouldn't put a "stamp of approval on bad policy." Paul also opposes the bill based on similar concerns. Collins opposes it chiefly based on cuts to Medicaid and removal of protections for people with pre-existing health conditions.
The development put the GOP leadership's bid to repeal and replace Obamacare in crisis. Unless two of these four senators change their mind, the bill is dead. And other senators who have yet to declare could also end up voting against the bill.
In response to the latest health care setback, President Donald Trump told his party to start from scratch.
"Republicans should just REPEAL failing ObamaCare now & work on a new Healthcare Plan that will start from a clean slate," he tweeted Monday night, adding, "Dems will join in!"
On Tuesday, the president vowed that "we will return," tweeting "We were let down by all of the Democrats and a few Republicans. Most Republicans were loyal, terrific & worked really hard."
He also seemed to change his stance on repealing Obamacare tweeting that the government should just "let Obamacare fail."
Over the weekend, McConnell said he would postpone a vote on the health care bill until Sen. John McCain — a yes vote on moving forward with the bill — returned from surgery. McCain issued a statement on Monday calling on leadership to have Congress "return to regular order" and work with Democrats on a revised health care bill.

Most recently, GOP leadership rewrote the bill to keep hundreds of billions of dollars' worth of Obamacare taxes on the rich and direct them to health spending in a bid to win over moderates.