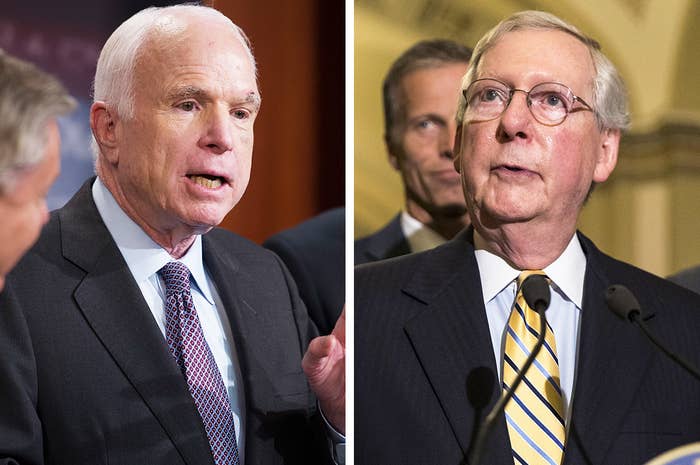 Senate Republicans failed to pass their final Obamacare repeal plan just after 1 a.m. Friday morning, with Arizona Sen. John McCain casting a surprise deciding vote to kill the effort.
McCain was joined by Sens. Susan Collins of Maine and Lisa Murkowski of Alaska in voting against the bill.

In a statement issued after the vote, McCain said the so-called skinny repeal "offered no replacement to actually reform our health care system and deliver affordable, quality health care to our citizens."
McCain added: "I've stated time and time again that one of the major failures of Obamacare was it was rammed through Congress by Democrats on a strict party line basis without a single Republican vote. We should not make the mistakes of the past that has led to Obamacare's collapse, including in my home state of Arizona where premiums are skyrocketing."
The vote is a huge blow to repeal plans in Congress. The Senate has no other plan to repeal Obamacare. Leadership held a prior 15-minute vote open for more than an hour trying to get the votes they needed. But ultimately, they failed. After that, Senate Majority Leader Mitch McConnell said they'd be moving on.
"This is clearly a disappointing moment," McConnell said, sounding emotional in a speech just after the vote ended. "From skyrocketing costs to plummeting choices and collapsing markets, our constituents have suffered through an awful lot under Obamacare. We thought they deserved better."
"It's time to move on," McConnell added, saying that it is now time for Democrats to offer their ideas on health care.
The vote came as a huge surprise to even Republican senators. "Guys, I'm shocked at this. ... I did not expect this. This is sad," Wisconsin Sen. Ron Johnson told reporters.
Asked about next steps, North Carolina Sen. Richard Burr said flatly: "There is no next step."
President Donald Trump, who suggested he supported the Senate plan late Thursday, tweeted early Friday morning that "3 Republicans and 48 Democrats let the American people down."
Senate Minority Leader Chuck Schumer said that Democrats were "relieved" that that the bill died Friday, but that he hoped the parties could work together on fixes to Obamacare at this point. "Obamacare was hardly perfect," he said. "It did a lot of good things, but it needs improvement."

Louisiana Sen. Bill Cassidy, one of a few Republicans who had met with Democrats to discuss possible bipartisan health care legislation, said he's hopeful. But he noted that in the past, "it hasn't worked. Maybe this had to happen to actually begin to have a conversation."
Johnson, too, said he is hopeful and is already working with Democratic Sen. Claire McCaskill to set congressional hearings.
The skinny repeal bill that went down Friday morning would have done away with Obamacare's individual mandate, which forces people who can afford insurance to buy it or pay a tax penalty. It would have repealed a tax on medical devices for three years, through the end of 2020, and also got rid of the rule that large employers must offer company insurance plans.
All of those portions of the bill were expected. But the bill, which was just eight pages long, also included measures to ban federal funding for Planned Parenthood for one year and make changes to loosen up the waiver program to allow states to opt out of certain Obamacare provisions.
The Congressional Budget Office projected that the plan would lead to 16 million more people without health insurance compared to Obamacare over the next 10 years. Many of them would be healthy people who leave the insurance markets because there is no incentive to stay, according to CBO, thus driving up premium prices for everyone else. As prices continue to rise, more people would be incentivized to drop their insurance, causing prices to rise even higher. This cycle is known as a "death spiral," and ends with insurance plans so expensive only people who desperately need care will buy them.
Republicans were aware of these issues and presumably would have tried to deal with them in conference. Many Republican senators insisted before the vote that they would only support it because they have been promised that it will not become law. Instead, the stated plan was for the Senate and House to go to a conference and flesh out a more aggressive Obamacare replacement plan later.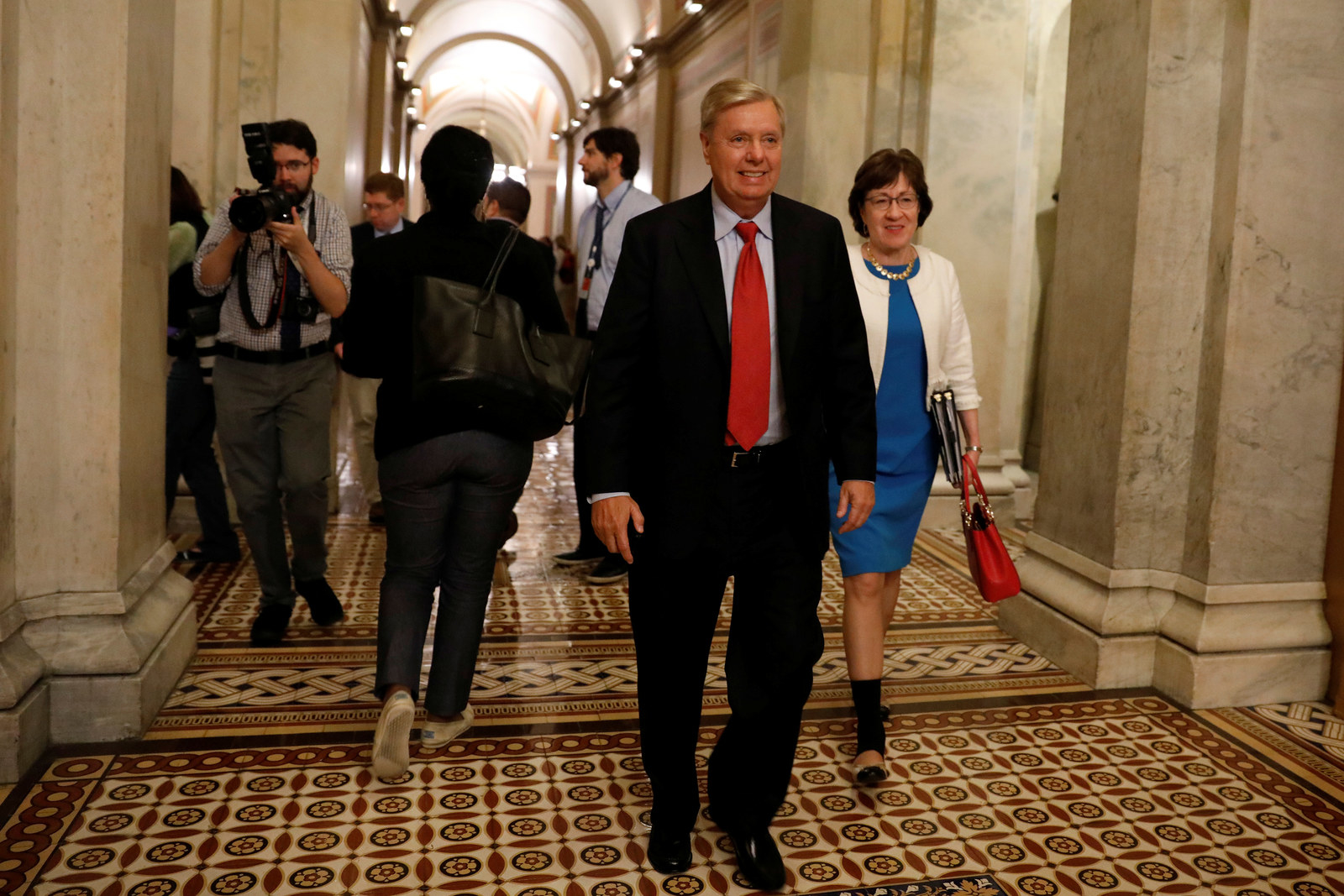 "The skinny bill, as policy, is a disaster. The skinny bill, as replacement for Obamacare, is a fraud," Sen. Lindsey Graham said Thursday afternoon, before the plan was released. "I'd rather get out of the way and let (Obamacare) collapse than have a half-assed approach where it is now our problem."
Still, a few hours later Graham said he would vote for the bill after saying he was promised by Speaker of the House Paul Ryan that the House would not vote to pass the bill as-is before agreeing to go to conference.
Trump appeared to support the Senate effort. "Go Republican Senators, Go! Get there after waiting for 7 years. Give America great healthcare!" he tweeted shortly after the bill was released Thursday night.
It wasn't immediately clear if Trump would have signed the bill as-is or if he was suggesting support for the Senate's move to pass something and go to conference with the House.
But the Senate's failure to pass any health care bill prevents it from moving forward with conference negotiations. With the "skinny" bill now dead, congressional Republicans will have to start over.
When asked if the vote marks the end of GOP efforts to repeal Obamacare, Pennsylvania Sen. Pat Toomey said: "I doubt that it's the end. But it's a big setback."
Texas Sen. Ted Cruz was more blunt: "This journey's not yet done. In the next 24 hours we will see a host of Democrats celebrating, we'll see a host of media observers crowing victory. But mark my words, this journey is not yet done."

One of the three Republican senators to vote against, Alaska Sen. Lisa Murkowski, also suggested the vote was far from the end of the GOP's repeal efforts, and said they were in fact "just beginning" with health care.

"I believe each of us stood up for the reasons that we felt were right, and are hoping that our colleagues also respect our reasons for the opposition just as I respect the incredible, extraordinary work that they put into trying to finish the product," Murkowski said.

"So I want us to all get back to how we can restart, because the work is not done. We cannot let the public believe we are done with health care — we are just beginning."
Emma Loop, Lissandra Villa, Sarah Mimms, and Francis Whittaker contributed to this report.