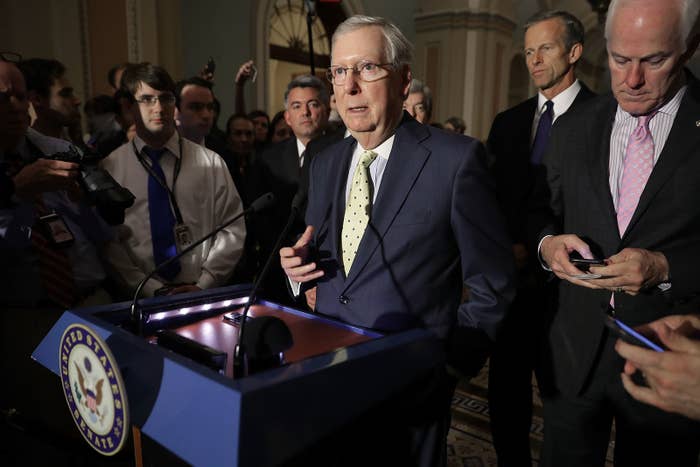 The Senate's draft health care bill will lead to 22 million more uninsured people than under Obamacare over the next decade, according to a review from the Congressional Budget Office released Monday.
The Senate's bill does slightly better than the House version, which would lead to 23 million more uninsured by 2026 than under Obamacare, as the CBO previously estimated.
Some of those losses will come from individuals who choose not to buy health insurance once Obamacare's individual mandate is repealed in 2018.
In order to try to keep healthy people on insurance rolls, the Senate bill would punish people who let their insurance lapse for more than 63 days by making them wait six months before they are able to buy insurance on the individual market again. That change would not go into effect until Jan. 1, 2019. But the CBO projects that millions of people would opt to go without insurance regardless. The report predicts 15 million people will choose not to buy insurance in 2018, when the individual mandate goes away, and for that number to rise to 22 million by 2026.
The number of newly uninsured people would disproportionately be older and lower-income, as they would be the hardest hit by repealing Obamacare subsidies. The CBO finds that more and more poor people, many of them older, will cease to be insured because it will become too expensive. A large reason is that the Senate bill cuts $424 billion in subsidies for individual marketplaces over a decade. The bill also allows insurers to charge older people five times more than young people, rather than the current limit of three-to-one.

Meanwhile, the CBO projects the Senate bill will save the federal government $321 billion over a decade — $202 billion more than the bill passed by the House. Most of these savings come from reduced payments to Medicaid. The bill would cut Medicaid by $772 billion over the next decade, largely funneling that money into $563 billion in tax cuts for wealthy Americans over the same period.

The bill would also block all federal funds from Planned Parenthood, a savings of $22 billion.
The Senate bill would cause premiums to rise in the short term relative to Obamacare but then fall after 2020, according to the CBO.
The report projects premiums will be 10% higher in 2019 than they would be under Obamacare, as healthy people leave the individual markets after the individual mandate is repealed.

In 2020, average premiums would fall to about 30% lower than under Obamacare, according to the report. The drop is largely due to insurance plans becoming skimpier at that time. Under the Senate bill, plans would only have to cover 58% of total health costs, rather than 70% under Obamacare. That means that while premiums will be cheaper, out-of-pocket costs will rise.
Deductibles for medical and drug expenses for a "silver" plan on the current Obamacare individual markets average $3,600 combined for a single person. That would rise to $6,000 under the less-robust plans envisioned in the Senate bill, according to the CBO.

The CBO projects that, starting in 2020, premiums and deductibles will take up a higher percentage of income for poorer Americans than under Obamacare and that many will forego insurance. "Despite being eligible for premium tax credits, few low-income people would purchase any plan," says the report.

As with the bill passed by the House, the CBO found the Senate bill will lead to a spike in costs for some people with pre-existing conditions. Unlike the House bill, the Senate plan does not allow insurance companies to raise costs on people with pre-existing health conditions. But it does let states waive essential health benefits — the Obamacare rules that all insurance plans must cover certain basic services such as hospitalization, maternity care, and mental health services.

If a state chooses to waive some of those essential health benefits, the Obamacare ban on annual and lifetime caps would also be erased on those services. The CBO projects that some people will see large increases in out-of-pocket costs as they bump up against new annual or lifetime limits on services that are currently covered indefinitely.

The CBO projects that the individual markets will remain stable under both Obamacare and the Senate health bill, but it warns that continued policy uncertainty could throw the markets into instability.

The Senate is expected to vote on its health care bill later this week, though it is unclear if it will have enough support to pass. Republicans can lose just two votes in order to pass the bill, with Vice President Mike Pence breaking the tie. Then the Senate would need to work with the House to reconcile their differences before they can send a bill to President Donald Trump's desk to sign.
In a statement Monday, Senate Majority Leader Mitch McConnell highlighted the CBO's predictions that the bill would lower premiums starting in 2020 and save money.
"Americans need relief from the failed Obamacare law. The Senate will soon take action on a bill that the Congressional Budget Office just confirmed will reduce the growth in premiums under Obamacare, reduce taxes on the middle class, and reduce the deficit," McConnell said in the statement. "The American people need better care now, and this legislation includes the necessary tools to provide it."

But the report wasn't greeted warmly by all Republicans in the Senate, prompting several to say they would vote against moving the bill forward.
Sen. Susan Collins, who had said she had serious concerns about the bill, tweeted that she would vote no on the motion to proceed because of its cuts to Medicaid.
"Senate bill doesn't fix ACA problems for rural Maine," she said. "Our hospitals are already struggling. One in five Mainers are on Medicaid."
Wisconsin Sen. Ron Johnson told CNN's Dana Bash that he would also reject moving the bill forward if Senate Republican leaders insisted holding a vote this week.
When asked about the CBO score, a sarcastic Sen. John McCain said: "Sure, I love it."
"Of course I don't like the CBO score but I'm not surprised," he said, getting serious. McCain said he'd been speaking with Arizona Gov. Doug Ducey to come up with amendments to improve the bill. Asked what he'd like to see changed, McCain said "lots," but didn't elaborate.
Sen. Lindsey Graham told reporters he thinks the CBO score will make it more difficult to pass the Senate health care bill. "If you are on the fence, you are looking at this as a political vote, this CBO score didn't help you. So I think it's going to be harder to get to 50, not easier," said Graham.
However, Graham told reporters, "I'm not going to be the guy to take the bill down."
Kentucky Sen. Rand Paul, one of the bill's early opponents, went further. "About 25% of the country wants this bill," Paul said, arguing that all Democrats and half of Republicans in the country are not interested in repealing Obamacare. "It's a terrible bill. Twenty-five percent of the people like it."
Paul said he would not only vote against the bill, but against an earlier procedural motion just to get to a vote on the bill, saying that it focuses on "bailing out insurance companies" rather than fixing the health care system.
Paul said that despite his concerns, he has not heard from Senate leadership on how to fix the bill and get his support, but that he had gotten "a call from the White House."
Five Republican senators have said publicly that they cannot support the bill in its current form. Texas Sen. Ted Cruz, one of the Republicans who has said he can't support the current bill, told reporters Monday evening, "At this point, significant work remains to be done."
"The most important objective is to lower health insurance premiums, and the current draft does not do enough in that regard," Cruz said. "If we do more — and I believe we can do more — I believe we can get to yes and that we will get to yes."
While several senators expressed their concerns about the CBO report, those who are still on the fence remained mostly mum on how the score would affect their votes.
Louisiana Sen. Bill Cassidy told CNN that the CBO score makes him "more concerned," but added, "I've been uncommitted and I remain uncommitted."
A few other Republican senators who remain undecided, such as Sen. Rob Portman and Sen. Jeff Flake, told BuzzFeed News that they were still reviewing the CBO report and could not yet comment on its findings.
Other Republicans, including members of leadership, defended the bill, highlighting its savings and casting doubt on the CBO itself. Pennsylvania Sen. Pat Toomey said the CBO used "extremely dubious and implausible assumptions" when it scored the House's bill. When asked if that meant he isn't taking the score seriously, he added, "it's badly flawed."

The White House, in a statement, also panned the CBO, saying it "has consistently proven it cannot accurately predict how healthcare legislation will impact insurance coverage. ... President Trump is committed to repealing and replacing Obamacare, which has failed the American people for far too long."
Democrats have panned the bill, with Senate Minority Leader Chuck Schumer calling it "fundamentally flawed."
"No matter what last-minute amendments are offered, this bill will force millions of Americans to spend more of their paychecks on health care to receive fewer benefits simply so the wealthiest Americans pay less in taxes," Schumer said at a press conference Monday.
Emma Loop, Brianna Sacks, and Lissandra Villa contributed to this story.