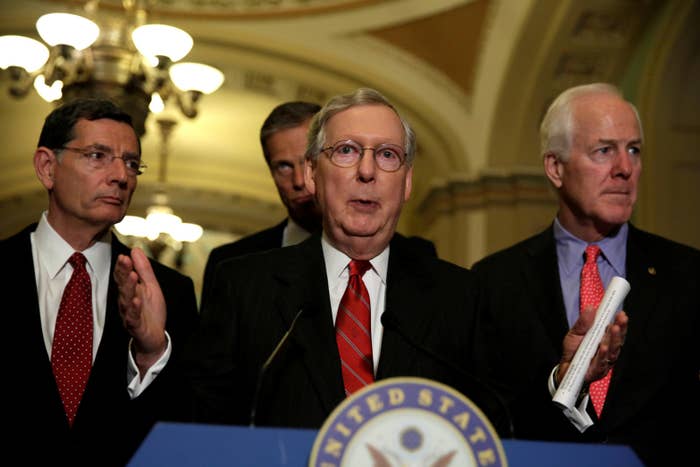 WASHINGTON — After voting to draft Obamacare repeal legislation by Jan. 27, Republicans almost immediately began backing away from that tight timeline Thursday.

"The January 27 date is a made-up date. Nothing's going to happen by then," said Republican Sen. Bob Corker.

"I think that there's an acknowledgment on our side of the aisle that we need to go about this in a very, very prudent way. There's a lot at stake."

Overnight Thursday the Senate passed a budget resolution directing key committees to draft a legislation to repeal Obamacare by January 27. President-elect Donald Trump also promised rapid action on repeal and replacement during a press conference this week and told the New York Times he expected repeal "probably some time next week."
But Senate Republicans are now pushing back on those expectations, cautioning that there is no hard deadline for when the repeal vote will actually take place.
Sen. John Thune, who is quarterbacking the issue for Republicans, said Thursday afternoon that there is agreement on parts of a replacement plan among Republicans, but they still do not have an agreement on what parts of Obamacare will be repealed through the upcoming reconciliation process.
He also said he does not expect anything concrete to happen by Jan. 27.
"The targets are sort of goals, aspirational more than hard deadlines," he said. "And I think that's probably true in this case. So I wouldn't be surprised if some of this stuff doesn't happen until after that date."

Thune said repeal will likely be split between three avenues — the upcoming budget reconciliation process, actions by the new president, and a second reconciliation bill some time in the future. He and other Republicans would not give a timeline for when any of this will take place.
Several Republican senators said Thursday that part of the holdup is waiting for the confirmation of Tom Price, Trump's pick for secretary of the Department of Health and Human Services. Price's confirmation hearing is currently scheduled to start next week. He's expected to play a key role in the repeal process.
A few Republicans said Trump might be underestimating all the logistical hurdles to repealing and replacing a law as vast and complex as the Affordable Care Act.
"I think he's Reagan-esque on that. I think he's not going to sweat the details. I think he's got the big picture and knows what needs to come out," said Sen. Roger Wicker.

Sen. Orrin Hatch joked that even people who have spent half their lives in Congress don't have a handle on all of the roadblocks to passing legislation.
He said the Democrats are likely to cause major opposition as well. While Republicans can repeal broad swaths of Obamacare on their own, they'll need Democrat support for any replacement plan. That makes it even more difficult to follow Trump's plan of repealing and replacing the law concurrently this month.
"I would want [repeal] quickly too, if I could," said Hatch. "But you know, it's the art of the doable. And sometimes these things take a little more time than our desires allow."