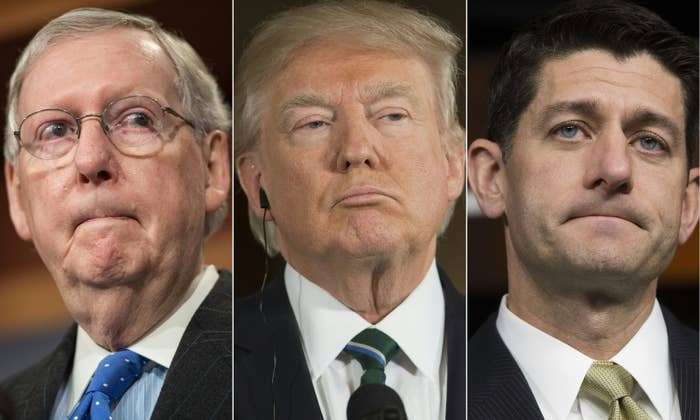 Bipartisan talks to stabilize Obamacare appear to be over, and Republicans are now threatening to let health insurance markets fall into "chaos" if their new repeal bill does not pass Congress next week.

The moves raise the real possibility that by the end of next week Republicans will either have repealed Obamacare, or set it on a path towards rising premiums and, potentially, collapse.
Senate Republicans had been weighing two separate Obamacare approaches — passing a repeal bill on their own, or working with Democrats on a bill to stabilize insurance markets for a year or two, while they work out a plan that can actually pass. (Currently, Republicans are short of the votes they need to repeal Obamacare by next week's deadline).
But Senate Health Committee Chairman Lamar Alexander, who was leading the bipartisan talks, said Tuesday that he was ending them. Alexander said the discussions were doomed by a lack of "consensus among Republicans and Democrats" to craft a bill "that could be enacted." This comes after both Alexander, and his Democratic counterpart Sen. Patty Murray, confirmed that the Democrats had made significant concessions in the talks, that would have allowed states to waive certain Obamacare rules, in exchange locking in market subsidies. .
According to several Republicans, House Speaker Paul Ryan has told senators that he would not put a bill to stabilize Obamacare up for a vote in the House. That decision essentially leaves the Senate with one option: repeal Obamacare, or let it collapse.
"He is not going to bring any bill to the floor of the House that props up Obamacare," said Sen. Lindsey Graham. "You'll never clean it up tinkering with it."
This appears to be in line with President Trump's oft-repeated promise to let Obamacare "fail" if it can't be repealed. Whether, as Trump has also repeatedly suggested, this will convince Democrats to "come together and do a great healthcare plan" remains to be seen, but it isn't helped by the breakdown of bipartisan talks on Tuesday.
Graham is one of the main drivers of the GOP's new repeal plan, which would dismantle the health care system set up by Obamacare and replace it with a block grant funding system to the states to experiment with as they like. Graham laid out the binary choice between repeal and collapse when asked what he would say to Alaska governor Bill Walker, one of 10 state governors who publicly denouned the Graham-Cassidy bill and called for stabilization instead in a bipartisan letter on Tuesday.
"Here's what I would tell him. If you think you don't like this (repeal) bill, just watch what you're getting coming, pal," said Graham. "Obamacare is collapsing and there's not a lot of appetite to prop it up, so chaos is going to reign."
The choice wasn't so stark earlier Tuesday, when bipartisan talks between Murray and Alexander on a fall-back plan to stabilize Obamacare seemed to be leaning in Republicans' favor. A Democratic aide said that Murray had given Alexander almost everything he had asked for in negotiations, and a bipartisan deal was "theirs for the taking." But Alexander said the level of polarization in Congress is just too strong for the parties to work together.
"We're trying to find a bipartisan consensus in an environment where Sen. [Bernie] Sanders and 15 Democrats are promoting Medicare-for-all, Republicans are trying to repeal and replace [Obamacare], the majority leader says he won't put it on the floor, the House speaker says he won't pass it, and the president says he won't sign it," said Alexander. "That's a pretty tall mountain to climb for bipartisan consensus."
Murray put out a defiant statement calling for negotiations to continue. "I am confident we can reach a deal if we keep working together," she said.
The bipartisan deal would have guaranteed Obamacare subsidies, known as cost-sharing reduction payments or CSRs, through at least 2018. Without that guarantee, the White House could choose to stop paying the subsidies at any time and that uncertainty is likely to lead to higher premium costs, as insurers set their rates for next year at the end of September.
Cutting CSR payments would lead to premiums spiking by 20% next year, more insurers fleeing the individual markets, and, paradoxically, even higher costs to the federal government, according to a Congressional Budget Office analysis. The CBO projected that separate tax credit subsidies for low-income customers would kick in to help pay for the higher premiums, leading to an added federal cost of $194 billion over the next decade.
Because of this, guaranteeing CSR funding is supported by both Democrats and many Republicans. On top of this, Alexander seemed set to receive several of his proposals to make it easier for states to receive Obamacare waivers, such as shortening length of time of the approval process.
But the choice now appears to be between the Graham-Cassidy repeal bill, or no stabilization bill to protect CSR payments at all. Republicans remain shy of the 50 votes they need to repeal Obamacare, and have only until the end of the month to get the job done. At that point the Senate's special budget reconciliation process expires, and the party would need 60 votes (or at least eight Democrats) to pass the bill instead of 50.
Kentucky Sen. Rand Paul is vehemently opposed to the bill, while Sen. Susan Collins of Maine sounded very wary of it Tuesday. Sens. John McCain of Arizona and Lisa Murkowski of Alaska, both of whom voted against the previous Obamacare repeal effort, say they are studying the bill. Either one of them — or any other senator — voting no would be enough to kill the latest repeal effort.
The Senate Finance Committee will hold one hearing on the Graham-Cassidy plan next Monday, setting up a possible vote later next week. Ryan has endorsed Graham-Cassidy and promised to bring it to a quick vote in the House. For now it appears to be the only health bill on the table.