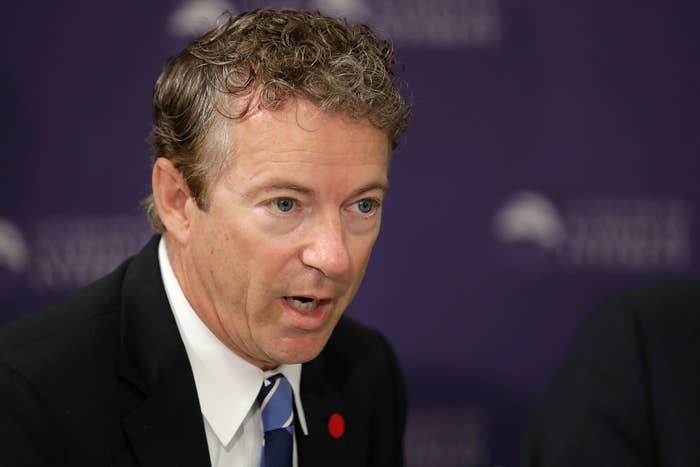 WASHINGTON — One day into a crucial week for Obamacare, it's still unclear whether Republicans have enough votes in the Senate to repeal the health care law.

Senate Majority Leader Mitch McConnell has set a deadline for the end of the week to begin the process of repealing the Affordable Care Act. But several Republicans have expressed concern about the plan to repeal now and only replace the law later — potentially years down the road.
Sen. Rand Paul, a leader of the movement to repeal and replace the law at the same time, said he believes the question of whether to join the issues will be decided behind closed doors. "I think this is not something there'll be a vote on, I think it'll be decided quietly in our caucus," Paul said.
"But I think there's momentum in our caucus for doing repeal and replacement the same day."
Paul said that his goal is not to delay repeal, but to speed up replacement. He said his own health care legislation will be ready by the end of the week.
But replacing Obamacare is near-universally expected to be a long, messy fight for the Republicans, who will need the cooperation of Democrats to enact a new health care law. Democrats, for their part, staged a talkathon on the floor of the Senate Monday evening to protest Republican plans to repeal the law.
Meanwhile, President-elect Donald Trump has promised to move immediately on repealing as much of Obamacare as he can from the Oval Office.
A repeal vote now that would delay implementation for up to a few years would allow Trump to keep his promise. The question is whether Republicans have the needed 51 votes in the Senate willing to vote for repeal without a clear replacement plan.
When asked whether the GOP has those votes, Sen. John Thune, a member of leadership said, "I'm always an optimist. And I believe when the vote comes we'll have it because I think most people realize that you can't replace it until you repeal it. That's got to happen first."
There are few easy decisions for Republicans. One of their biggest choices will be deciding whether to keep the law's subsidies and taxes. Repealing Obamacare subsidies will anger Republican states that relied on those subsidies to expand Medicaid. And doing away with the taxation measures of Obamacare will lead to a massive bill and make it extremely difficult to fund an eventual Affordable Care Act replacement.
"I mean, it's hard to allay a fear like, 'if you do away with all the revenues, and continue subsidies, you're throwing $116 billion in a mud puddle,'" said Republican Sen. Bob Corker, another skeptic of the plan to repeal first and try to replace later.

"If you end it in three years without a replacement, what Republican is going to vote for a tax increase to fund it? I don't know any. So I mean it just seems to me that probably you're better off working this all out together."