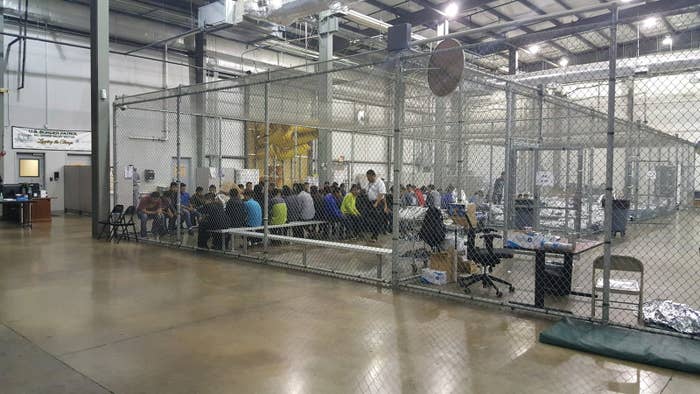 Senate Republicans returned to a chaotic Washington on Monday to the Trump administration repeatedly, and falsely, claiming that the "the law" prevents him from ending the "zero tolerance" policy at the border that has resulted in thousands of children forcibly separated from their parents and that only Congress could fix it.
The administration's punt to Congress on the border and President Donald Trump's lies about who can actually fix the practice of children being taken from their parents led to some condemnation from senators in his party but there was little consensus on what exactly to do about it. Quite a few called for a legislative fix to deal with family separations. White House officials now say they'll accept only a comprehensive immigration bill, something that Congress has failed to do for decades.
Maine Sen. Susan Collins was one of the few senators to correctly point out that the Trump administration, not Congress, can end the mass family separation issue immediately.
In a statement, Alaska Sen. Lisa Murkowski said, "The time is now for the White House to end the cruel, tragic separations of families. They are not consistent with our values. The thousands of children taken from their parents and families must be reunited as quickly as possible."
When asked what legislation would have to look like to earn his support, Tennessee Sen. Bob Corker volunteered that the president could do it. "It appears to me much of this could be done with a phone call," Corker told reporters.
Arizona Sen. John McCain, who represents a border state but has been home for cancer treatment, also tweeted his opposition to the practice.
"The administration's current family separation policy is an affront to the decency of the American people, and contrary to principles and values upon which our nation was founded," McCain tweeted. "The administration has the power to rescind this policy. It should do so now."
Other Republican senators said that while they oppose families being torn apart, they agree with the president that a legislative fix is in order.
"What we need to do is we need to fix our horrible, broken legal immigration system across the board," said Wisconsin Sen. Ron Johnson. Johnson said that while nobody wants to see families separated, "I support enforcing the law."
In April, the Trump administration adopted a zero tolerance policy of prosecuting undocumented immigrants entering the country. Since a child cannot be sent to prison with their parents, this policy results in children being taken away to a separate facility. There is no law that requires the administration to do this, and nearly 2,000 kids were separated from their parents in the span of a month and a half, according to Department of Homeland Security figures.
Several competing legislative proposals intended to address family separation exist in Congress. House Republicans have one plan, while Democratic Sen. Dianne Feinstein has another. She said Monday that no interested Republicans had approached her about it. On Monday Republican Sen. Ted Cruz also said he would introduce his own bill to deal with family separation. Senate Majority Whip John Cornyn also said he on the floor he would reintroduce legislation that would "mitigate" family separation.
Ultimately, legislation will not be enough. For the spike in family separation to end, the Trump administration would need to halt its zero tolerance policy of prosecuting immigrant parents.