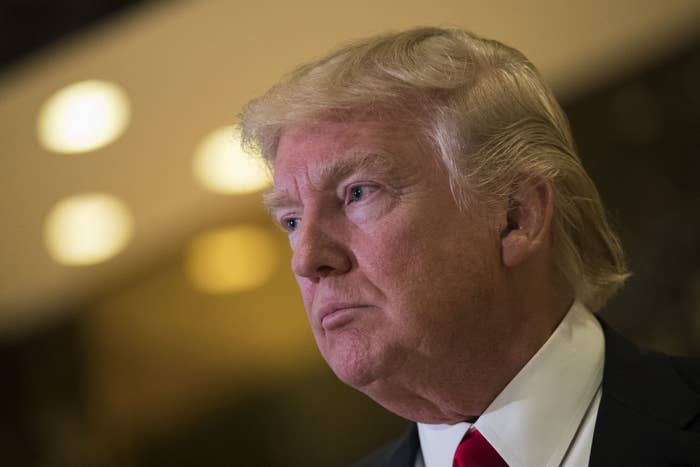 WASHINGTON — President-elect Donald Trump promised insurance for everyone this weekend, but Senate Republicans say they are operating under the assumption that Trump meant to say access to insurance for everyone.

Trump made his promise of universal health care coverage, a goal that Obamacare has fallen short of, in an interview with the Washington Post this weekend. "We're going to have insurance for everybody," Trump said. "There was a philosophy in some circles that if you can't pay for it, you don't get it. That's not going to happen with us."
The vow clashes with all of the major Obamacare replacement plans put forward by Republicans, which prioritize choice over universality. But some Republicans in the Senate say they are working on repealing and replacing Obamacare under the belief that Trump misspoke.
"I think that syncs up with what our members have been saying, that we think everybody ought to have access to affordable health care insurance. I assume that's what he means by that statement and that's how we're proceeding," said Sen. John Thune, the third-ranking Senate Republican.
Pressed on the difference between health care for everyone and access to health care for everyone, Thune said reporters would have to ask Trump what he meant. He said he didn't know if Trump's transition team had explained the statement to Congressional Republicans.
Trump's transition team did not immediately respond to a request for comment.
Several Republicans referred to Trump's promise as a laudable goal. "I think that should be the goal of all plans, to have everybody insured," said Sen. Rand Paul.

Paul said he will release his own replacement plan for the Affordable Care Act next week. Sens. Bill Cassidy, Susan Collins and others are promising to release a separate plan to allow states to choose to keep Obamacare provisions or ditch the law entirely.
Cassidy described their plan as "a way to get coverage for all," while Collins stuck to the position that the goal is to have access to an affordable health care choice for everyone.
Meanwhile, the big mystery is what will be in Trump's own repeal-and-replace plan for Obamacare. No one in Congress, Republican or Democrat, seems to have seen that plan yet.
Trump's pick for health and human services secretary, Tom Price, begins his first confirmation hearing before the Senate Health Education Labor and Pensions Committee Wednesday. Committee chairman Lamar Alexander called Trump's universal coverage promise "a very interesting observation," but said he's going to wait to see Trump's full plan.
Republican Sen. Orrin Hatch was blunt when asked about Trump's universal coverage vow.
"It's a great goal," he said. "I think he'll find it very, very difficult to do."
Tarini Parti contributed reporting to this story.